Microkorg Arpeggiator guide
This video is an in-depth guide into the Arpeggiator on the Korg MicroKorg synthesizer. So if you're a begginer or even a long-time use of the Microkorg – check it out because you might pick up on some cool tricks!
There's a wealth of information in the user manual (I have uploaded a spare copy here). However, the following guide below may be easier to follow: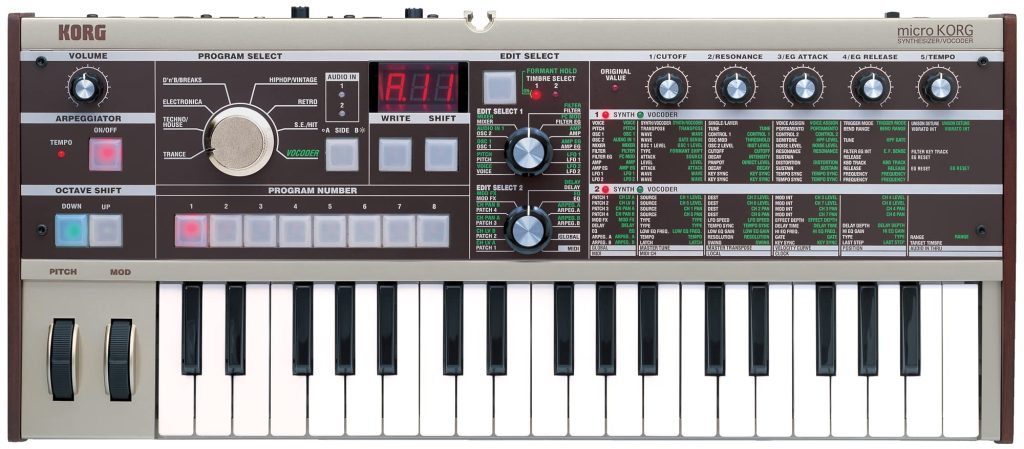 You can access the ARP features under ARPEG.A and ARPEG.B using the Edit Select 2 knob.

You then use the 5 knobs across the top to edit each parameter:

The following shows each edit section and the corresponding parameter knob assignments.
ARPEG.A

(Knob 1) ARPs require a tempo – and this can be set with Knob 1 (Tempo) ranges from 20 to 300. Note: Tempo can also be controlled by EXT clock.
(Knob 2) Time division is called resolution and can range from:

1/4 quarter notes,
1/6 quarter note triplets, ** lets come back to triplets in a sec
1/8 eighth notes,
1/12 eighth note triplets,
1/16 sixteenth notes, and
1/24 sixteenth note triplets

(Knob 3) Gate – specifies the duration (gate time) of the ARP notes as a percentage, with 0 being short and 100 will continue to play until the next step.
(Knob 4) Type – The MicroKorg's arpeggiator has 6 types:

UP, Down, ALT1, ALT2, Random, Trigger (like a chord)

(Knob 5) Range – specifies the range of octaves
ARPEG.B

(Knob 1) Latch – OFF/ON. Off = the ARP will stop playing when you take your hand off the keyboard. On – continuous play after you take your hand off the keyboard.
(Knob 2) Swing – -100…+100 specifies the % by the shift in timing relative to the first note
(Knob 3) Key Sync – OFF/ON. ARP will start from beginning of pattern.
(Knob 4) Last Step – 1…8 Specifies the number of steps (max steps) for the ARP
(Knob 5) Target Timbre – Both, Timbre 1, Timbre 2 – relates to the layered voices
STEP ARPEGGIATOR

When you move EDIT SELECT Knob 2 to ARPEG.A or B – the program number buttons will act as ARP step keys. Lit is "on" state for the valid steps. Off – the step will change to a rest.
The best thing about the MicroKorg ARP is that it can send these notes via MIDI-OUT!