In episode 187 we are talking about sound design! Plus all the usual segments! Funny Side, News from the Geekery, Price Watch, Name that Synth …
Show contents:
About the Synth Geekery Show
Synth Geekery is a weekly podcast/live stream (YouTube) show about everything synthesizers, drum machines, samplers, sequencers, eurorack and music technology. We take the "one of the masses" viewpoint, where we are also users of gear just like you (read: we're not influenced by commercial product placement).
The show relies on the generous contributions of the synth community. You can contribute in many ways including supporting us via our YouTube Channel Membership or Patreon. We also have regular and special video guests: if you would like to take part in future shows – please contact me via email on the about page here.
Guests
This week's video guests are:
Daren T. Housse
Bandcamp Link: https://darenthousse.bandcamp.com/
Youtube: https://www.youtube.com/channel/UCLPHxpZgFKKE1wkG9ndto3A
Daren resides in the UK and is one of the first video guests on the show since 2019. He has a large amount of tracks on his youtube channel plus a great album collection over on BandCamp.
Andrew Brooks
Main link – https://www.youtube.com/user/sunhoney1uk
BandCamp link: https://andyvonal.bandcamp.com/
Andy resides in the UK and has been a regular member of the show since 2020. He has performed live and offers a wealth of knowledge for live electronic music setups and small studio configurations.
SynthAddict
Andy is a musician and technologist from the bay area in California. He has an amazing collection of music tech gadgets and a large knowledge of synthesizers.
Youtube: https://www.youtube.com/channel/UCUtABvP7q29uvLKi73zIjFQ
Ian J. Cole
Ian is a musician, composer, sound designer and producer currently producing solo ambient electronic music. He also runs Sinners Music which is a Record Company and Online Music Retailer in East Yorkshire, England
Youtube: https://www.youtube.com/c/IanJCole
Video replay
Funny Side
The funny side segment is a collection of memes that are somewhat relevant to the synth geekery community. Some of these images are taken from Facebook, Instagram and other social media sources. Please respect the creators. Hope you enjoy this week's selection: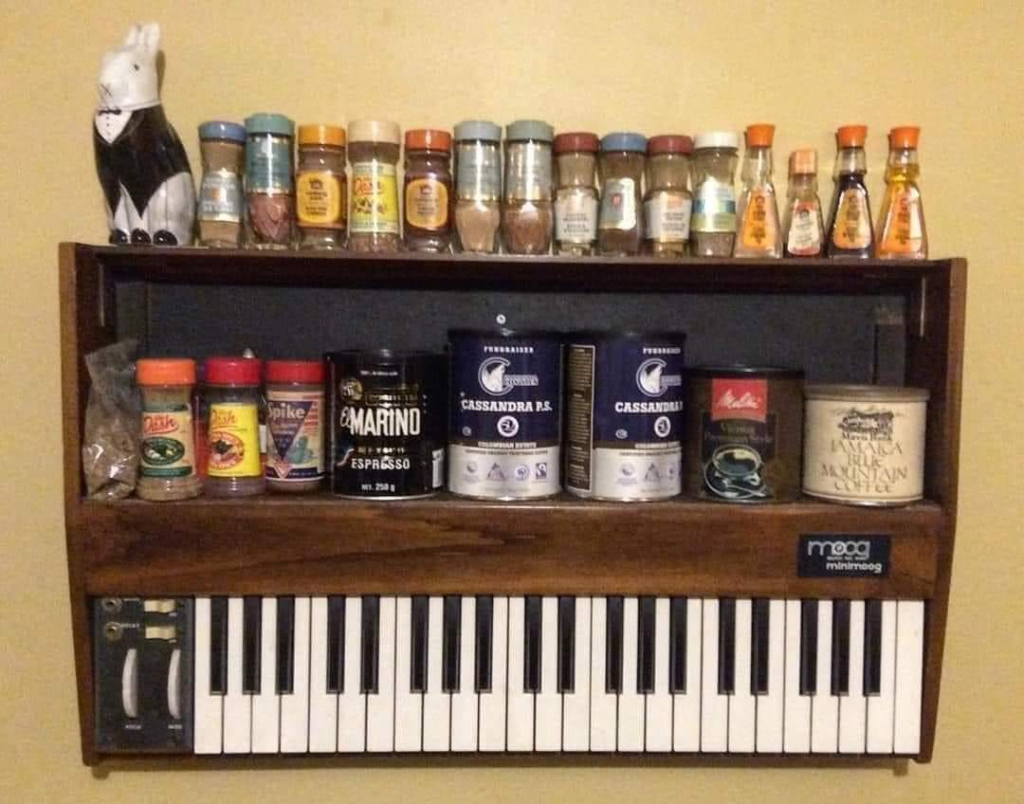 News from the Geekery
This week we have a big list of new synths and gear:
Instruo Lubadh 2.0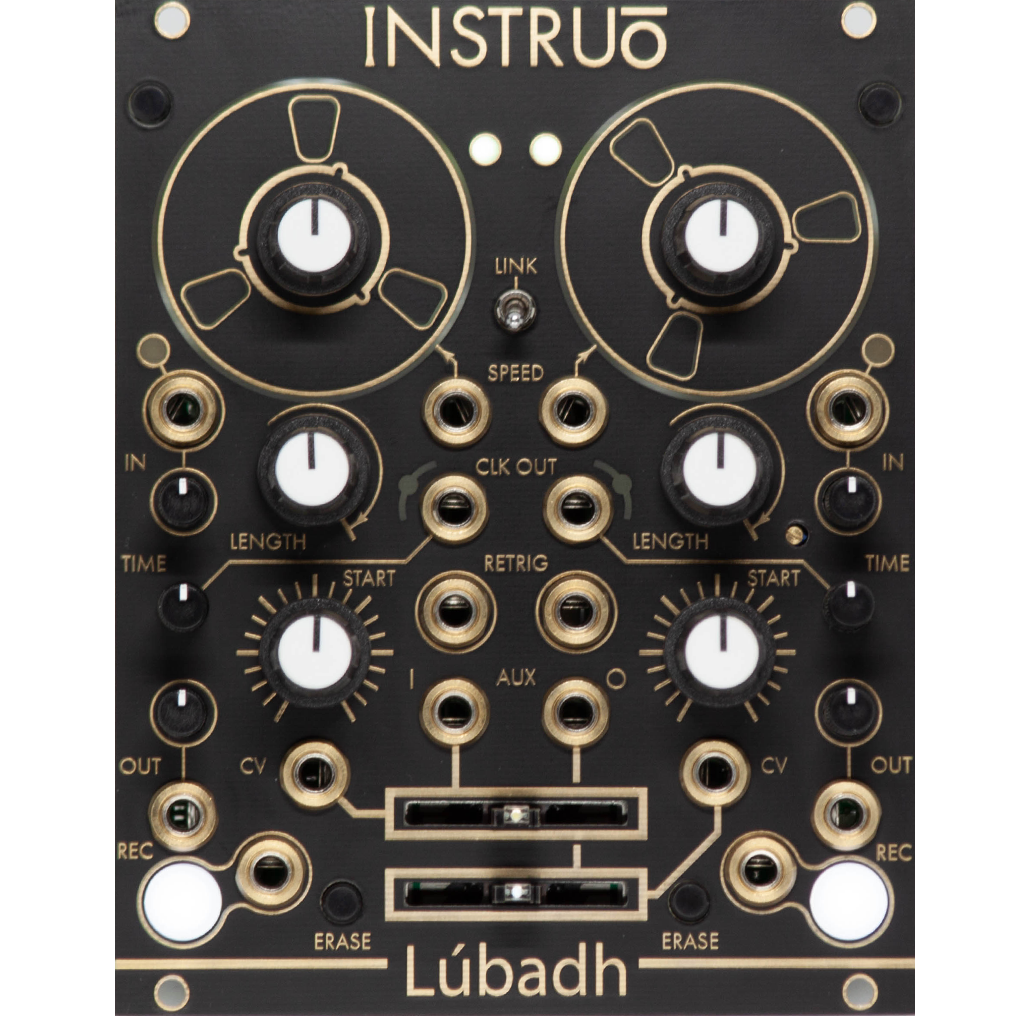 New firmware 2.0 – features:
New firmware completely re-written from the ground up. Instruo claim it provides a completely new module experience. However, it still remains to be a looper module with overdubbing x 2.
10 new factory presets: tape looper, clean, classic, clockable, sequencingMono, sequencingPoly, Melontron, Octave Delay, and more.
What is the Lubadh? It consists of two identical channels: Lúbadh allows you to instantly record, playback, overdub, trim down, scan through and pitch up or down any audio signal.
Inspired by the aesthetics and mechanics of early tape techniques each channel features an analogue input circuit which adds slight compression, filtering and saturation. On the first recording, the sound may appear slightly fuller and warmer, re-recording audio back and forth will compound this effect over time allowing you to create dense tape like textures.
Price: 599 GBP
Link: https://www.instruomodular.com/product/lubadh/
Solid State Logic SSL-12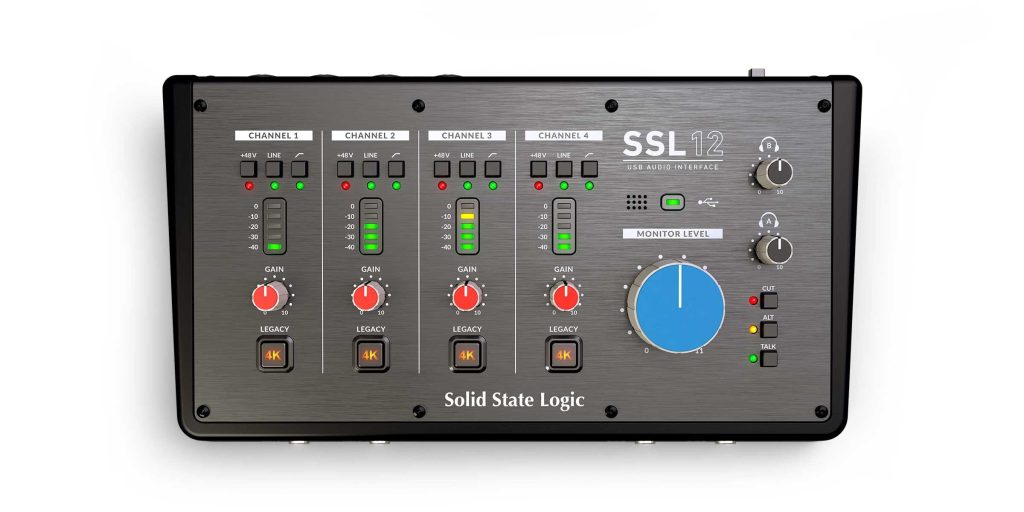 Audio interface with 12IN/8OUT including ADAT IN and 2 x Headphone – plus 32bit/192KHz. SSL are usually on the more pricey side of audio interfaces. The SSL-12 is more available for most musicians at the new lower price.
Price: 499 EURO
Link: https://www.solidstatelogic.com/products/ssl-12
ALM Mega Tang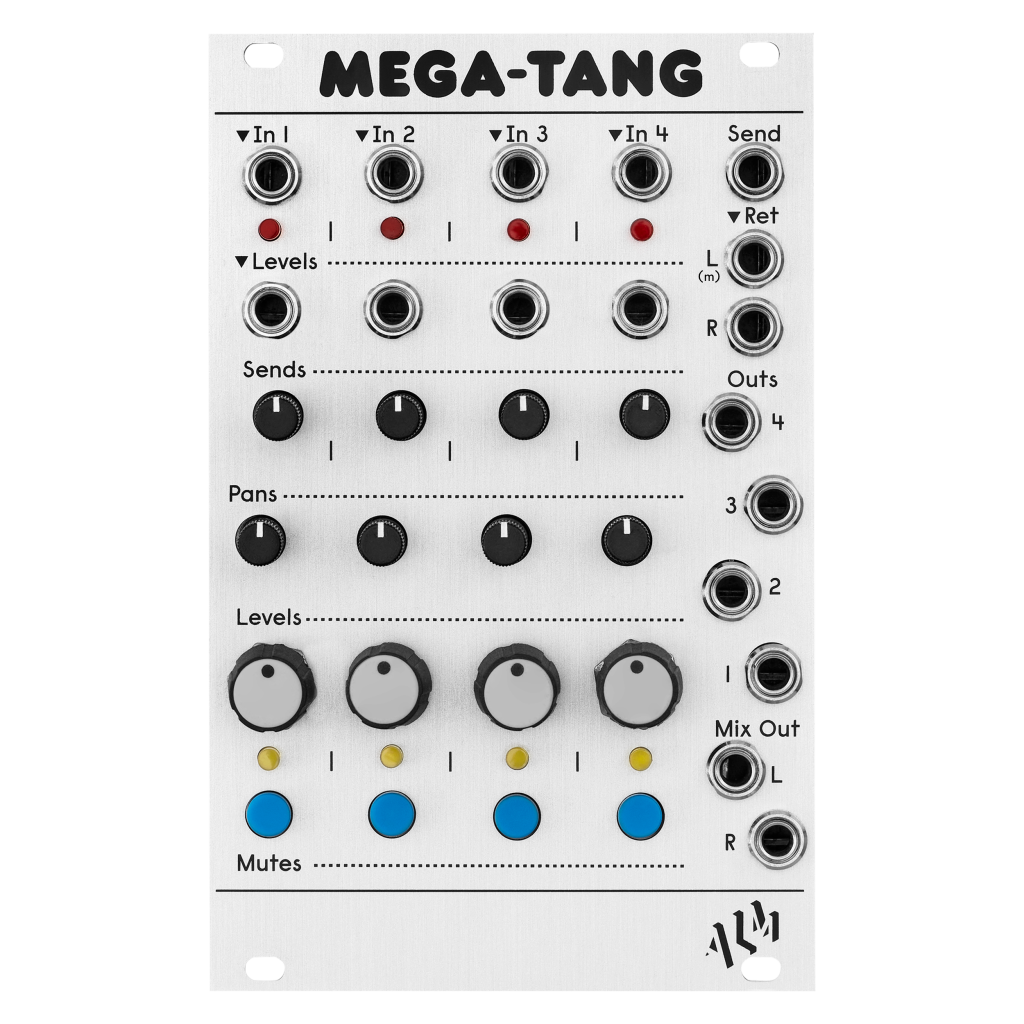 4 Channgel VCA/Mixer. Each channel features Input CV Levels, sends control, panning, level control and mutes. Plus there is a send (mono) and stereo return with individual outs and a stereo Mix. Each channel can be a individual bleed free VCA – which has an independent CV level input control.
Price: $249
Link: https://busycircuits.com/alm034/
Malstrom Arkan

Dual voltage polarizer with 2 circuits and offers a unique curvature control. These modules are often used for inverting voltages. The outputs are normalised.
Price: $199
Link: https://www.malstromaudio.com/arkan
Malstrom Mandrake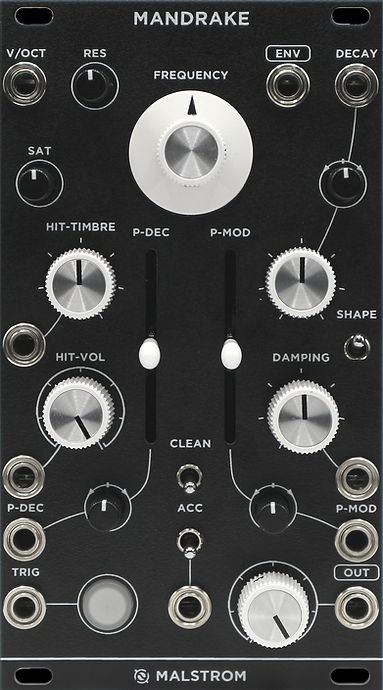 Kick drum synthesizer. This is not a 808/909 sound – it is completely analog and offers a new way of synthesis for a kick drum featuring the hit and body sections. The hit section features a saturated resonant filter. The body section features a slight saturated resonant filter which resembles the harmonic timbre of a kick drum. It has a high pass filter to clean up the rumbles and CV controls for the various parameters.
Price: $379
Link: https://www.malstromaudio.com/mandrake
Price Watch
This week – we visited a number of auctions, here are the screen grabs:
Yamaha CS-80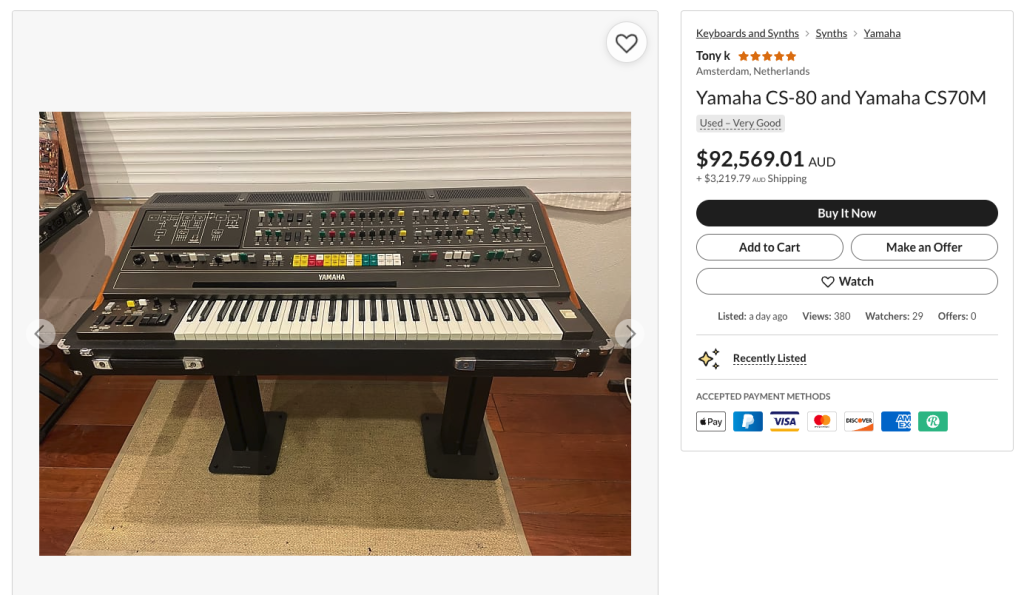 https://reverb.com/item/63739308-yamaha-cs-80-and-yamaha-cs70m
Ensoniq ESQ-1 Cartridges
https://reverb.com/item/63722357-ensoniq-esq-1-carts-new-age-spectral-space-voices-strings-effects-cartridge
Ensoniq SQ-80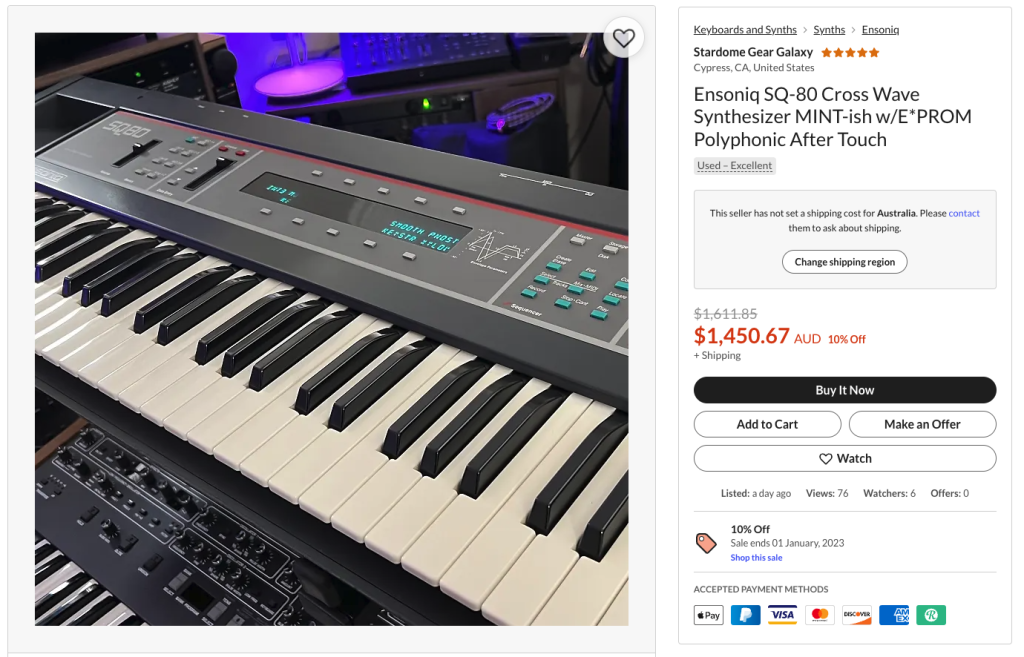 https://reverb.com/item/63734866-ensoniq-sq-80-cross-wave-synthesizer-mint-ish-w-e-prom-polyphonic-after-touch
Roland System-100M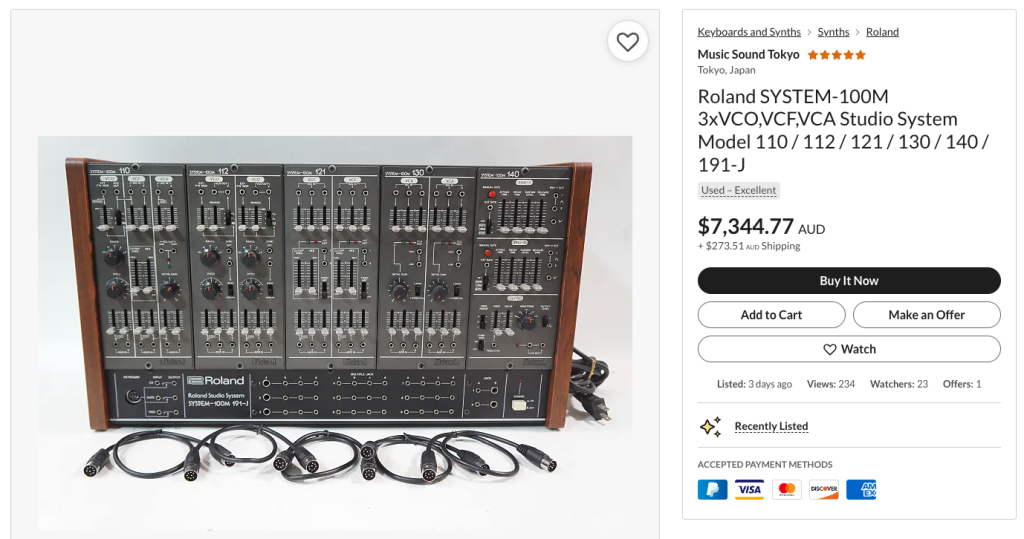 https://reverb.com/item/63676553-roland-system-100m-3xvco-vcf-vca-studio-system-model-110-112-121-130-140-191-j
Saturday Sonority
This week's Saturday Sonority we were doing a small sound design patch!