This page provides information, history, tips & tricks and a live manual for the Behringer Pro-800 polyphonic synthesizer. This document has been contributed by JX3D, Maikshifter and Ranzee.
Table of contents:
History
The Behringer Pro-800 is a recreation of the Sequential Circuits Prophet 600 synthesizer and uses the 2013-2015 GliGli firmware enhancements.
17th Sep 2020 Behringer first announced a prototype via facebook.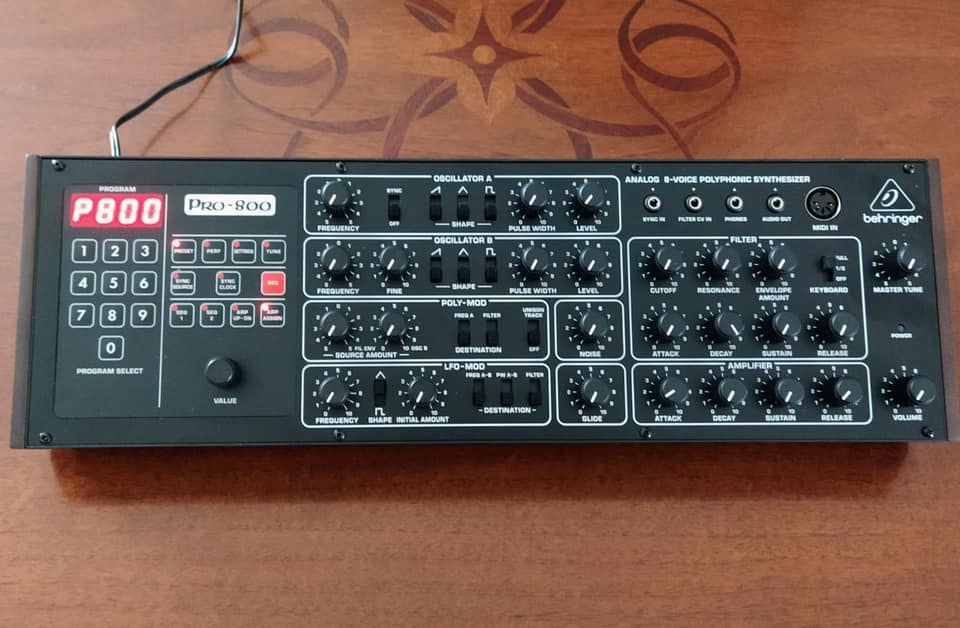 We talked about it on Synth Geekery #83 here.
December 2022 they announced production – more info on episode 188 for Synth Geekery here.
April 2023 they started shipping.
Firmware 1.2.6
June 2023 they announced a firmware update 1.2.6:
enhanced and "snappier" envelope speed
implemented a Soft Thru On/Off setting, accessible through the Settings Menu Button 1. This allows users to control the Soft Thru functionality, enabling or disabling as needed.
added a Local On/Off setting to the Settings Menu Button 1. This feature enables users to determine whether the device responds to local MIDI input or not.
fixed issue with failure to recognize VR maximum position during power up
resolved USB/MIDI synchronization issue, PPQN (Pulses Per Quarter Note) is set to 24.
addressed problem with notes getting stuck during envelope (ENV) shape changes.
Firmware 1.2.7
July 2023 they announced firmware update 1.2.7:
Improvements:
Increased VCF ENV AMOUNT range
Increased LFO to VCF modulation range
Poly AT reimplemented and improved
Increased range on POLY MODE – FIL ENV
Added a LPF to the Aftertouch function to smoothen the response and make it more musical
Fixes:
Reduced Settings save timer from 47 to 3 sec. which solves all issues related to settings not being stored after a power cycling
Resolved ARP UP-DN issue when only one key is pressed
Improved LFO target: resolved Ab, A and b settings
Resolved CC=59, LFO target for Ab, A and b which was related to an issue where LFO target was not working when connected to a DAW
Resolved voice assign issue to the same note, related to some Yamaha piano instruments
Sequential Pro-600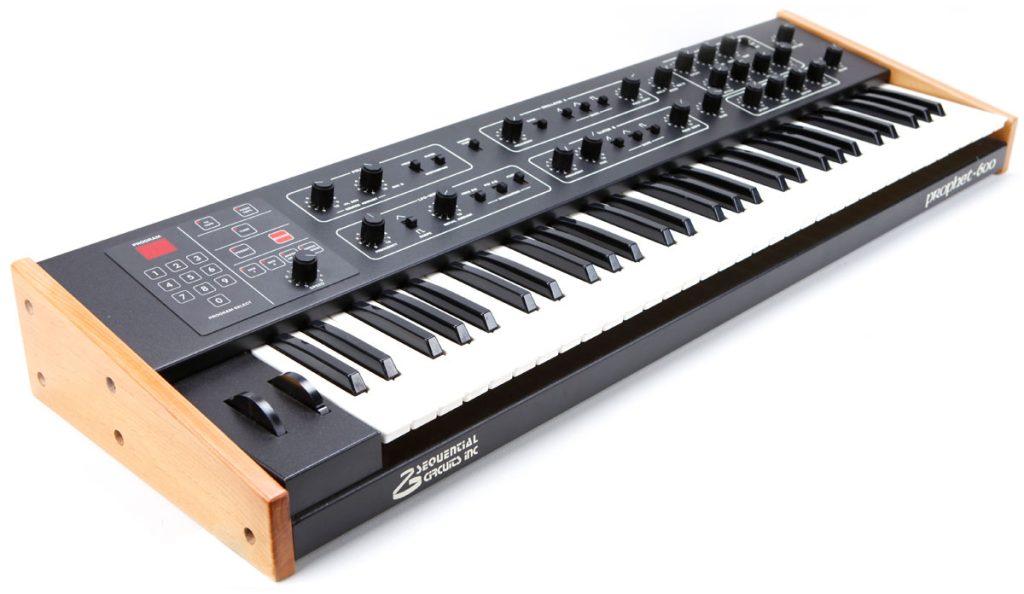 The Sequential Prophet-600 was released in 1982 and boasted 6 voices and a very early implementation of MIDI. It boasted the following specifications:
Polyphony – 6 Voices
Oscillators – VCO A saw / pulse / tri; VCO B saw / pulse / tri / PW
LFO – pulse / tri
Filter – cutoff / res / env / kybd
VCA – ADSR
Keyboard – 61 keys
Arpeg/Seq – Sequencer: 2-track, real-time only; Arpeggiator: up, down, up/down
Control – MIDI
GliGli Mod
The CPU firmware update offered by the GliGli mod provided some well needed enhancements to the P600.
More information here: http://gligli.github.io/p600fw/, https://github.com/gligli/p600fw, https://learn.adafruit.com/prophet-600-gligli-mod/overview and https://synthchaser.com/product/gligli-cpu-upgrade-for-sequential-circuits-prophet-600/
Behringer Clone
Link to Behringer's Pro-800 page: https://www.behringer.com/product.html?modelCode=P0E9I
Behringer have added their own design and engineering to produce the final Pro-800 product. This includes their familiar desktop module format which is removable and can be fitted to a eurorack/modular case with supplied power cable ribbon. In addition there are two CV inputs for SYNC IN and Filter CV IN. Furthermore there's MIDI DIN and USB connectivity with a fairly extensive MIDI implementation (** Info to follow below **).
The synthesizer can also be updated and some settings can be adjusted via the SynthTribe application using the supplied USB cable.
Specifications
| | |
| --- | --- |
| Number of voices | 8 |
| Type of oscillators | 2 x 3340 per voice |
| Type | Analog |
| Oscillators | 16 (32.70 Hz to 8372.02 Hz across 4 ranges) |
| LFO | 1 (0.08 Hz to 20 Hz) |
| VCF | 1 x 4-pole low pass (24 dB/oct. slope) |
| Envelopes | VCF, VCA |
Connectivity
| | |
| --- | --- |
| Output | ¼" TS, unbalanced, max. +5.0 dBu |
| Audio out | 1/8″ TS, unbalanced, max. +20.0 dBu |
| Footswitch | ¼" TS, unbalanced |
| Headphones | 1/8″ TRS, unbalanced, max. 7.5 mW @ 32 Ohm |
| Headphones output impedance | 8 Ω |
| MIDI In Out/Thru | 2 x 5-pin DIN/ 16 channels |
| USB (MIDI) | USB 2.0, type B |
| Sync in | TS 3.5 mm 1PPS, 2PPQ, 24PPQ, 48PPQ |
| Fliter CV IN | TS 3.5 mm 0 V to +10 V |
User Manual
A copy of the original Behringer User Manual (quick start guide) and a simple guide for daily tasks (includes things not mentioned in the original guide, like how to erase a sequence, how to make rest and ties in sequences, etc.). The Simple guide is in english only.
Behringers original Quick Start Guide
Behringer PRO-800 – JX3Ds Simple Guide – 2023-07-20
Firmware update procedure
The Pro-800 firmware can be updated via the SynthTribe application (downloadable from the Behringer website). Connect up the Pro-800 to the power and connect the USB cable to your computer. Turn on the PRO-800 and launch the SynthTribe application. You should see this: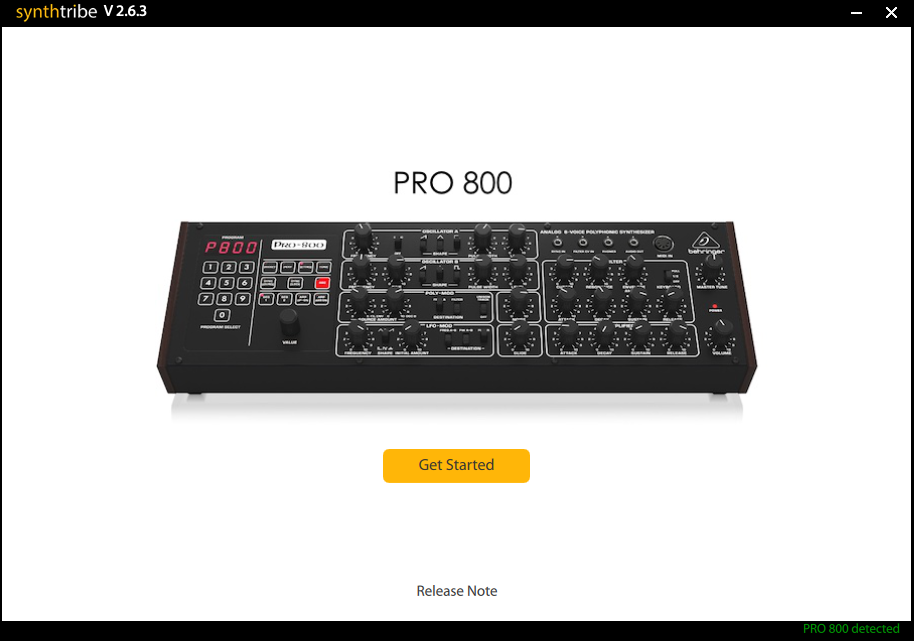 Click the Get Started link. It should show that a firmware is available like below: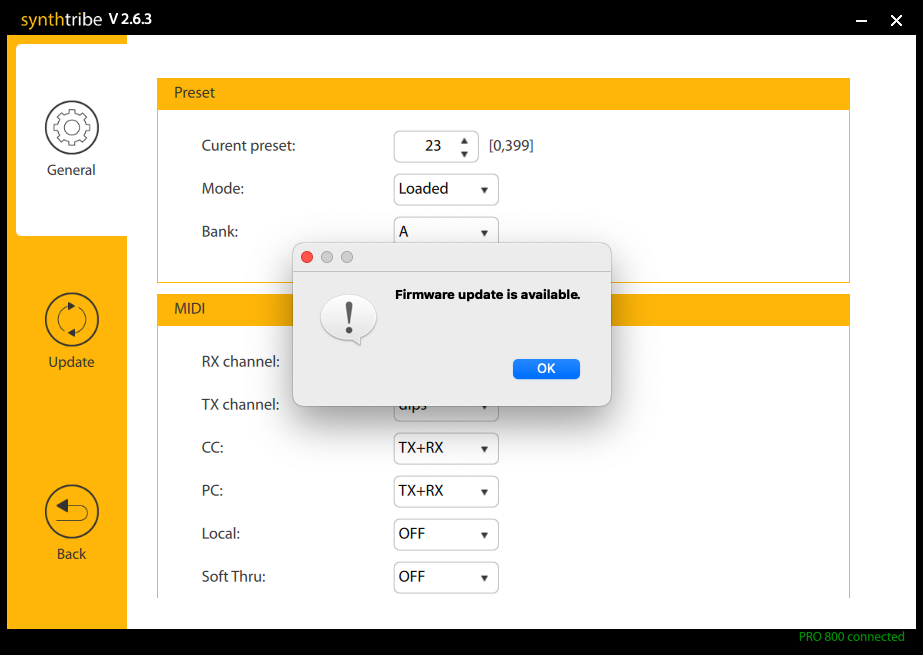 Click the OK button and proceed to the Update tab on the left. Then start the firmware update.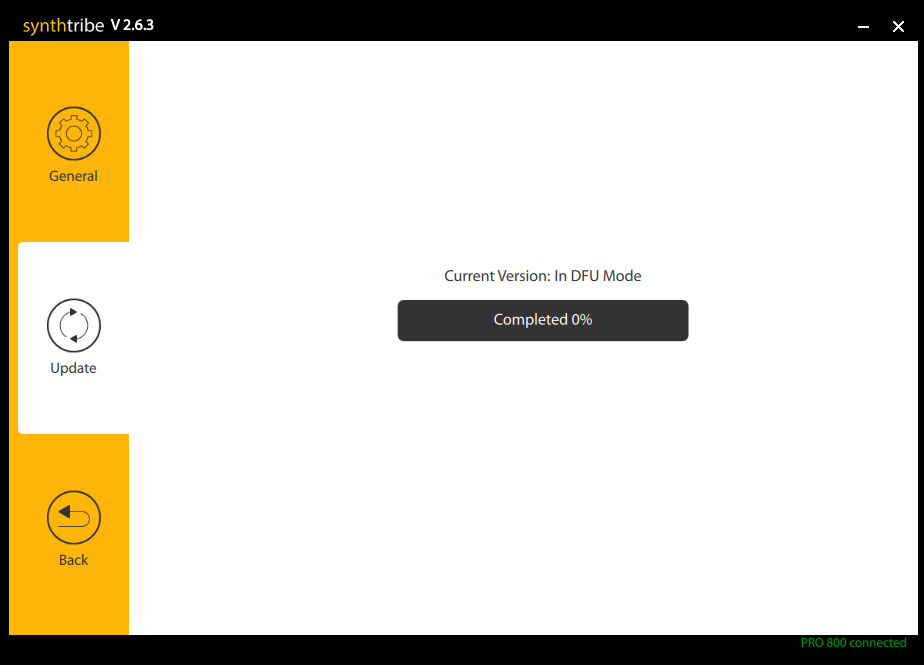 The actual module shows the following: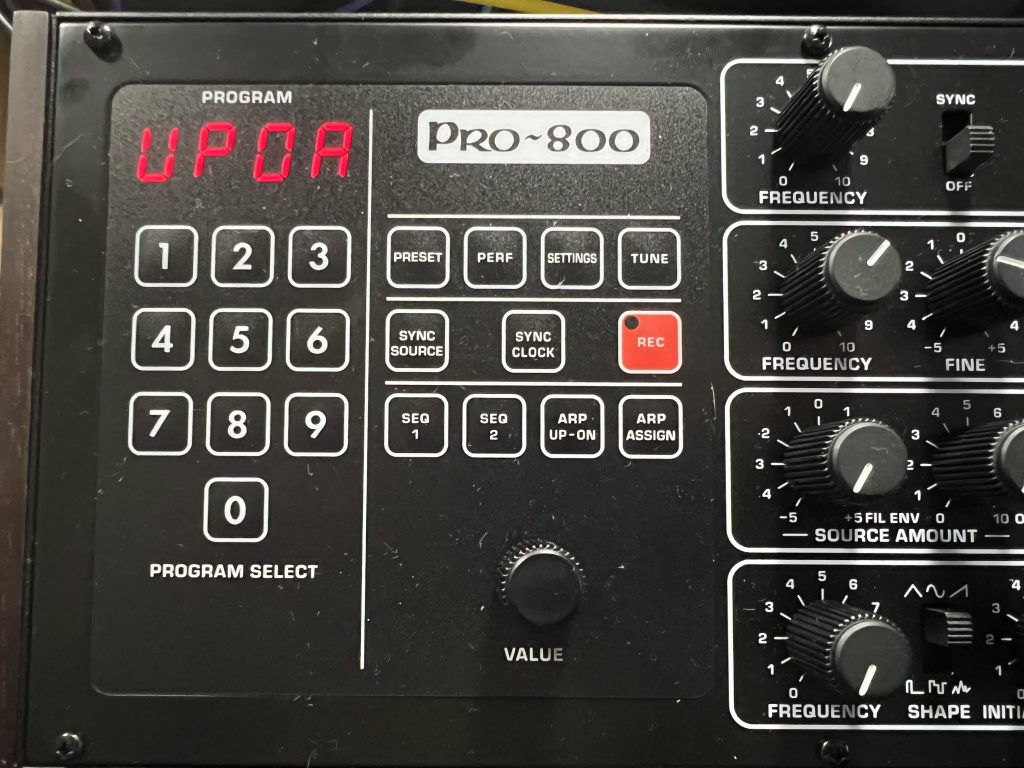 Do not disconnect the power or the USB cable during this update. It does take a few minutes. In my experience it took around 12 minutes.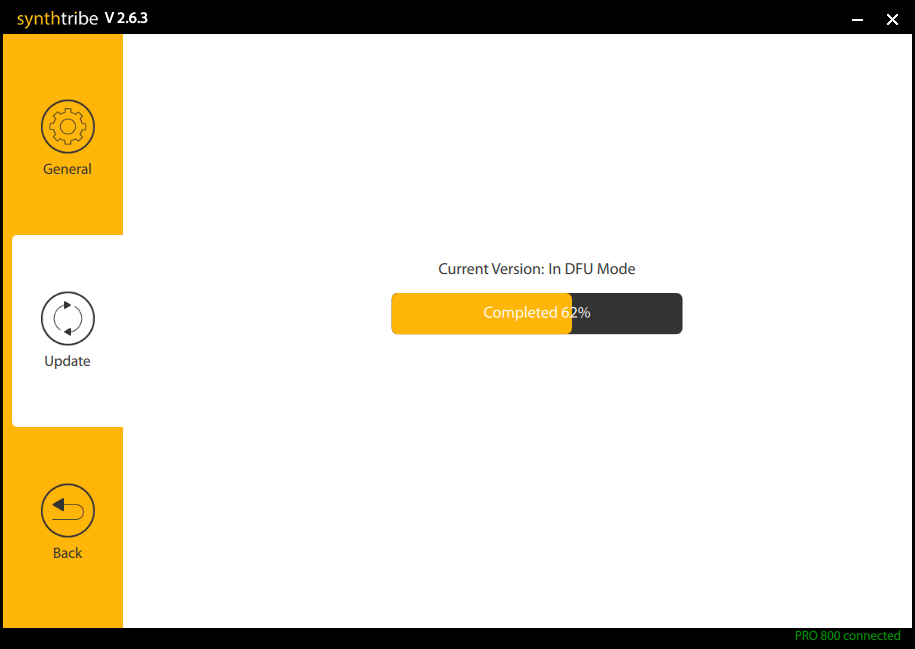 Once the firmware has completed it will show you this message. The Pro-800 module will automatically restart.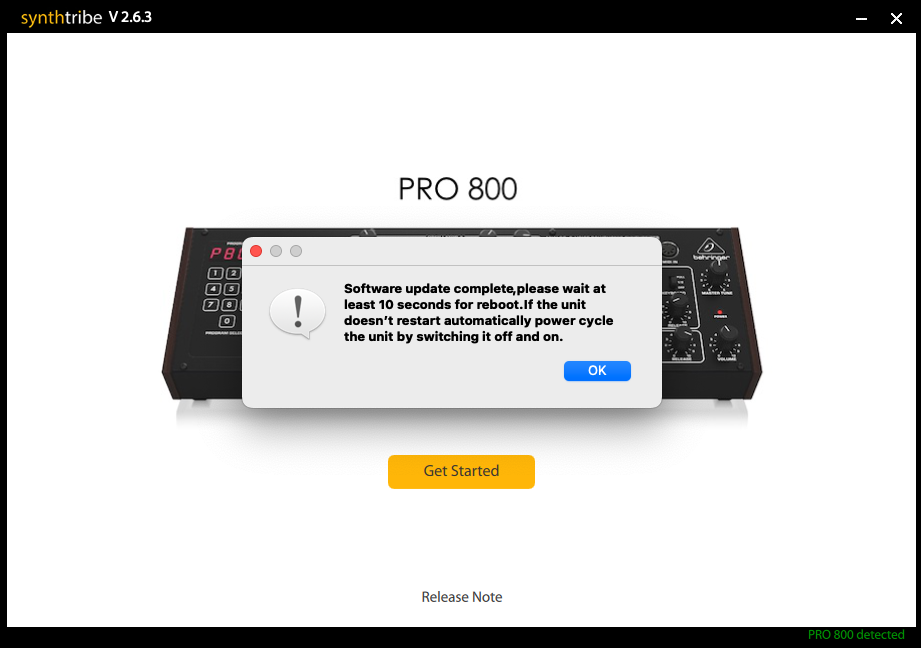 Click OK and check the Update tab to ensure it shows Current Version "Up to date":
SynthTribe Settings
Connecting the Pro-800 to your computer via USB and launching the SynthTribe application provides the following settings that can be tweaked:
Preset

MIDI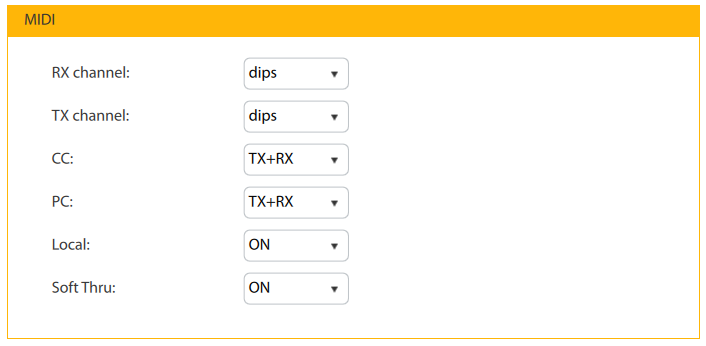 General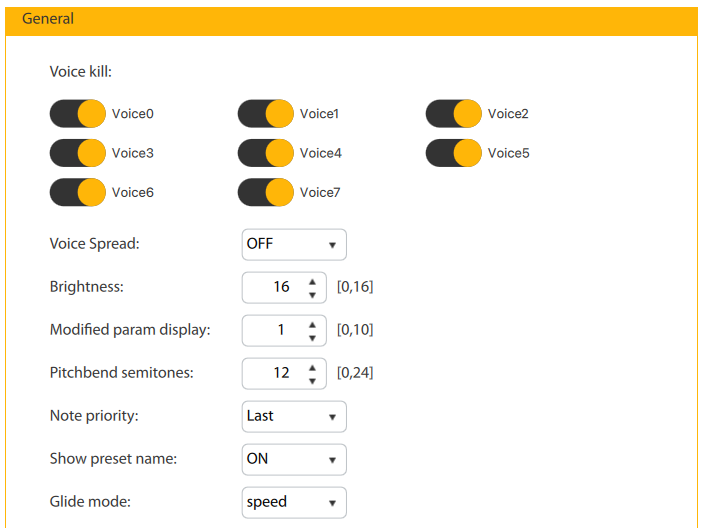 ARP/Seq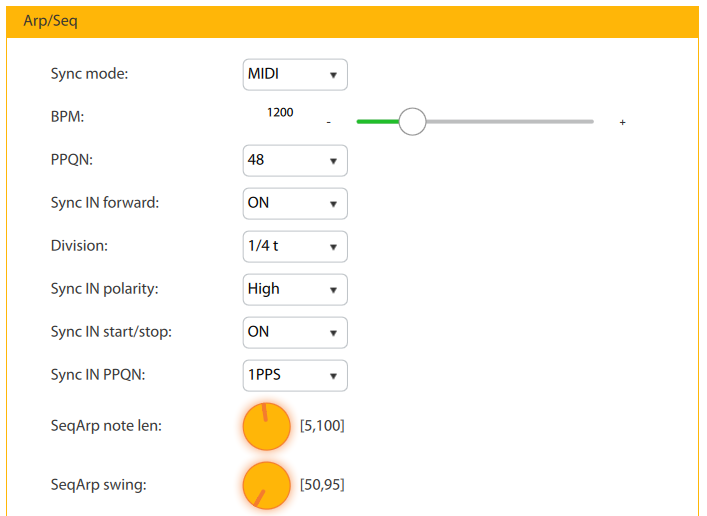 VCF

Editors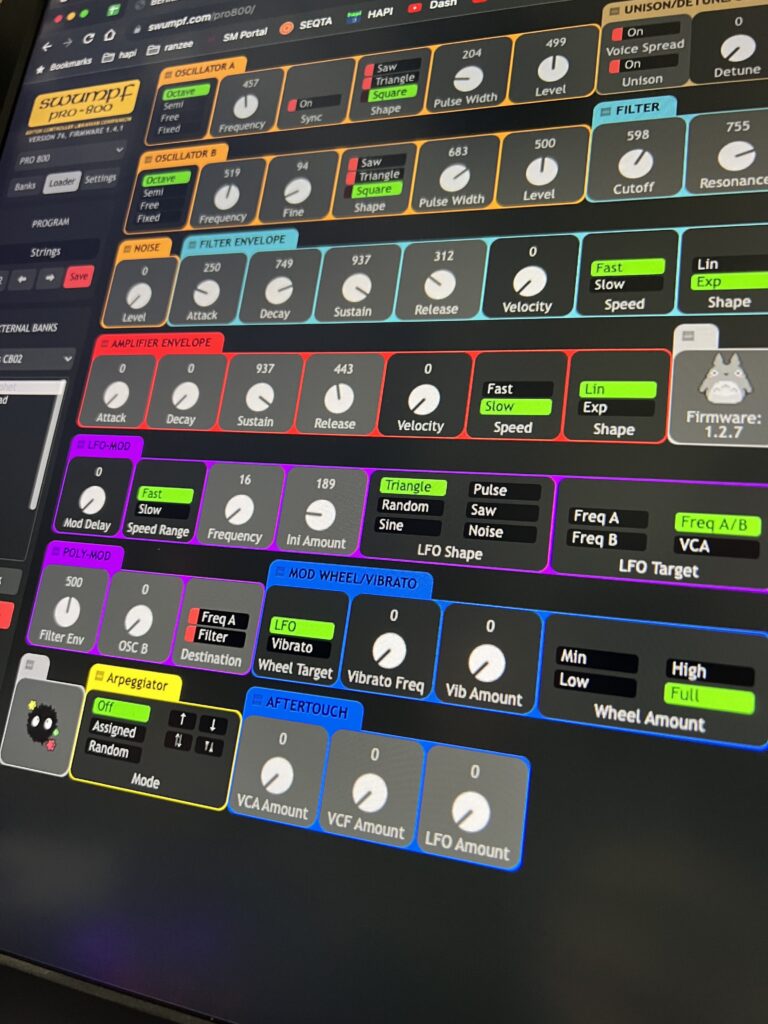 This free online Web/MIDI editor is also a patch librarian:
Further development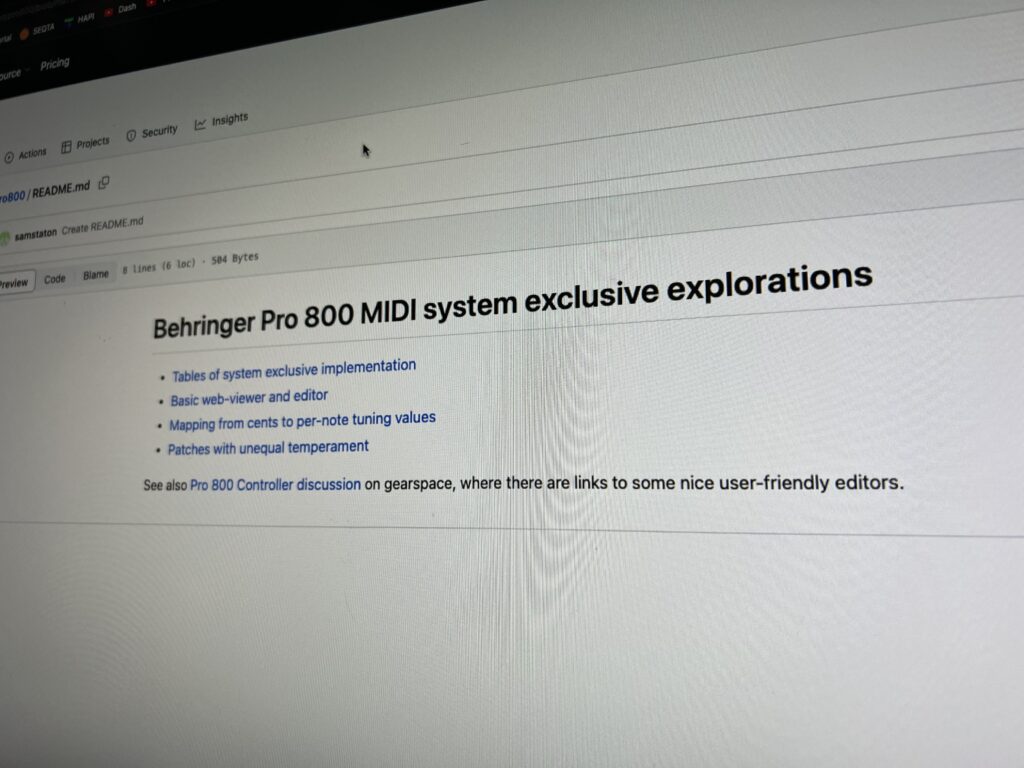 Head on over to Github where they've been busy decoding the Sysex: