Koma Elektronik – Komplex Sequencer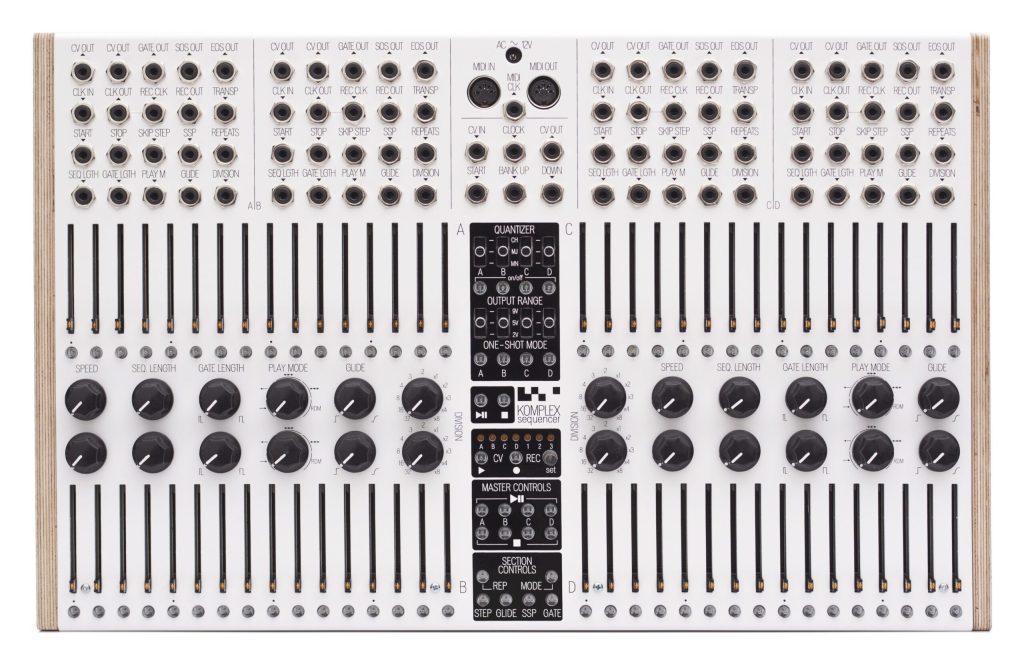 Koma Elektronik have re-introduced the Komplex Sequencer. It was originally halted from production due to Covid-19 and chip shortage issues. The company has stated on their website and socials that the new units are shipping September 2023 and have a few new features! Let's explore …
The Komplex Sequencer is a unique step sequencer with four 16-step sequencers communicating via both MIDI and CV/Gate. There are no screens or submenus. All features have their own dedicated controls and have their own dedicated ins and outs on the large 87-point patch bay. Every aspect of this sequencer is CV patchable. Ther's also a seven bank CV Recorder is on board and can output up to 5 banks at once!
New features
The Transpose CV input now also transposes the MIDI notes that a sequencer is producing.
Some circuitry had to undergo changes to account for non-available and now obsolete chips.
MIDI or CV or both!
The Komplex allows for control of the 4 sequencers via MIDI or CV independently or both!
The sequencer is compatible with almost any synthesizer with CV/Gate, MIDI note, velocity and CC information can also transmitted by any of the four sequencers.
On the MIDI side there's: MIDI In, MIDI Out, MIDI Clock Out (1 trigger per quarter note).
On the CV side there's:
CV IN: Clock, Rec Clock, Transpose, Start, Stop, Skip Step, Sequence Start Point, Repeats, Seq Length, Gate Length, Play Mode, Glide, Division, CV Recorder (CV In, Clock, Start, Bank Up/Down)
CV OUT: CV Out, Gate Out, Start Of Sequence, End Of Sequence, Clock, CV Recorder CV Out (A, B, C, D and CV)
Total Control
Each sequencer has it's own set of controls and therefore you will see no menu-diving! Controls include Speed, Sequence Length, Gate Length, Play Mode, Glide, Division, Transpose, Repeat, Sequence Start Point and Skip. Additionally, the sequencer can vary output range and also has a quantizer on board operable in different scales.
The sequencer is equipped with the following controls: 64 Sliders and Step Select Buttons, Speed, Sequence Length, Gate Length, Play Mode, Glide, Division, Quantizer and Scale, Output Range, One-Shot Mode, Play/Pause and Stop, Global Play/Pause and Global Stop.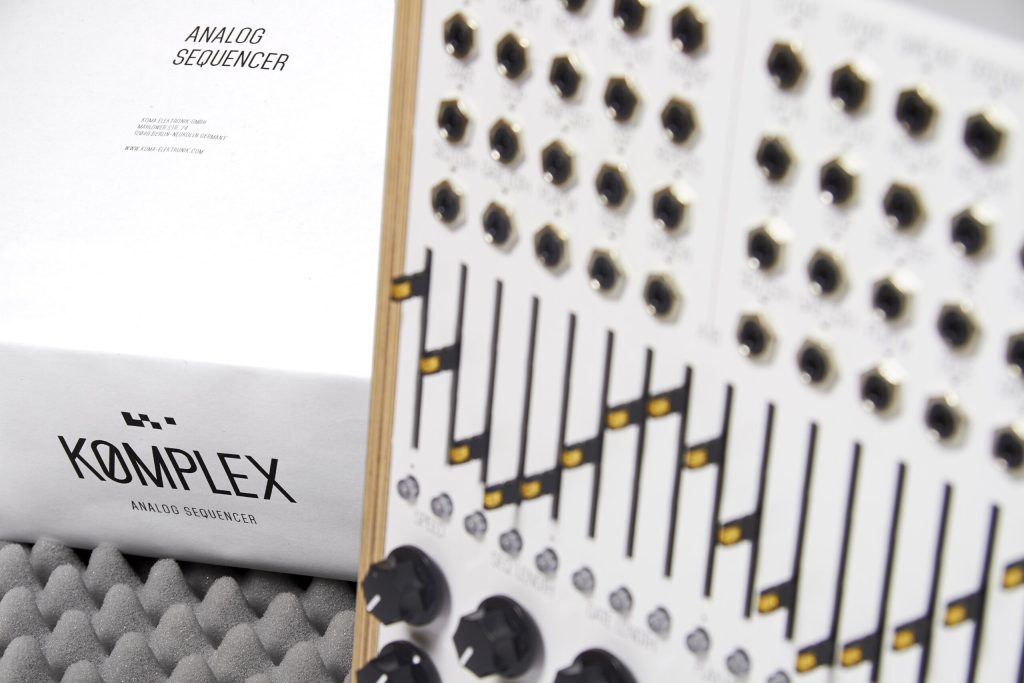 Features and Specs:
CV Inputs
Clock, Rec Clock, Transpose, Start, Stop, Skip Step, Sequence Start Point, Repeats, Seq Length, Gate Length, Play Mode, Glide, Division, CV Recorder (CV In, Clock, Start, Bank Up/Down)
CV Outputs
CV Out, Gate Out, Start Of Sequence, End Of Sequence, Clock, CV Recorder CV Out (A, B, C, D and CV)
Sequencer Controls
64 Sliders and Step Select Buttons, Speed, Sequence Length, Gate Length, Play Mode, Glide, Division, Quantizer and Scale, Output Range, One-Shot Mode, Play/Pause and Stop, Global Play/Pause and Global Stop
Section Controls
Repeat Set, Mode Menu, Skip Step, Glide, Sequence Start Point, Gate
MIDI
MIDI In, MIDI Out, MIDI Clock Out (1 trigger per quarter note)
CV Recorder
Banks A, B, C and D available at corresponding sequencer patch bay outputs. All 7 banks selectable at CV Recorder CV Out by the Select control or Bank Up/Down inputs. CV is recorded and clocked through the CV Recorder CV and Clock inputs or Sequencer Rec Clock inputs.
Extra Features
Mode Menu (Skip Step Mode, Repeat Mode, Unipolar/Bipolar CV Output, MIDI Message, MIDI Channel, MIDI CC) and Firmware Updates
Casing:
Powder coated aluminum casing, silk screened printing and wooden side panels.
Dimensions
46.2 cm x 29 cm x 4 cm (L x W x H)
18.2″ x 11.4″ x 1.6″ (L x W x H)
Net Weight
3.2 kg / 8.8 lb
Shipping Weight:
4.5 kg. / 9.9 lbs including power adapter and instruction manual.
Power Requirements:
9VDC power adapter. Only use the KOMA adapter shipped with the unit.
Accessories
Included: dust cover, manual and power supply unit.
Rackmount kit available separately
Check out the video from Koma Elektronik:
Thoughts:
How does this compare to a Korg SQ-64 or BeatStep Pro? You'll always find something that can compete – but it's not really about that here.
The price is indicative of component availability and inflation post covid-19.
The tight clock timing and sheer amount of control shows this as a professional piece.
They are all hand-built in Berlin, Germany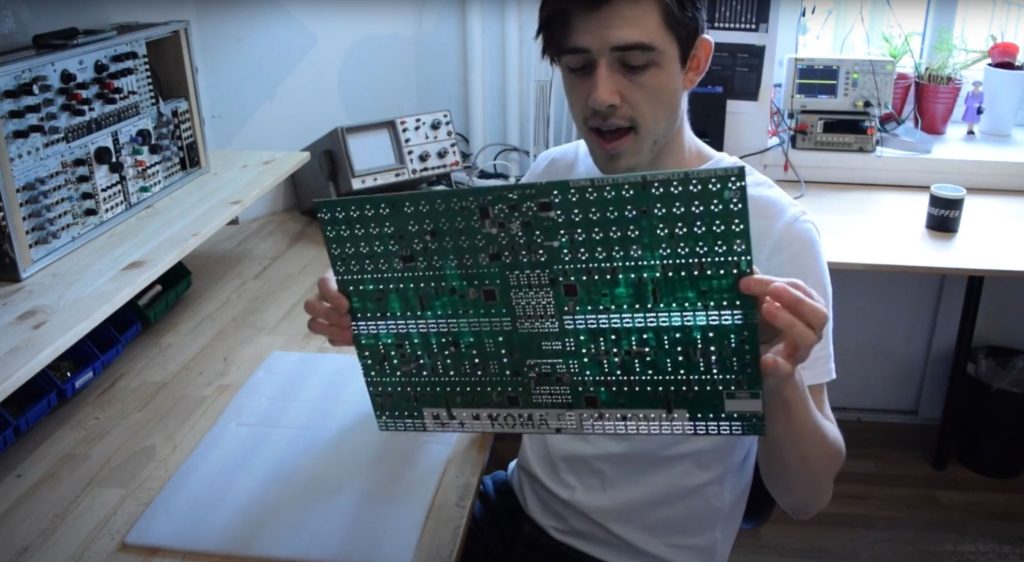 Price: €1,999,00 – Limited run 2 batches of 25 pieces each avail Sep 2023
Link: https://koma-elektronik.com/?product=komplex-sequencer