This is my federal electorate – Stirling – where the elected member is a Liberal, where is NBN, when is it planned?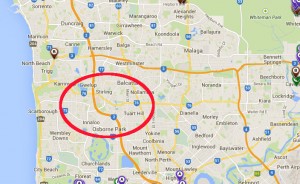 I find it bizarre, considering this is probably one of the most populated areas of Perth …
Screenshot taken off the NBNco's website today – the map shows planned, active and to-be done rollouts – you'll see little pins with letter A's and B's on them. There is absolutely nothing in our area – zilcho.