In episode 161 we are talking about using Linux for music production! Plus all the usual segments!
Show contents:
About the Synth Geekery Show

Synth Geekery is a weekly podcast/live stream (YouTube) show about everything synthesizers, drum machines, samplers, sequencers, eurorack and music technology. We take the "one of the masses" viewpoint, where we are also users of gear just like you (read: we're not influenced by commercial product placement).
The show relies on the generous contributions of the synth community. You can contribute in many ways including supporting us via our YouTube Channel Membership or Patreon. We also have regular and special video guests: if you would like to take part in future shows – please contact me via email on the about page here.
Guests
This week's video guests are:
Andrew Brooks
Main link – https://www.youtube.com/user/sunhoney1uk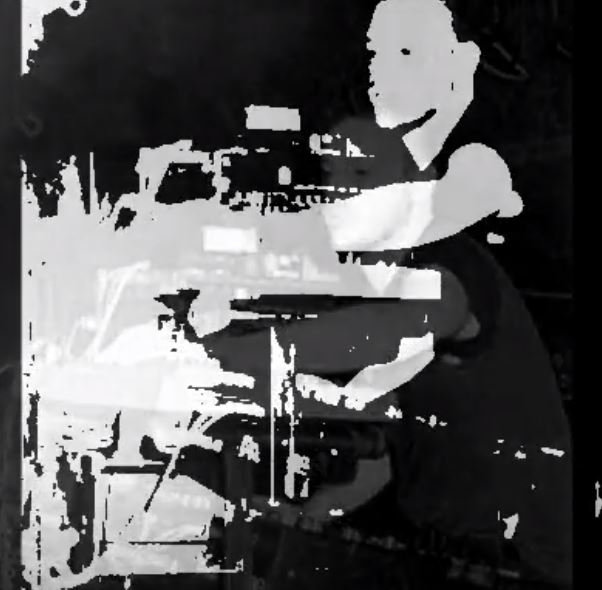 BandCamp link: https://andyvonal.bandcamp.com/
Andy resides in the UK and has been a regular member of the show since 2020. He has performed live and offers a wealth of knowledge for live electronic music setups and small studio configurations.
Daren T. Housse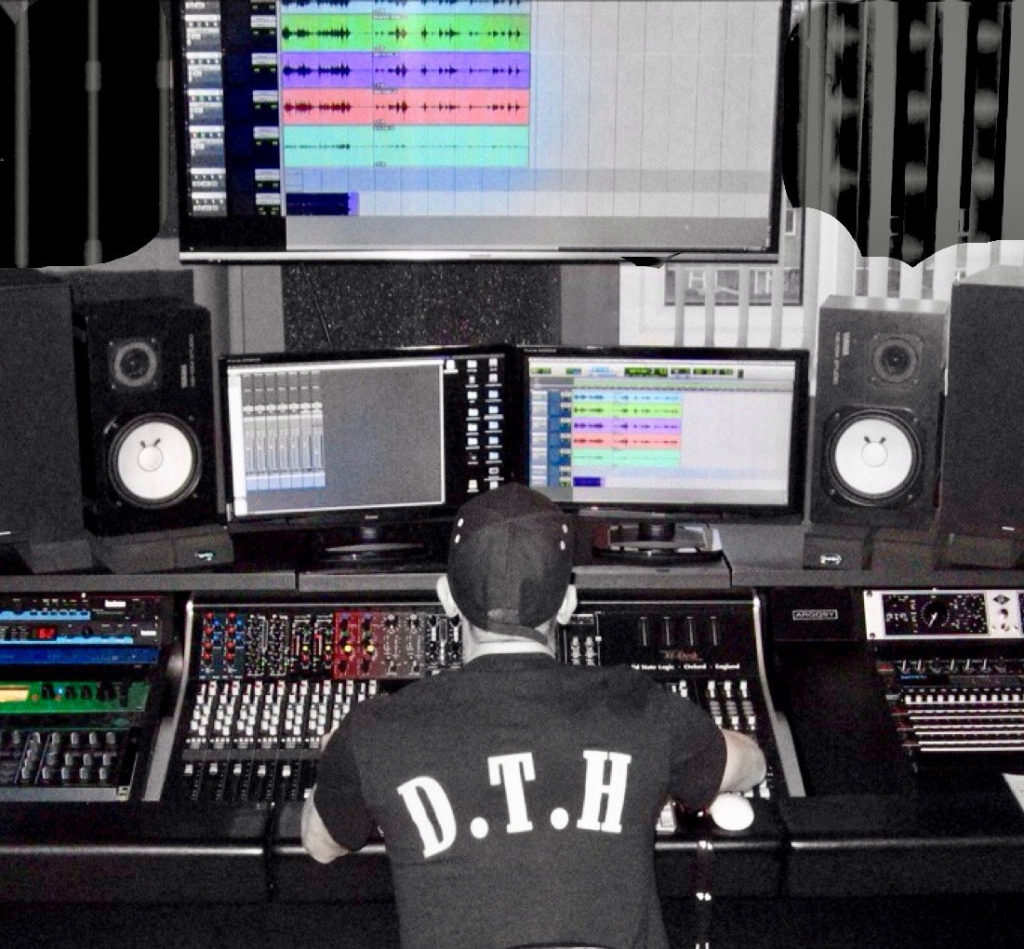 Bandcamp Link: https://darenthousse.bandcamp.com/
Youtube: https://www.youtube.com/channel/UCLPHxpZgFKKE1wkG9ndto3A
Daren resides in the UK and is one of the first video guests on the show since 2019. He has a large amount of tracks on his youtube channel plus a great album collection over on BandCamp.
SynthAddict
YouTube: https://www.youtube.com/channel/UCUtABvP7q29uvLKi73zIjFQ
Video replay
Funny Side
The funny side segment is a collection of memes that are somewhat relevant to the synth geekery community. Some of these images are taken from Facebook, Instagram and other social media sources. Please respect the creators. Hope you enjoy this week's selection: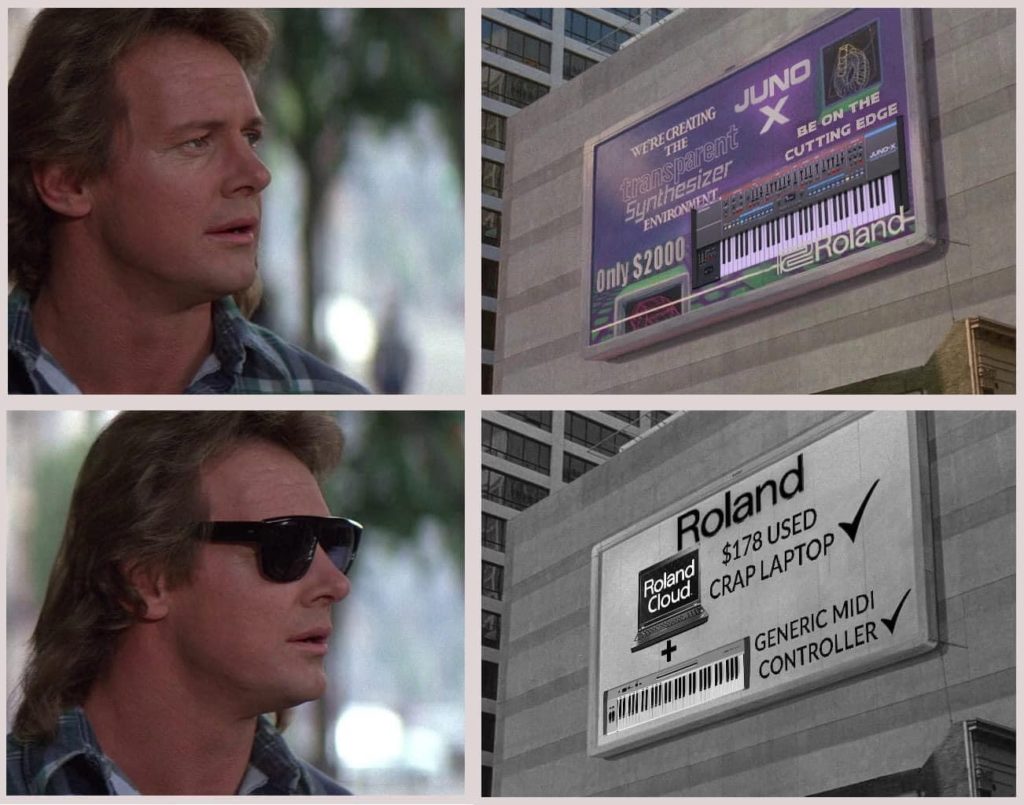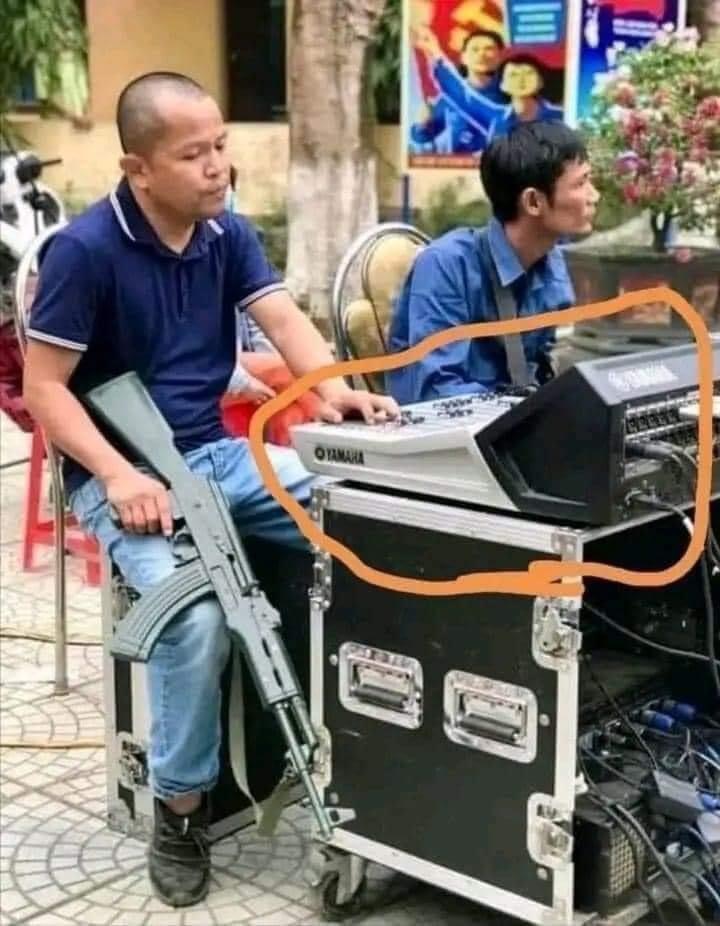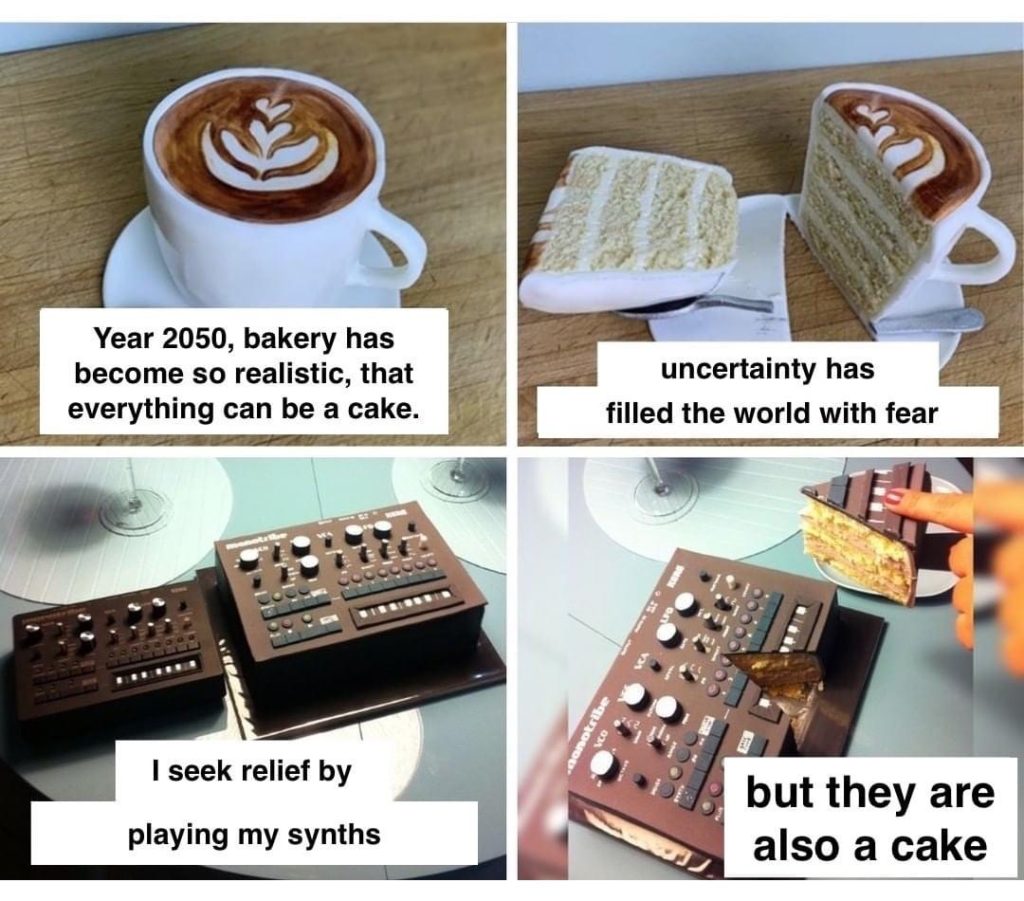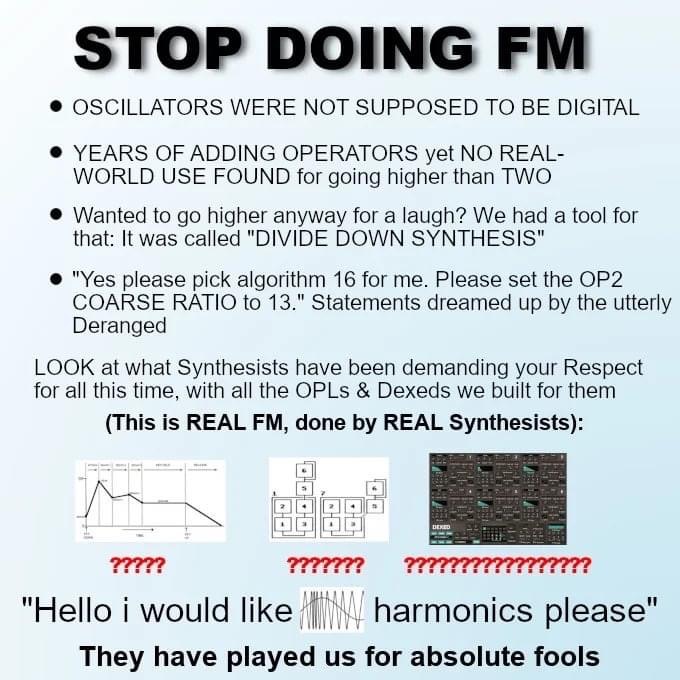 News from the Geekery
This week we have a big list of new synths and gear:
DivKid Stereo Mix
The latest 6HP module from DivKid – the Stereo Mix: brings a mixer channel strip into your modular. The module offers the following features:
Stereo (or normalised mono) inputs – 3.5mm
3 Band EQ with low shelf, mid bell and high shelf response
Input level selector for either eurorack or line level input gain
3-way mute toggle switch for on, off or momentary mute function
Stereo VCA level control that is CV controllable with level attenuation
Manual pan control and CV control of pan and attenuator
Output level selector for eurorack or line level
Some stand-out features include the dot indicators on the level knob that helps with 5V, 8V and 10V CV voltage levels (which helps with differences in EG CV outputs). There is also soft clipping on the levels with controls to line level or eurorack level outputs. Because the output is stereo, the module can also be used as a two mono line mixer output.
Link: https://divkidvideo.com/stereo-strip/
Price: $220
Oberheim OB-XA
Leaked information sourced from sequencer.de shows the new Oberheim synth as the OB-X8. Here's the details:
Features:
8-voice, pure-analog polyphony with sine, saw, square, triangle, and noise
Two discrete SEM/OB-X-lineage VCOs per voice deliver classic punchy Oberheim tone
Discrete SEM-lineage VCFs deliver authentic OB-X-style tone and presence
The 61-key FATAR velocity- and touch-sensitive keyboard allows unparalleled expression and responsiveness
Bi-timbral capability allows two presets simultaneously for splits and doubles
400-plus factory programs, including the full set of factory sounds for the OB-X, OB-SX, OB-Xa, and OB-8
Integral, fanless, heatsink-free power supply
Real walnut end cheeks
High-resolution OLED display enables patch management and easy access to advanced features
Classic Oberheim Pitch and Mod levers allow expressive note bending, vibrato, and access to arpeggiator functions
Enhancements:
Additional SEM Filter modes add high-pass, band-pass, and notch functions to the classic OB-X filter
Vintage knob allows variable amounts of voice-to-voice variability to emulate the behavior of vintage instruments
Velocity sensitivity adds expressiveness to volume and filter
Channel Aftertouch adds real-time performance-based modulation
Enhanced unison allows variable voice stacking from 1-8 voices
Variable triangle wave cross-modulation
Over 600 user-programmable preset locations
Programmable per-voice pan allows wider stereo presence
Variable oscillator and noise levels
Ins & Outs:
Stereo and Mono outputs
Volume, Sustain, and Filter inputs
Arpeggiator clock input
MIDI In, Out, Thru
USB
Link: https://www.sequencer.de/synthesizer/threads/neuer-oberheim-synthesizer-ob-x8-oberheim-is-back.162171/page-12#post-2400363
Price: $5000
AJH Synths – Multi-Burst Envelopes (MBE)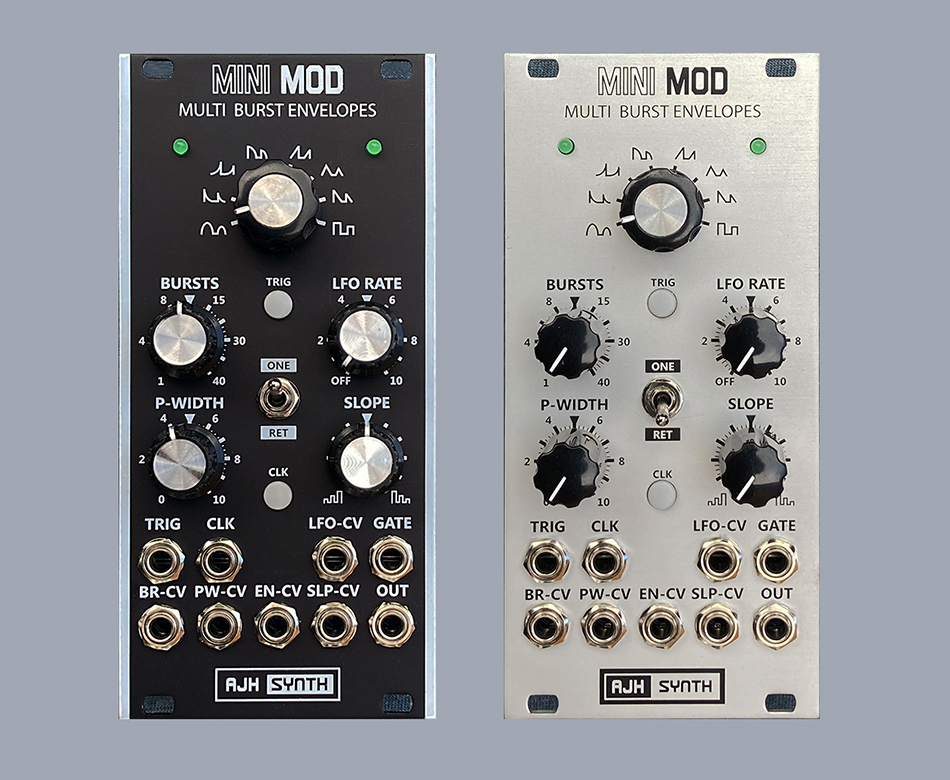 AJH Synths new 12HP module "Multi Burst Envelopes" can create anywhere from one to forty envelopes in succession. The top knob allows you to choose from eight different envelope shapes. This becomes more fascinating when you put in a CV modulation source and start flipping envelopes in the middle of a burst. The bursts can be triggered from the front panel or via a Gate or Trigger input. This can be done as a one-shot or retriggered to restart the input sequence.
The burst repeat rate is regulated by an internal LFO rate, although it can also be changed externally. The pulse width control or, once again, CV is used to alter the envelope length. Slope adjusts the envelopes' level, allowing you to fade them in and out over time. Two LEDs at the top display the burst rate as well as the envelope level, which is quite useful.
This type of module has a wide range of uses. From pulsing gates to ratchets and fascinating bursts of filter activity to strumming resonators, the possibilities are endless. You can get some amazing modulations by combining the bursts with creative CV control.
Link: https://ajhsynth.com/MultiBurst.html
Price: 230 GBP
Price Watch
This week, we are looking at some interesting auctions and used gear for sale. Here are the images/screen shots: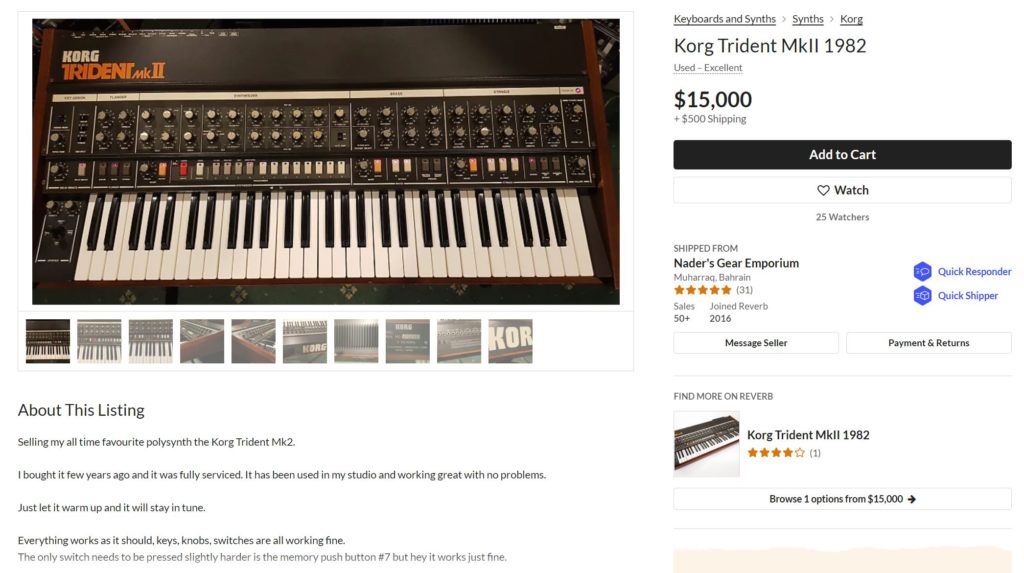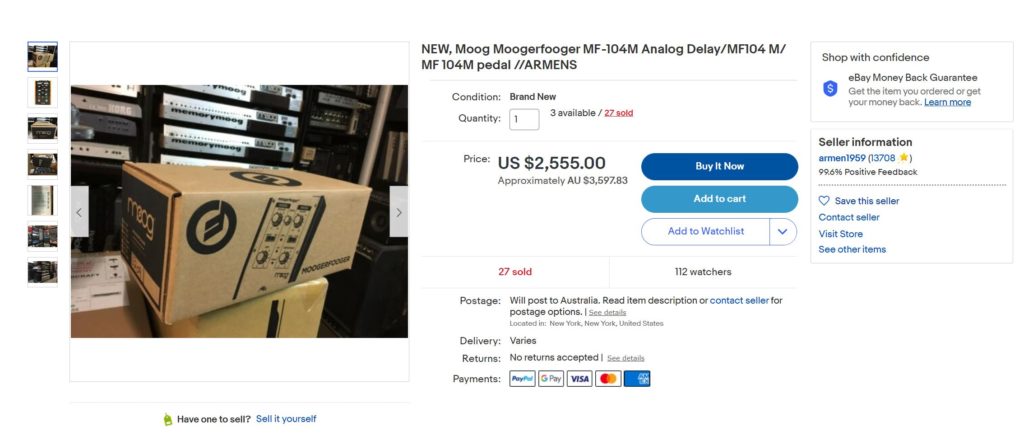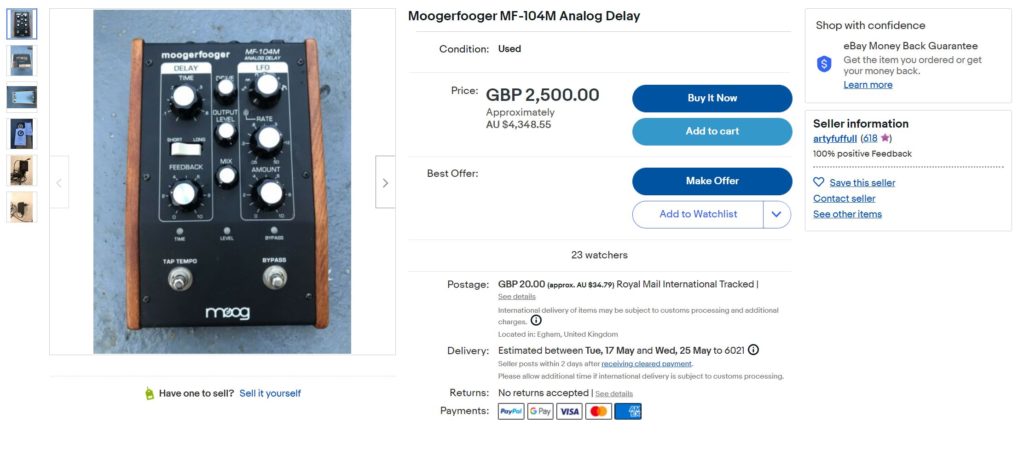 Name that Synth
This week's Name That Synth segment has been provided by SynthAddict! Thanks so much 🙂 How did you go?
Saturday Sonority
Saturday Sonority is the early show and after show content of the live stream.
Linux for musicians
Ubuntu Studio: https://ubuntustudio.org/
Fedora Jam: https://labs.fedoraproject.org/en/jam/#:~:text=Fedora%20Jam%20is%20a%20full,full%20set%20of%20LV2%20plugins.