In episode 175 we are talking about synthesizer education on your Saturday – ! Plus all the usual segments! Funny Side, News from the Geekery, Price Watch, Name that Synth …
Show contents:
About the Synth Geekery Show
Synth Geekery is a weekly podcast/live stream (YouTube) show about everything synthesizers, drum machines, samplers, sequencers, eurorack and music technology. We take the "one of the masses" viewpoint, where we are also users of gear just like you (read: we're not influenced by commercial product placement).
The show relies on the generous contributions of the synth community. You can contribute in many ways including supporting us via our YouTube Channel Membership or Patreon. We also have regular and special video guests: if you would like to take part in future shows – please contact me via email on the about page here.
Guests
This week's video guests are:
Daren T. Housse
Bandcamp Link: https://darenthousse.bandcamp.com/
Youtube: https://www.youtube.com/channel/UCLPHxpZgFKKE1wkG9ndto3A
Daren resides in the UK and is one of the first video guests on the show since 2019. He has a large amount of tracks on his youtube channel plus a great album collection over on BandCamp.
Andrew Brooks
Main link – https://www.youtube.com/user/sunhoney1uk
BandCamp link: https://andyvonal.bandcamp.com/
Andy resides in the UK and has been a regular member of the show since 2020. He has performed live and offers a wealth of knowledge for live electronic music setups and small studio configurations.
SynthAddict
Youtube: https://www.youtube.com/channel/UCUtABvP7q29uvLKi73zIjFQ
SoundCloud: https://soundcloud.com/user-914042529/sets/aquifex-originals-2014-2022-no
Andy (yes another one!) resides on the west coast of the USA and has been a long time chattie and more recent video guest. He has a vast collection of synthesizers, modular and love his music gadgets. Yes, he'll be the first to find a crazy musical gadget and tell us all about it!
Ian J. Cole
Ian is a musician, composer, sound designer and producer currently producing solo ambient electronic music. He also runs Sinners Music which is a Record Company and Online Music Retailer in East Yorkshire, England
Youtube: https://www.youtube.com/c/IanJCole
Video replay
Funny Side
The funny side segment is a collection of memes that are somewhat relevant to the synth geekery community. Some of these images are taken from Facebook, Instagram and other social media sources. Please respect the creators. Hope you enjoy this week's selection: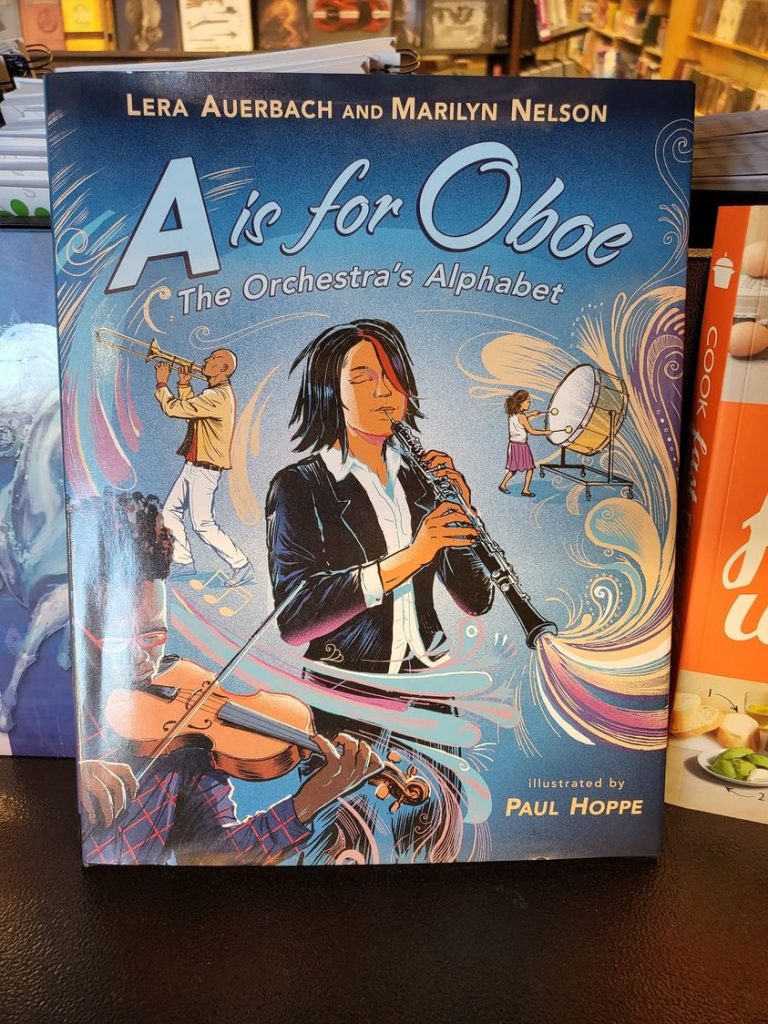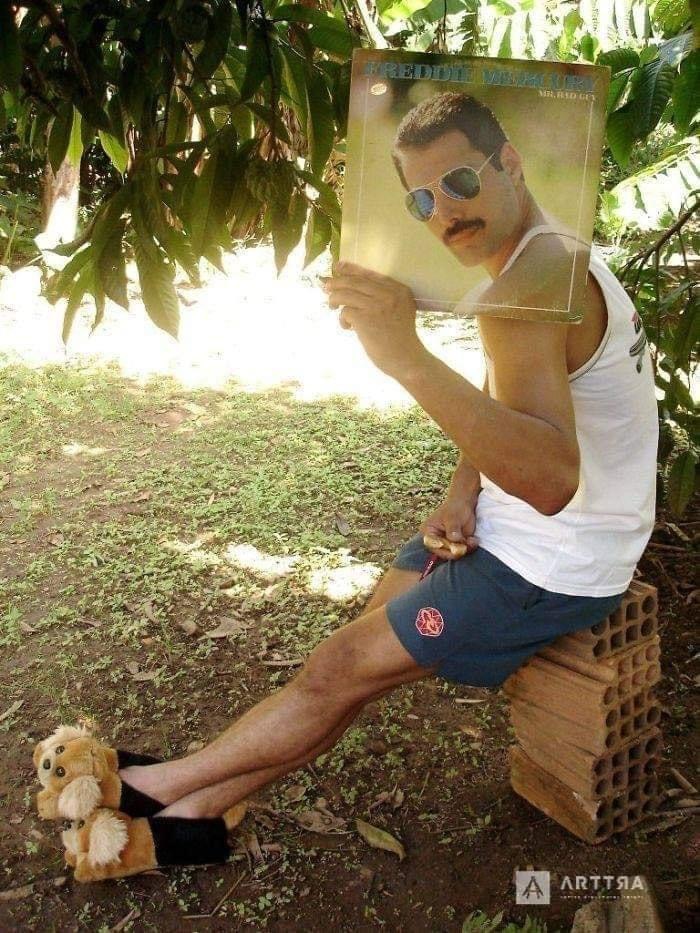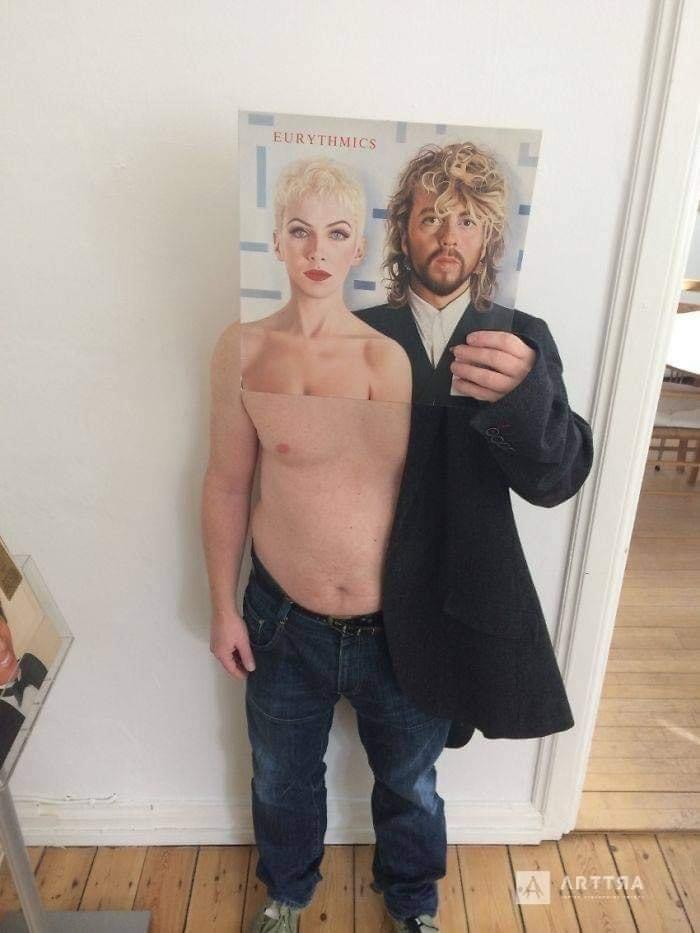 News from the Geekery
This week we have a big list of new synths and gear:
Modal Filton
Modal Electronics, makers of fine synthesizers like the 002, Cobalt8 and Argon8 (plus many more) are entering the realms of modular with a kickstarter campaign. The Filton is a dual analog transister ladder filter module that gets it's design from the 002 synthesizer with 24db/oct 4 pole setup.
The 20HP module offers a generously sized cutoff knob – which will be welcomed by many who like the finer control. In addition there are morph controls that allows you to move from lowpass through bandpass to highpass filter modes. Plus a gambit of CV connectivity that includes separate and mixed outputs to get your ladder filters working in your rig.
Price: £299
Link: via Kickstarter: https://www.kickstarter.com/projects/modal-electronics/filton-eurorack-dual-analogue-transistor-ladder-filter
Soundfreak VCS3 – 4U Modular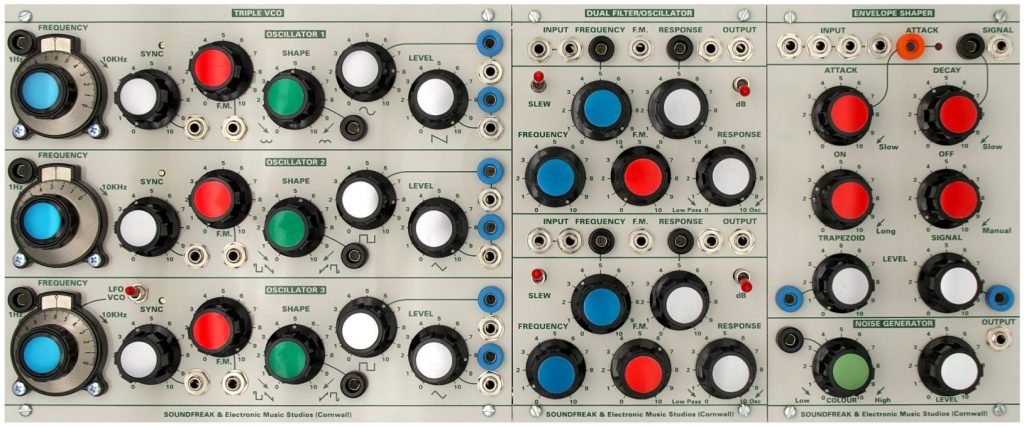 SoundFreak have announced the release of 3 new VCS3 modules in the 4U (Buchla) form factor. The modules are licensed by Electronic Music Studios (EMS). There is a triple VCO, dual filter and envelope with noise generator.
Triple Oscillator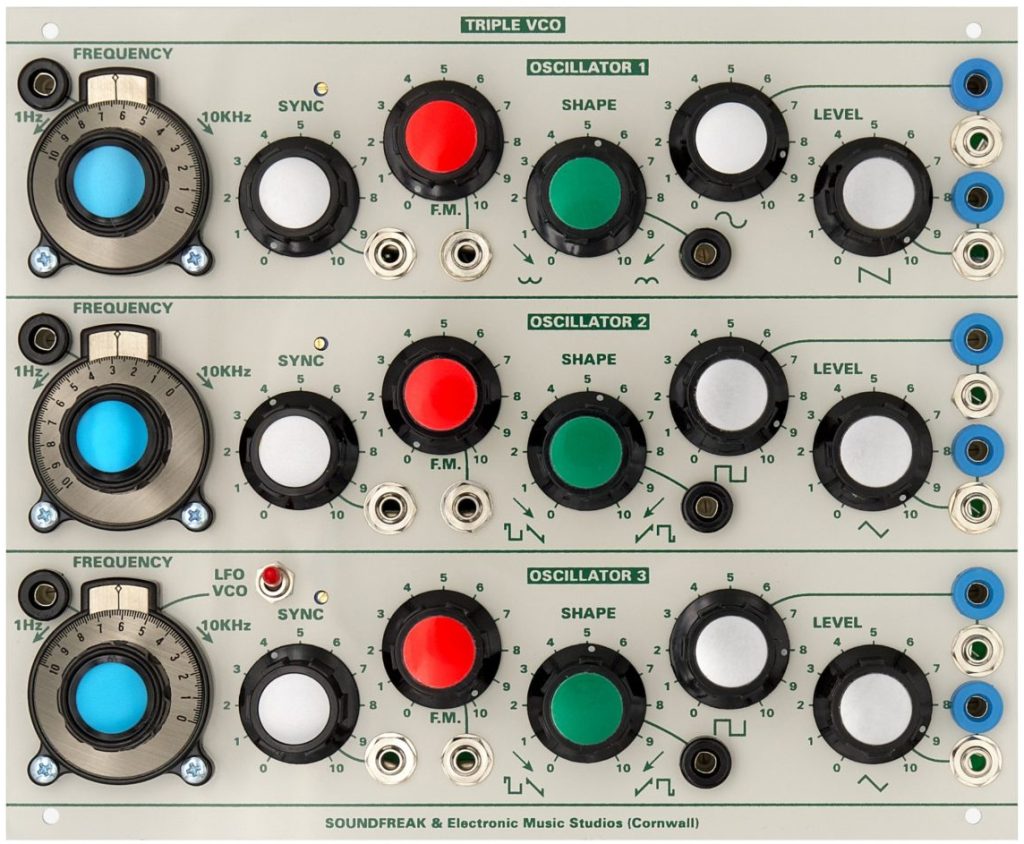 From their website:
The Triple Oscillator consists of three independent oscillators. They are identical in controls but different in range and waveforms. From top to bottom, the three oscillators are labelled 1, 2, and 3, and horizontal lines visually separate them on the panel layout.
The original VCS3 oscillators had a frequency range that extended well below the audible range. This allowed the musician to use them both as sound or modulation sources, mainly thanks to the VCS3 matrix, which allowed a flexible and immediate signal routing. In the 4U format, where sound and modulation are strictly separate, they provided the oscillator with both Tini-Jax and banana sockets.
Dual Filter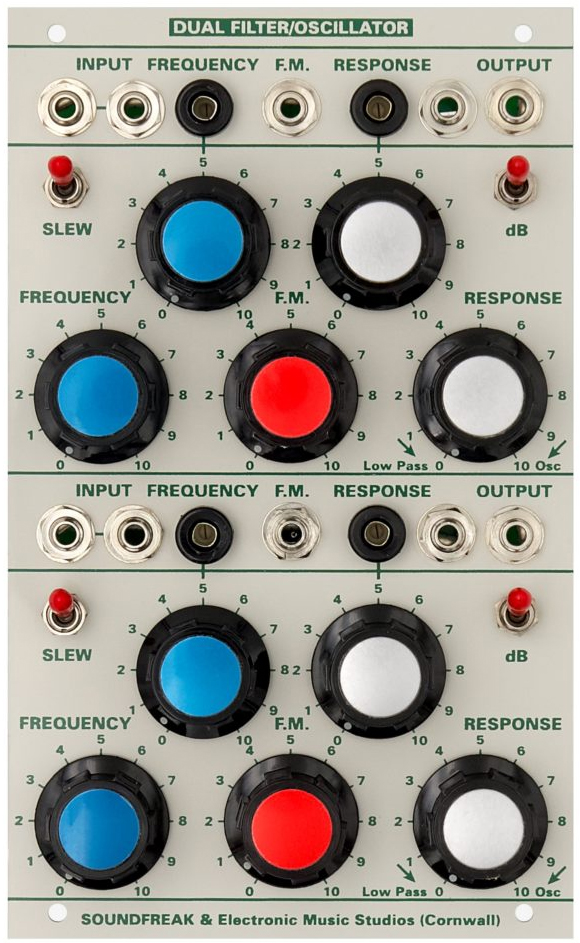 From their website:
The Dual Filter/Oscillator consists of two independent, identical filtering circuits modelled over the Filter/Oscillator section of the VCS 3, with some extra features.
Soundfreak preserved the original, distinctive Response parameter that allowed you to use the device as a resonant low-pass filter or a self-oscillating bandpass filter. In the latter configuration, the filter produced a pure sine wave that could be used as an audio source.
In addition to that, we designed an FM circuit that allows you to control the filter's cutoff frequency with both CV and audio signals. A dedicated switch modifies the filter reaction to audio-rate frequency modulation. The DB switch allows you to change the filter slope from 24 to 18 dB/oct, thus expanding the capabilities beyond the original VCS3 design.
Envelope Shaper
From their website:
This module merges two separate sections of the VCS3: the Envelope Shaper (upper part of the front panel) and Noise Generator (lower part of the front panel).
The Envelope Shaper combines a VCA and a loopable envelope generator that can work as an LFO. The envelope both controls the VCA level and is available as control voltage. It can accept up to four distinct sounds thanks to four semi-normalled audio inputs.
The Noise Generator outputs a noise signal with controls over its amplitude and colour. The colour knob defines its timbre by cutting the low or the high frequencies from the default white noise. We chose to expand its design by making this last parameter voltage-controllable.
Summary
Essentially all that's missing is the pin matrix. I also wonder if this will migrate to the eurorack (3U) form factor.
Price: Triple Oscillator €2120, Dual Filter €1620, Envelope €1480.
Link: https://soundfreak.io/
Roland opens store in London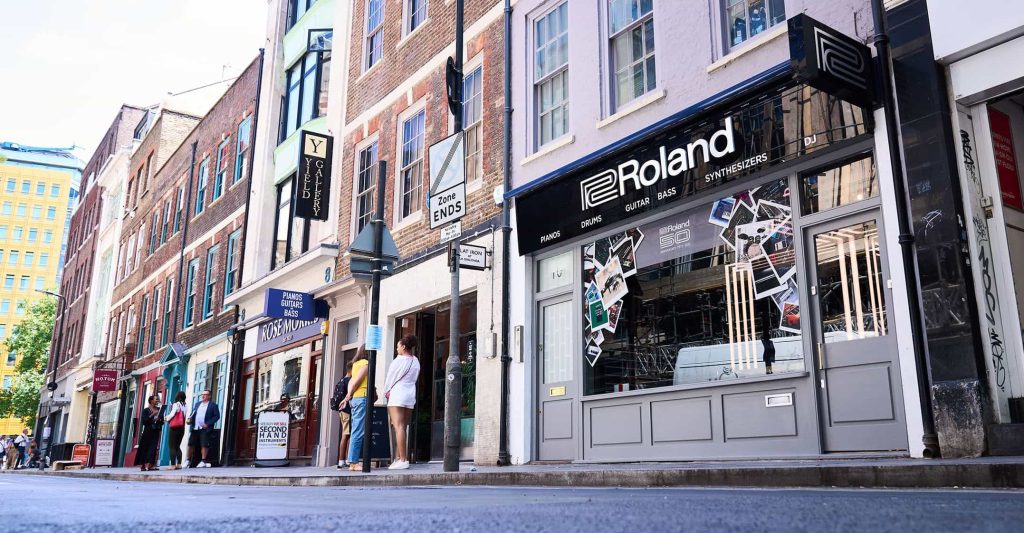 Roland have opened a new store in London, UK. The Denmark St store is the first stand-alone shop offering only Roland and Boss products. (Roland have opened mini stores inside Guitar Centre in the US before). The site has been specifically chosen on Denmark St due to it's connections to the music industry.
The store will also offer workshops and masterclasses in addition to products. It will also showcase the new ASX technology to lighting, sound and video content. The Audience Specific Experience (ASX) is a Roland proprietory technology and is said to provide an insight into the future of music and sound.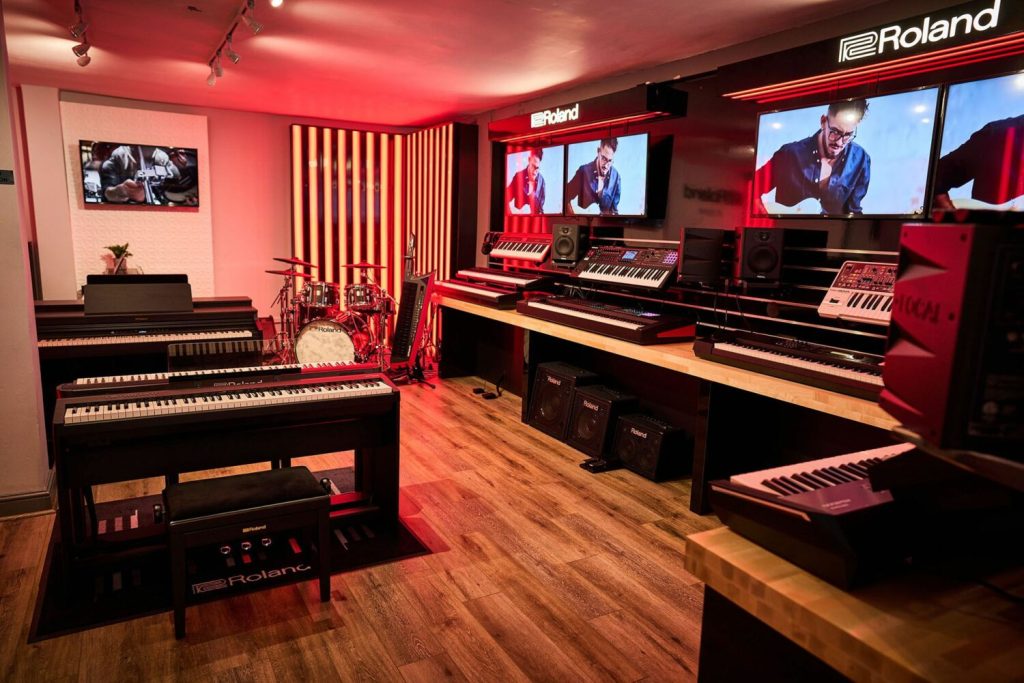 Location: 10 Denmark Street, London
Link: https://rolandstorelondon.com/
Feedback Modules Bus System

Feedback have introduced a new bus CV routing system for eurorack modular synth setups. There are 3 modules available which allow for plumbing and connectivity to switching.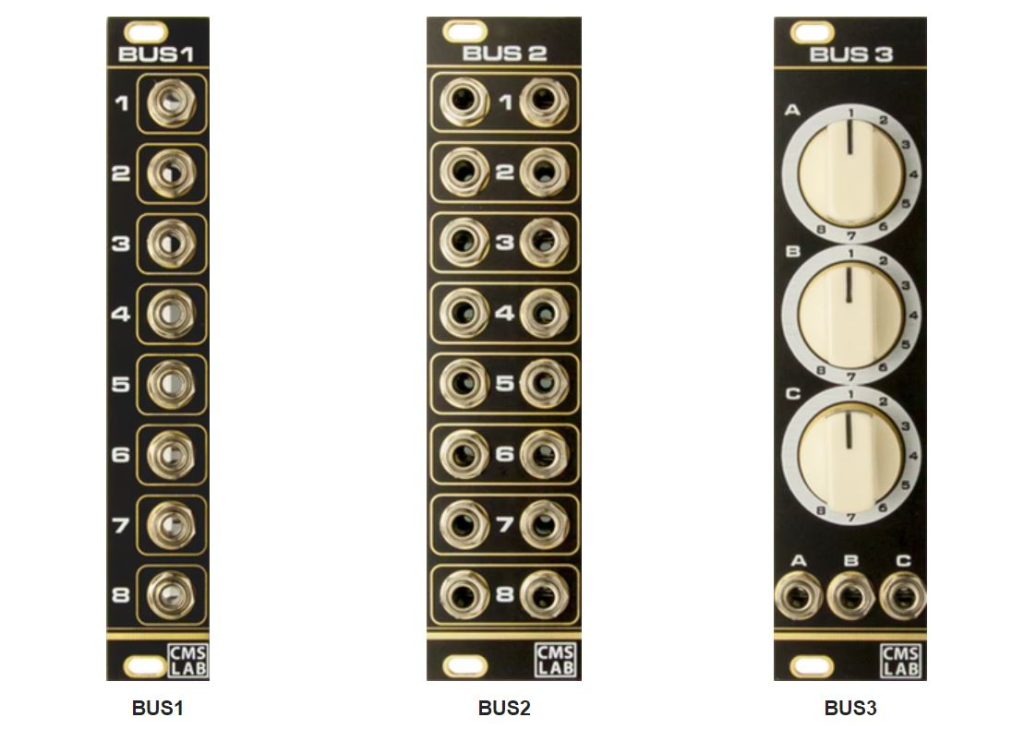 Bus 1 is used to route, Bus 2 is used to bridge from and to and Bus 3 is the routing switch. If you combine these in different ways – they can provide some interesting results. The system provides to ability to route connectivity from around your skiff or even to another skiff. This can be handy to keeping connections tidy and provides switching capabilites to both CV and audio signals.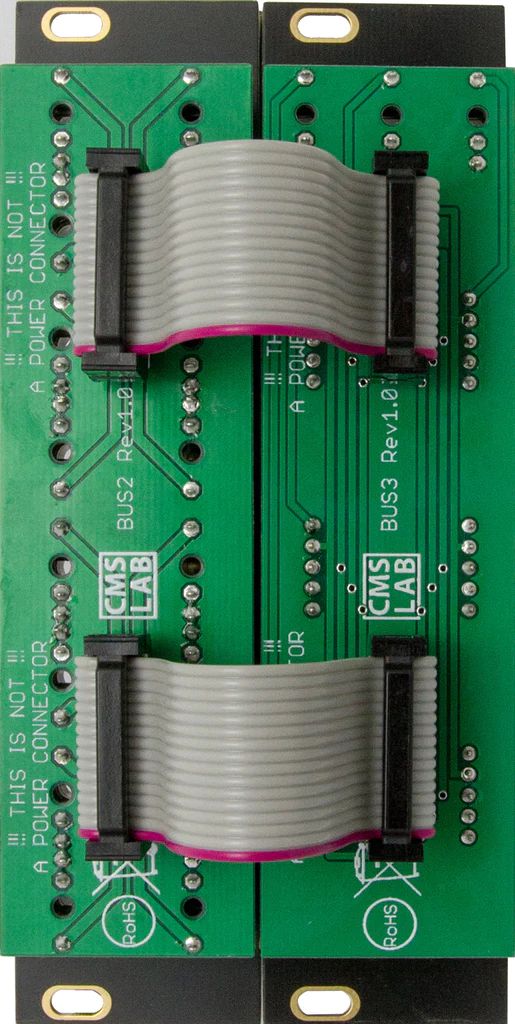 Bus 3 can connect up to 3 routing destinations – and this is expandable if you link multiple Bus 3 modules (shown above).
Short and long ribbon cables are available for €5.00 and €7.00 respectively.
Price: €29.00 for Bus 1 and €39.00 for Bus 2 and Bus 3
Link: https://feedback-modules.myshopify.com/
Price Watch
This week – we looked at the rising prices of Mutable Instrument modules: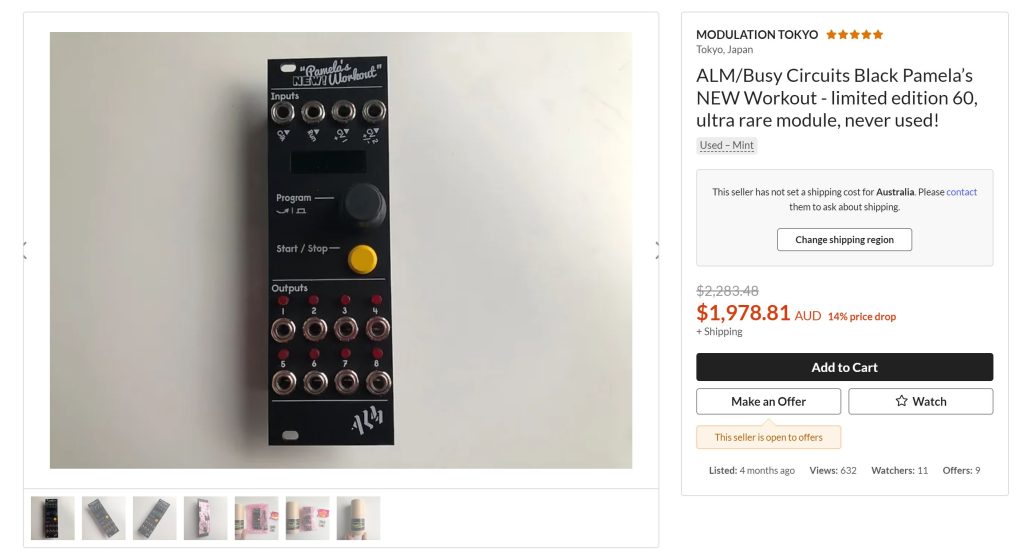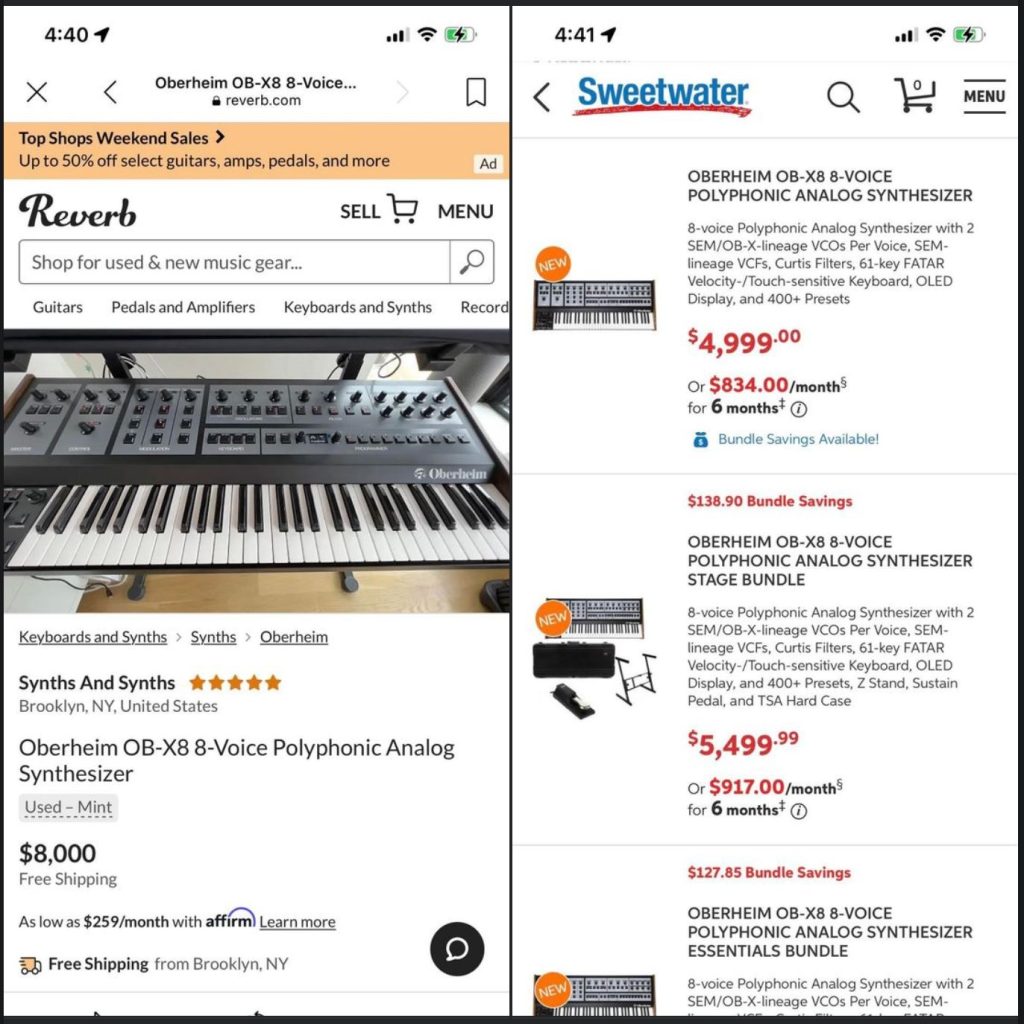 Saturday Sonority
This week's Saturday Sonority we were talking about synthesizer education!