In episode 186 we are talking about Black Friday gas! Plus all the usual segments! Funny Side, News from the Geekery, Price Watch, Name that Synth …
Show contents:
About the Synth Geekery Show
Synth Geekery is a weekly podcast/live stream (YouTube) show about everything synthesizers, drum machines, samplers, sequencers, eurorack and music technology. We take the "one of the masses" viewpoint, where we are also users of gear just like you (read: we're not influenced by commercial product placement).
The show relies on the generous contributions of the synth community. You can contribute in many ways including supporting us via our YouTube Channel Membership or Patreon. We also have regular and special video guests: if you would like to take part in future shows – please contact me via email on the about page here.
Guests
This week's video guests are:
SynthAddict
Andy is a musician and technologist from the bay area in California. He has an amazing collection of music tech gadgets and a large knowledge of synthesizers.
Youtube: https://www.youtube.com/channel/UCUtABvP7q29uvLKi73zIjFQ
Ian J. Cole
Ian is a musician, composer, sound designer and producer currently producing solo ambient electronic music. He also runs Sinners Music which is a Record Company and Online Music Retailer in East Yorkshire, England
Youtube: https://www.youtube.com/c/IanJCole
Henrick J. Larson (JX3D)
We also had Henrick (JX3D) as a video guest – check out his new album here:
Chris – Maikshifter
Chris is an Australian musician and eurorack module maker hobbyist.
Video replay
Funny Side
The funny side segment is a collection of memes that are somewhat relevant to the synth geekery community. Some of these images are taken from Facebook, Instagram and other social media sources. Please respect the creators. Hope you enjoy this week's selection: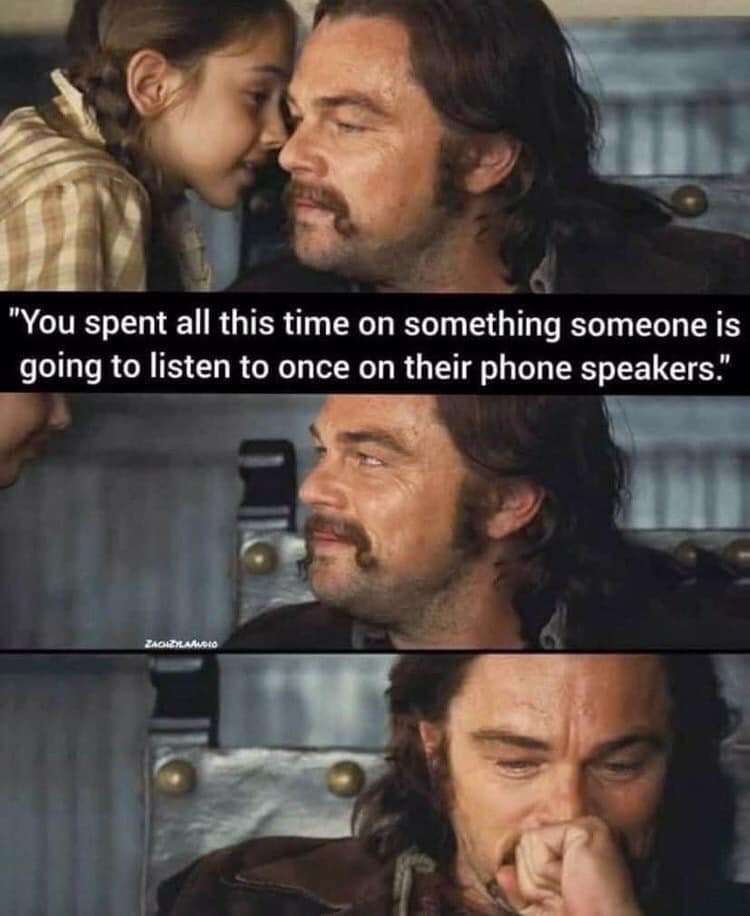 News from the Geekery
This week we have a big list of new synths and gear:
SonicWare Liven LoFi-12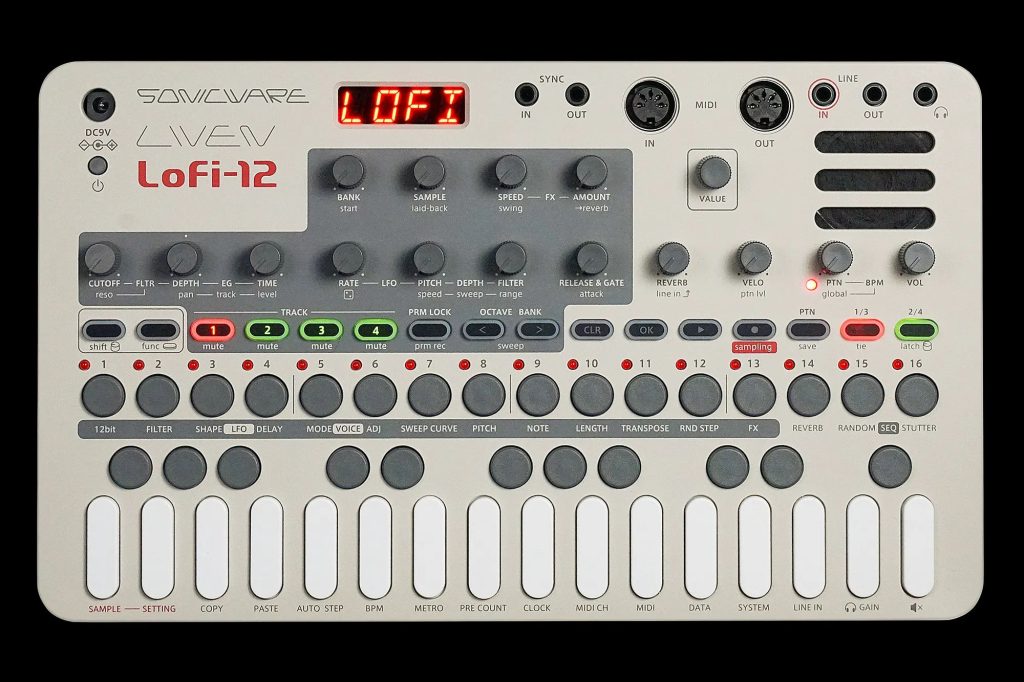 Similar groove box design and layout to the XFM and Bass&Beats machines – the LoFi-12 brings a sample sequencing machine with the old school 12-bit sound.
Price: $239
Link: https://sonicware.jp/pages/liven-lofi12

Valhalla SuperMassive 2-5
The new 2.5 update brings a whole new set of algorithms to the already feature-rich plugin.
<demo on the live stream>
Price: FREE
Link: https://valhalladsp.com/shop/reverb/valhalla-supermassive/
Moog MoogerFooger Saturator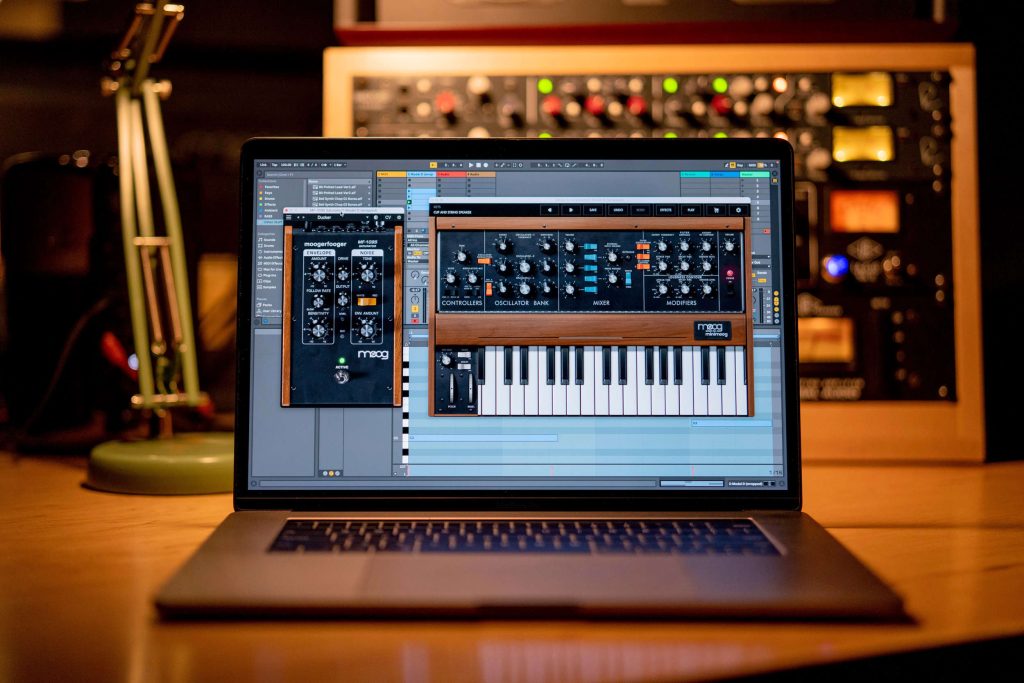 For those who already purchased the Moogerfooger plugins – they'll be pleasantly surprised to see a free addition sitting in their inbox. The new MF-109S Saturator comes packed with audio wetness.
The Saturator provides dynamic control of the unique drive circuit. There are 2 sections: an envelope follower which modulates the drive and a noise generator which is modelled after the MiniMoog Model D.
The sensitivity gives amplification to the input signal to the the envelope follower without increasing the signal path out. This allows you to bring in the EG amount so that you bring in drive to the signal. This will peak with the EG and provide dynamic drive to it. The follow rate allows for the extension of the EG over the rise and fall amount – similar to that used on the MF-101.
You can also achieve the opposite where you increase the drive knob and use the EG amount to the negative amounts. This provides a compressed drive sound based on the input signal.
The noise part allows for White and Red noise into the output drive circuit. The Tone control can be used as a low pass, high pass or band pass filter to adjust the overal sound of the noise. the Env Amount knob provides the amount of noise released into the envelope follower.

Price: FREE/$149
Link: https://www.moogmusic.com/news/meet-new-mf-109s-saturator-plug
Instruo cárn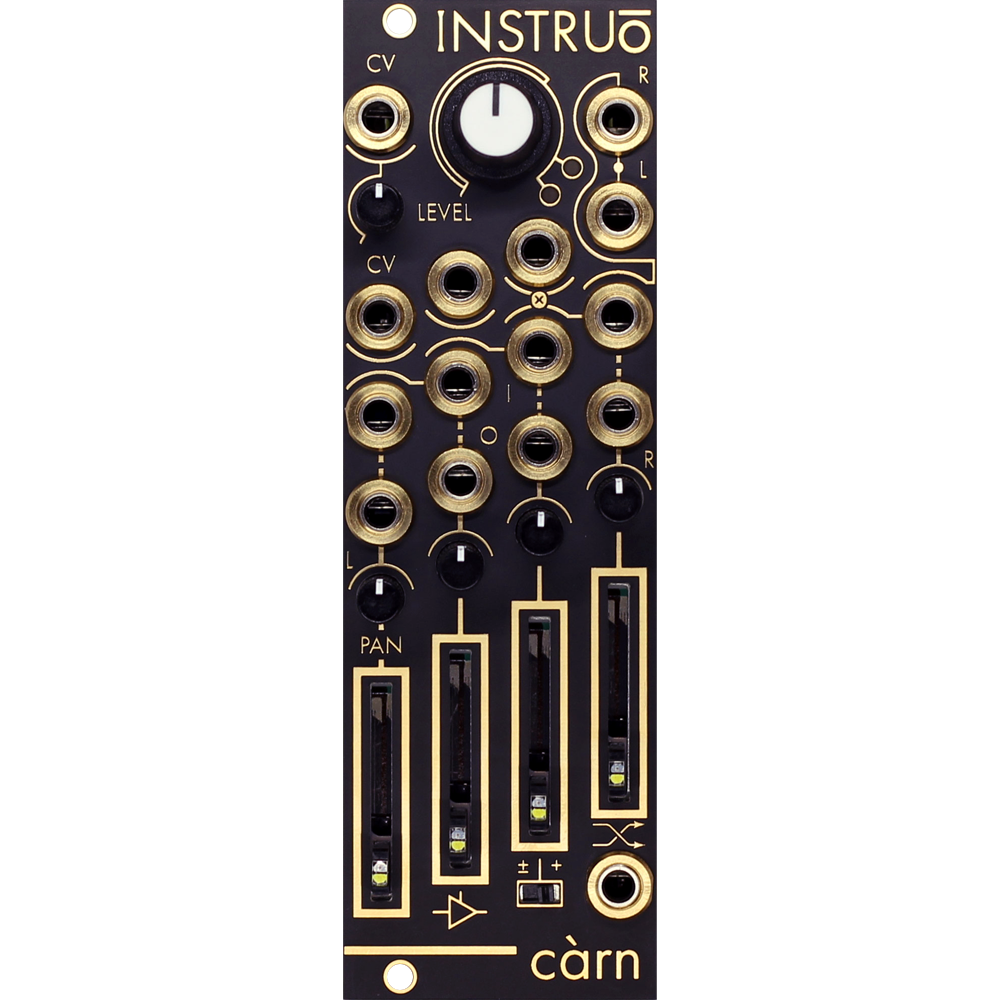 The cárn is a 4 input mixer/utility module with some innovative features.
Price: £379
Link: https://www.instruomodular.com/product/carn/
Korg Collection 4 – Includes MicroKorg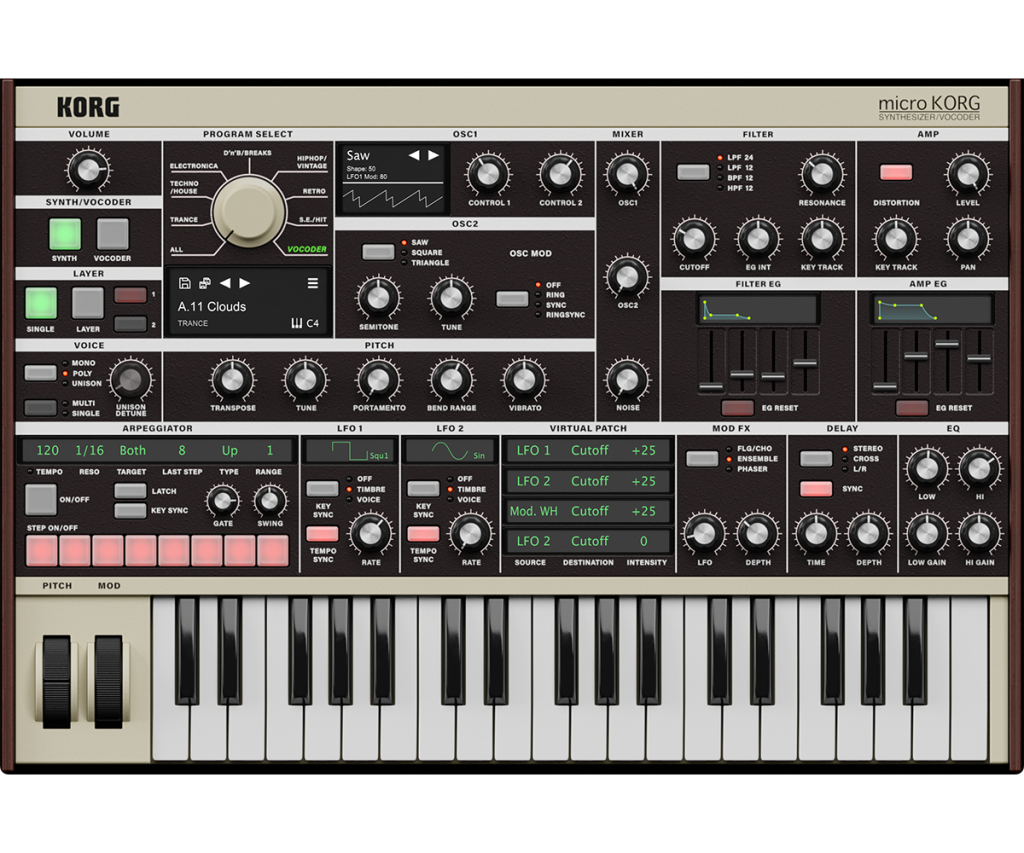 The new Korg Collection 4 – now with MicroKorg, Electribe R and Kaos Pad. Now you can bring your favourite legacy Korg instruments into your DAW.

Price: $299 ($399 after sale) – Individual VSTs for $99 ($149 after sale)
Link: https://www.korg.com/us/products/software/korg_collection/
Critter and Guitari 201

From the makers of the Organelle bring a new synthesizer available over on Kickstarter – the Critter and Guitari 201.
It offers 6 sound engines ranging from chiptune style waveforms, analog style filters, drum samples, realistic physical instrument models, and even a human vocal synthesizer
Portable – almost pocket size, the 201 also comes with a pattern generator, keyboard and sequencer. Connections include audio output via 1/4″ stereo line out, MIDI IN and OUT and USB C for uploading sounds and firmware. It also has a built-in 3W speaker.
Open source: like the Organelle, the 201 uses public domain software including Pure Data and Faust musical programming environments. At the heart is an ARM Cortex-A7 processor at 900 MHz with 512MB of onboard RAM.
Price: $295 via Kickstarter
Link: https://www.kickstarter.com/projects/critterandguitari/201-musical-synthesizer
Price Watch
This week – we visited a number of auctions, here are the screen grabs:
Ciat-Lonbarde DogeVox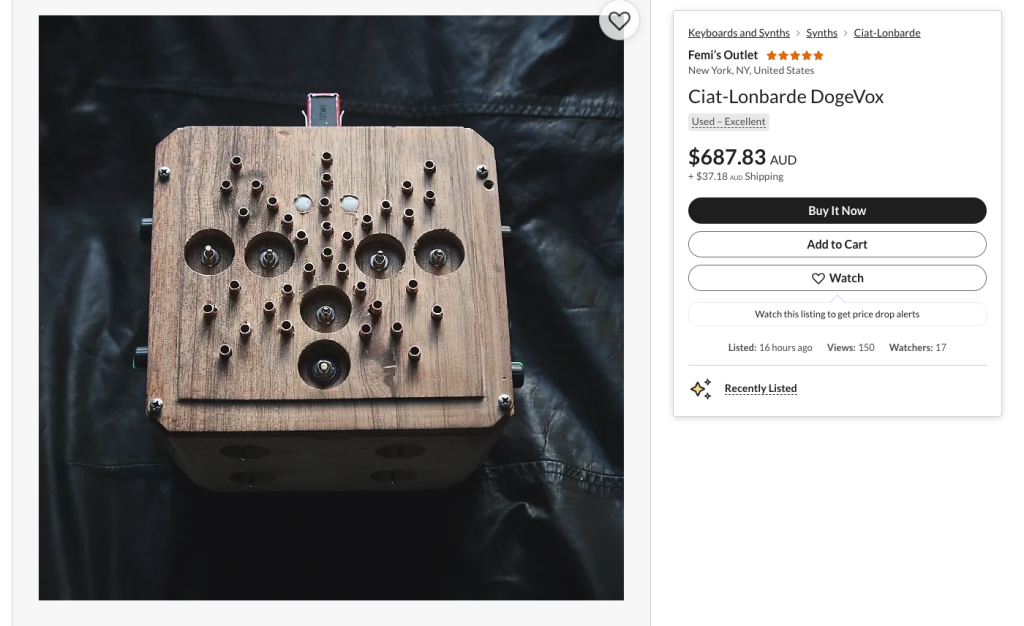 Link: https://reverb.com/item/63540902-ciat-lonbarde-dogevox
Stromer Mutroniks Ralph Junior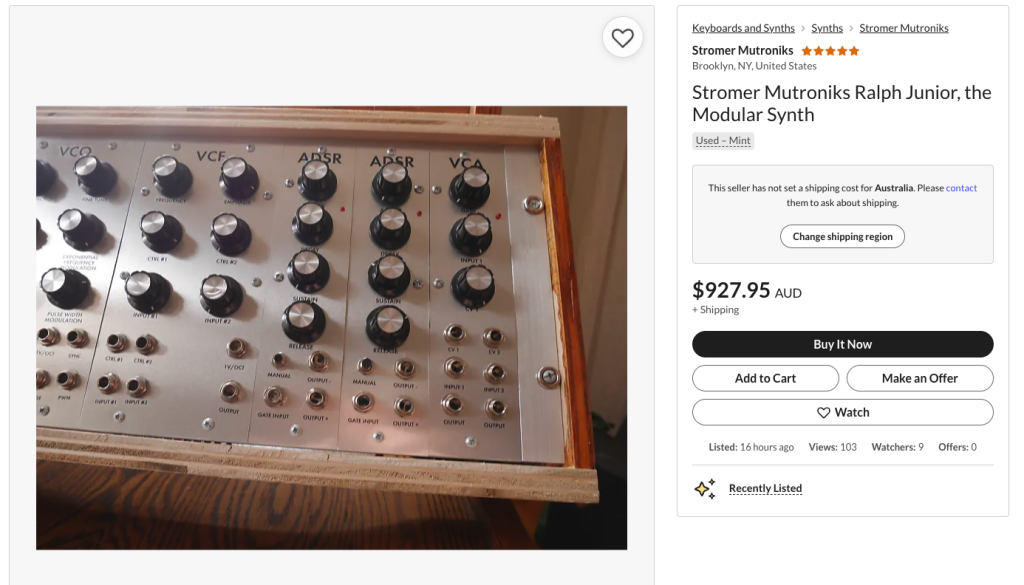 Link: https://reverb.com/item/63540710-stromer-mutroniks-ralph-junior-the-modular-synth
Herzlich MMI Maxima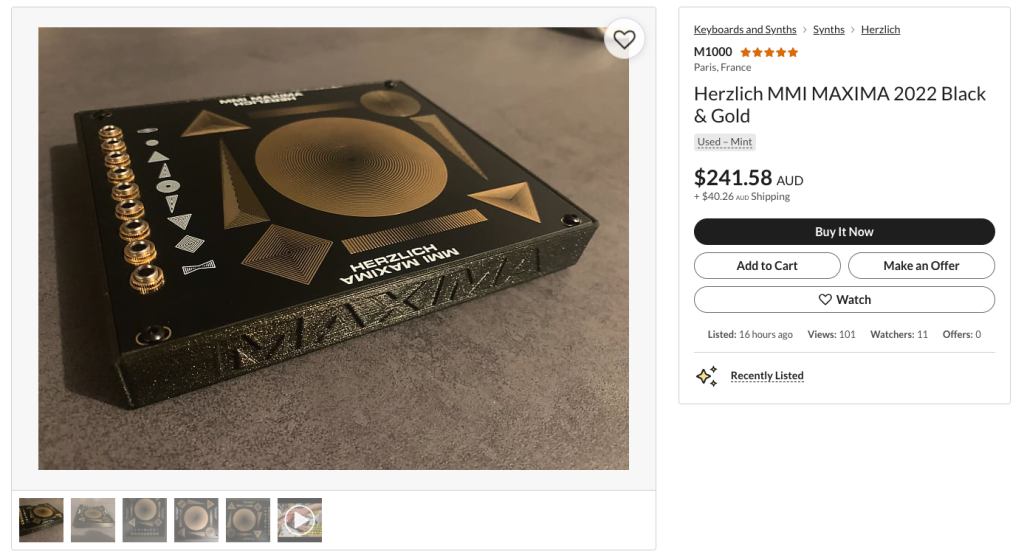 Link: https://reverb.com/item/63540596-herzlich-mmi-maxima-2022-black-gold
Latronics Notron MIDI Step Sequencer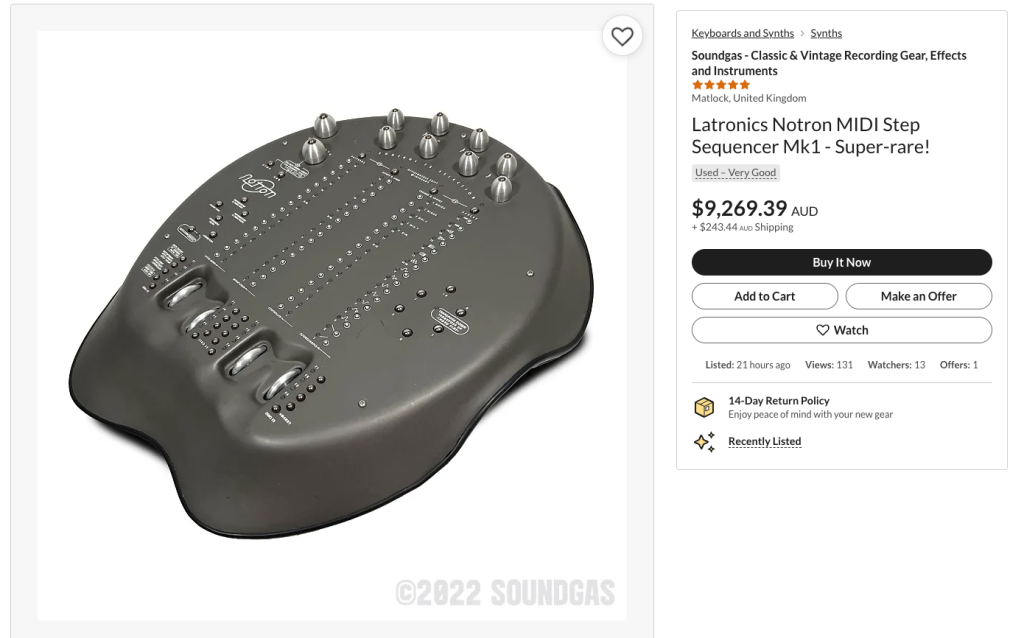 Link: https://reverb.com/item/63511697-latronics-notron-midi-step-sequencer-mk1-super-rare
Name That Synth
This week's Name That Synth was brought to you by Chris (Maikshifter) – thanks! Here's the video:
Saturday Sonority
This week's Saturday Sonority we were talking about Black Friday deals!