In episode 190 we are talking about your 2023! Plus all the usual segments! Funny Side, News from the Geekery, Price Watch, Name that Synth …
Show contents:
About the Synth Geekery Show
Synth Geekery is a weekly podcast/live stream (YouTube) show about everything synthesizers, drum machines, samplers, sequencers, eurorack and music technology. We take the "one of the masses" viewpoint, where we are also users of gear just like you (read: we're not influenced by commercial product placement).
The show relies on the generous contributions of the synth community. You can contribute in many ways including supporting us via our YouTube Channel Membership or Patreon. We also have regular and special video guests: if you would like to take part in future shows – please contact me via email on the about page here.
Guests
This week's video guests are:
Daren T. Housse
Bandcamp Link: https://darenthousse.bandcamp.com/
Youtube: https://www.youtube.com/channel/UCLPHxpZgFKKE1wkG9ndto3A
Daren resides in the UK and is one of the first video guests on the show since 2019. He has a large amount of tracks on his youtube channel plus a great album collection over on BandCamp.
Andrew Brooks
Main link – https://www.youtube.com/user/sunhoney1uk
BandCamp link: https://andyvonal.bandcamp.com/
Andy resides in the UK and has been a regular member of the show since 2020. He has performed live and offers a wealth of knowledge for live electronic music setups and small studio configurations.
SynthAddict
Andy is a musician and technologist from the bay area in California. He has an amazing collection of music tech gadgets and a large knowledge of synthesizers.
Youtube: https://www.youtube.com/channel/UCUtABvP7q29uvLKi73zIjFQ
Ian J. Cole
Ian is a musician, composer, sound designer and producer currently producing solo ambient electronic music. He also runs Sinners Music which is a Record Company and Online Music Retailer in East Yorkshire, England
Youtube: https://www.youtube.com/c/IanJCole
Video replay
Funny Side
The funny side segment is a collection of memes that are somewhat relevant to the synth geekery community. Some of these images are taken from Facebook, Instagram and other social media sources. Please respect the creators. Hope you enjoy this week's selection: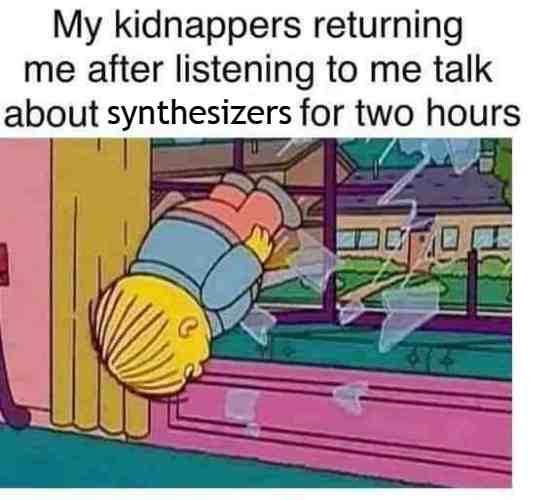 News from the Geekery
This week we have a big list of new synths and gear:
Feedback MIX series
The MIX series of eurorack mixers from Feedback modules offer a sound flavour to your rig setup. The range offers 3 different types of mixers: The BX, CR and KM. Each of these mixers have the same physical setup with 6 channels of inputs and 2 Aux sends with stereo returns for each.
Each channel has it's own "flavour" pre-amp, low and hi EQ, Aux sends for 1 & 2, Pan, Level and mute controls.
The AUX send and stereo returns have their own attenuator level. Plus the main output has it's own level and there's also a headphone connection and level control.
I'm not sure how they packed it all in this 35 HP module – but that's pretty amazing!
So, onto these "BX" "CR" and "KM" pre-amp flavours:
MIX BX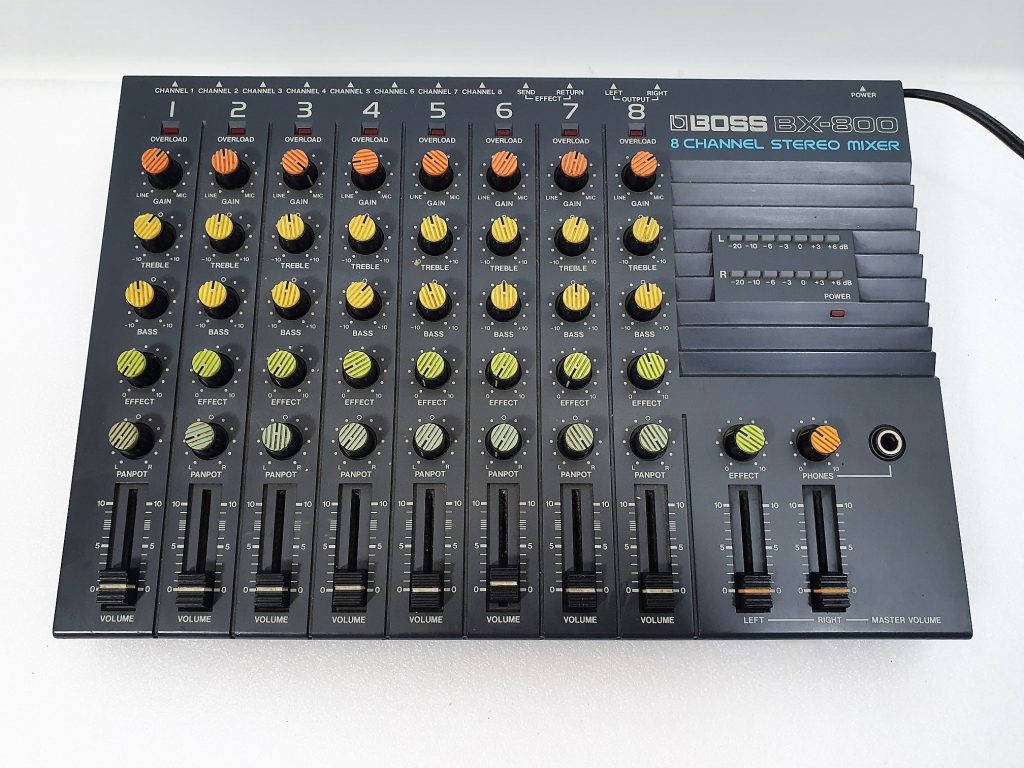 The BX is modelled after the famous Boss BX-800 series mixer from Boss/Roland. The BX was well known for overdriving the pre-amps to give the famous TB-303 that Fuzz sound. The warm overdriven sound makes for a great addition to your eurorack modules.
MIX CR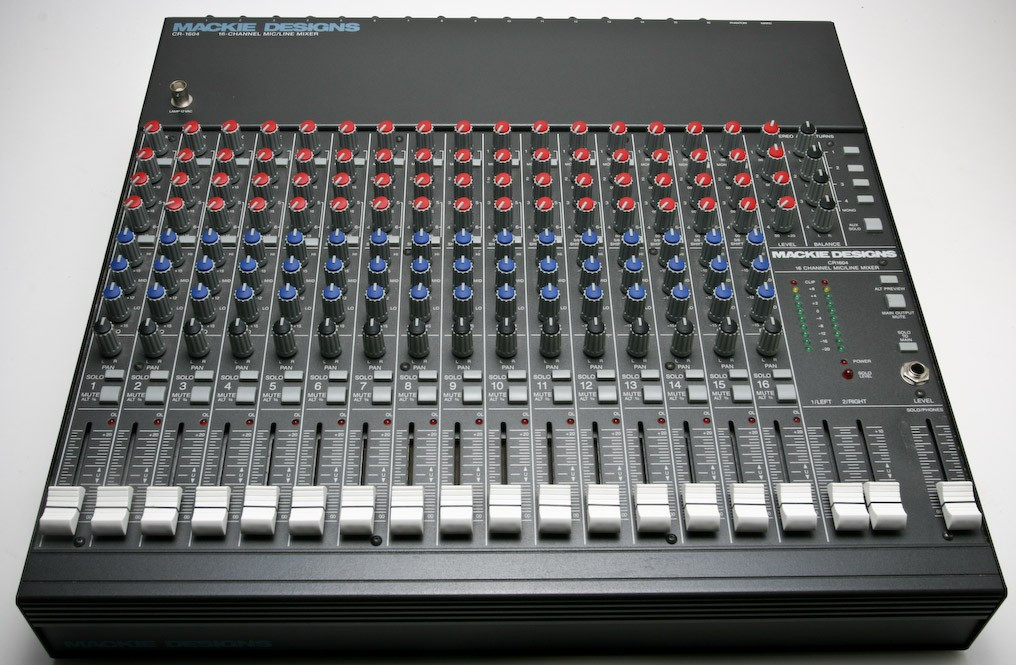 The CR is modelled after the famous Mackie CR-1604. The Pre-amp circuits contain the same design as in these mixers and thus offer you "that sound" that these were known for. Many Mackie CR owners would overdrive the preamps to give a distortion to a kick or bass line. They were an affordable mixer back in the day and therefore ended up on a lot of recordings and played at clubs.
MIX KM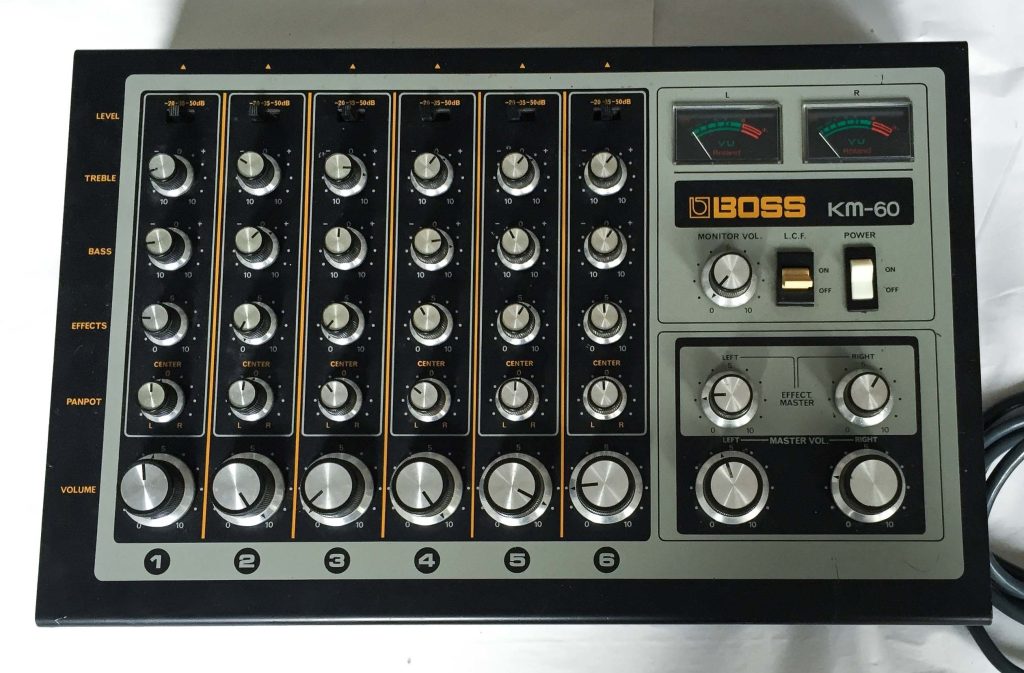 The KM is modelled after the famous Boss KM-60 mixers. A secret weapon with drum machines and an absolute demon when all channels are hooked up, cascading into one of the most wonderful gated, op-amp fuzzes you've heard before. Bringing that KM sound into your modular is a sweet thing!
Price: 290 EURO each
Link: https://feedback-modules.myshopify.com/
NGEN by Spektro Audio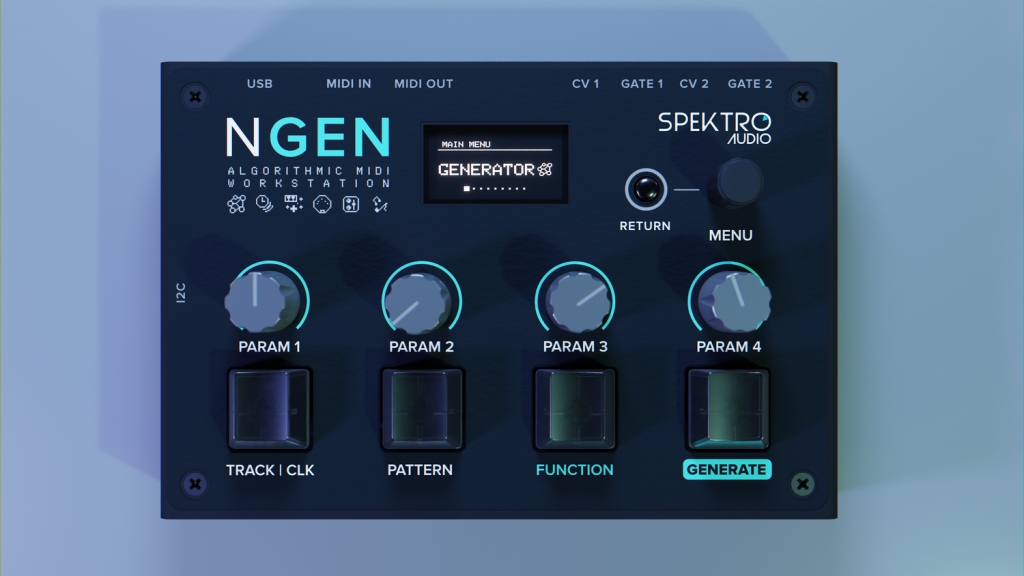 Blurb
Price: $599
Link: http://spektroaudio.com/blog/2023/1/19/introducing-ngen
Michael Jackson unreleased material stolen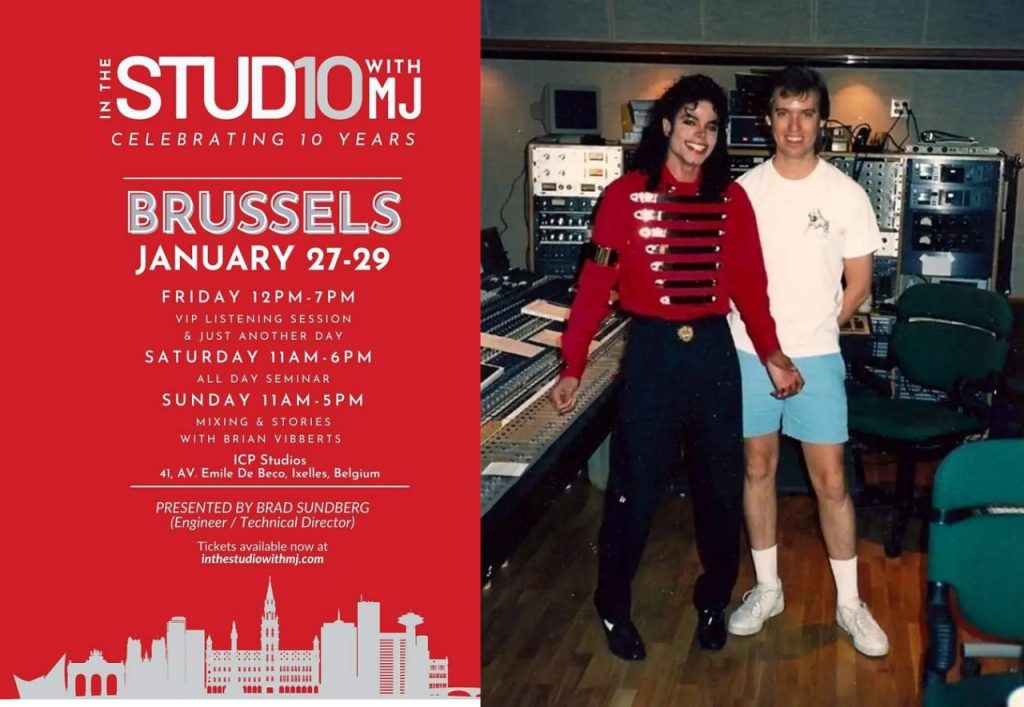 It has been reported that during the "In the Studio10 with MJ" presentation by Brad Sundberg, a laptop was stolen and the contents on the laptop contained some previously unreleased material from Michael Jackson. Brad Sundberg worked as an Audio Engineer with MJ back in the 90s.
More info via Twitter: https://twitter.com/pietstreepjer/status/1619031993194512387?fbclid=IwAR3U4AltfQ4zjQihQQ0Q3XilF2b8pWiTQwiZkzKHIploxVojiy0Ct2h67-o
Price Watch
This week – we visited a number of auctions, here are the screen grabs:
Roland SP-404 MkII
Link: https://reverb.com/item/64295424-roland-sp-404mkii-32gb-sd-15-rchrgble-batteries-w-chrgng-brk
AceTone Rhythm Ace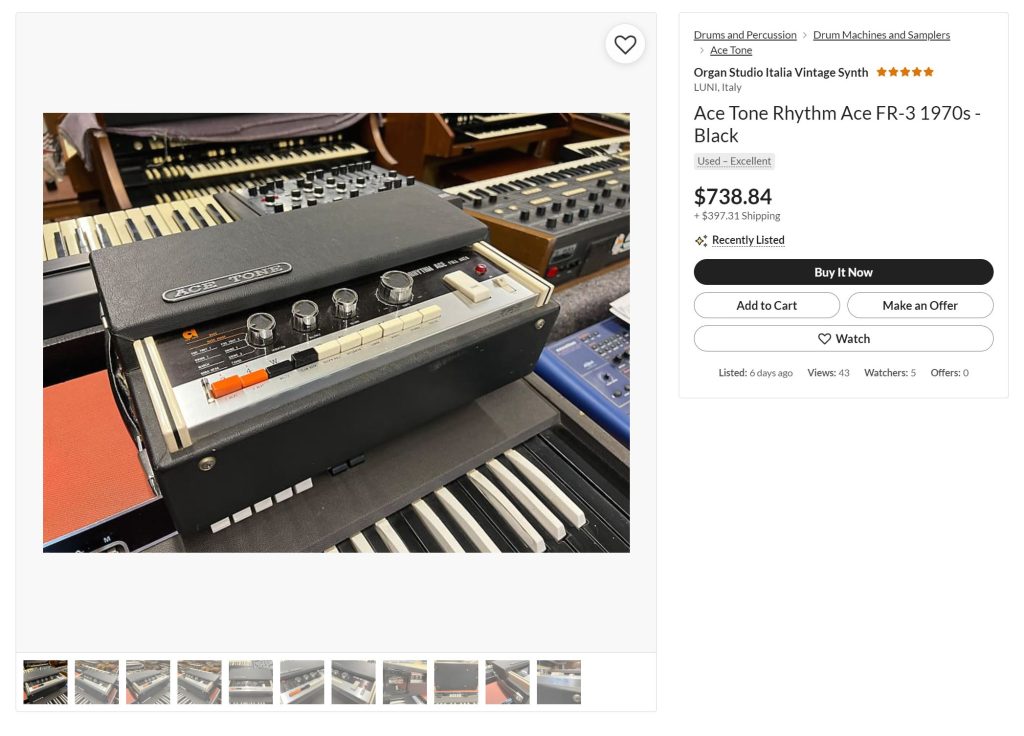 https://reverb.com/item/65149059-ace-tone-rhythm-ace-fr-3-1970s-black
Siel LX 61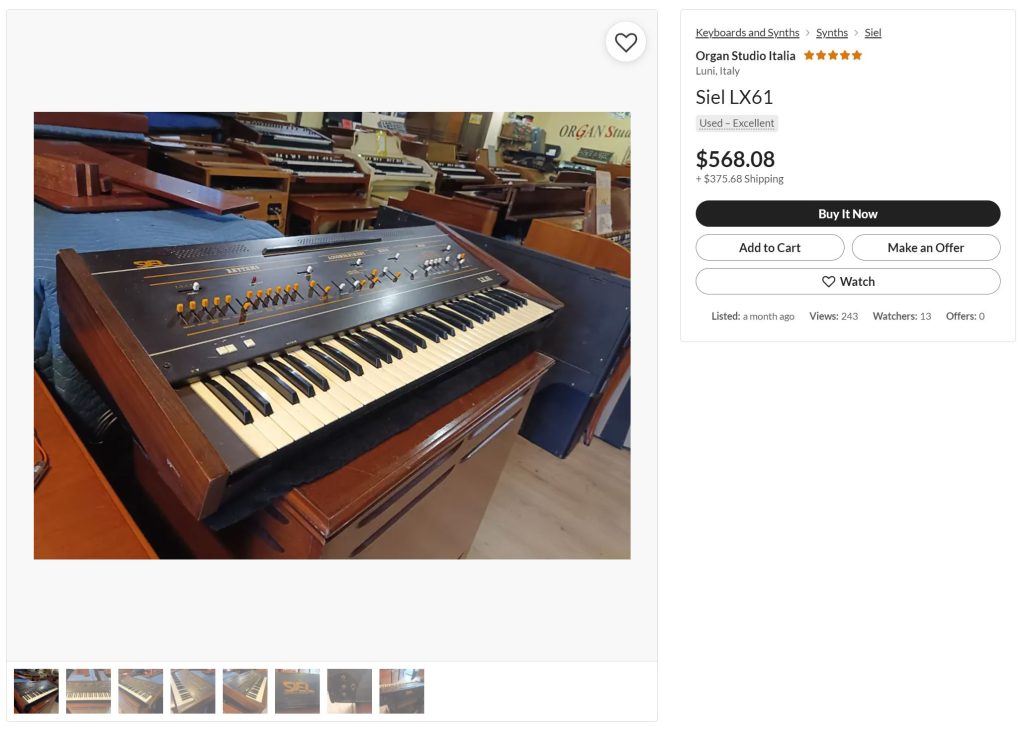 https://reverb.com/item/64162413-siel-lx61
Farfisa SoundMaker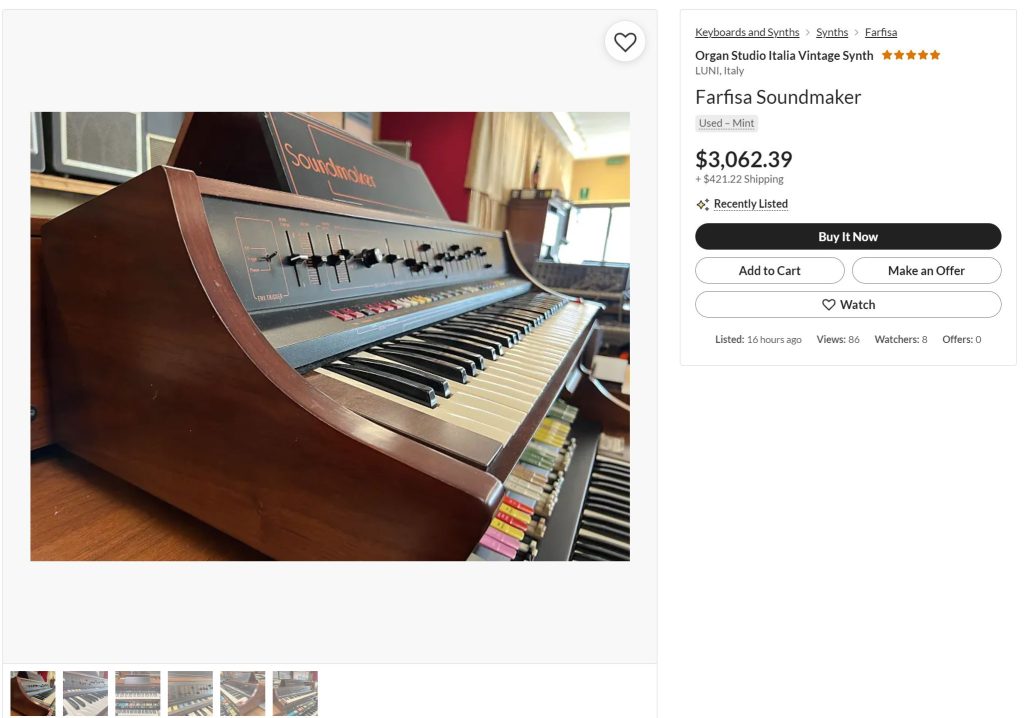 https://reverb.com/item/65303795-farfisa-soundmaker
Name That Synth
No name that synth this week – send one in!
If you are after more information about Name that Synth – please check out this page here.
Saturday Sonority
This week's Saturday Sonority we were doing a….!