In episode 207 we talked about …! Plus all the usual segments! Funny Side, News from the Geekery, Price Watch, Name that Synth …
Show contents:
Guests
This week's video guests are:
Daren T. Housse
Bandcamp Link: https://darenthousse.bandcamp.com/
Youtube: https://www.youtube.com/channel/UCLPHxpZgFKKE1wkG9ndto3A
Daren resides in the UK and is one of the first video guests on the show since 2019. He has a large amount of tracks on his youtube channel plus a great album collection over on BandCamp.
Andrew Brooks
Main link – https://www.youtube.com/user/sunhoney1uk
BandCamp link: https://andyvonal.bandcamp.com/
Andy resides in the UK and has been a regular member of the show since 2020. He has performed live and offers a wealth of knowledge for live electronic music setups and small studio configurations.
SynthAddict
Andy is a musician and technologist from the bay area in California. He has an amazing collection of music tech gadgets and a large knowledge of synthesizers.
Youtube: https://www.youtube.com/channel/UCUtABvP7q29uvLKi73zIjFQ
Ian J. Cole
Ian is a musician, composer, sound designer and producer currently producing solo ambient electronic music. He also runs Sinners Music which is a Record Company and Online Music Retailer in East Yorkshire, England
Youtube: https://www.youtube.com/c/IanJCole
Video replay
Funny Side
The funny side segment is a collection of memes that are somewhat relevant to the synth geekery community. Some of these images are taken from Facebook, Instagram and other social media sources. Please respect the creators. Hope you enjoy this week's selection: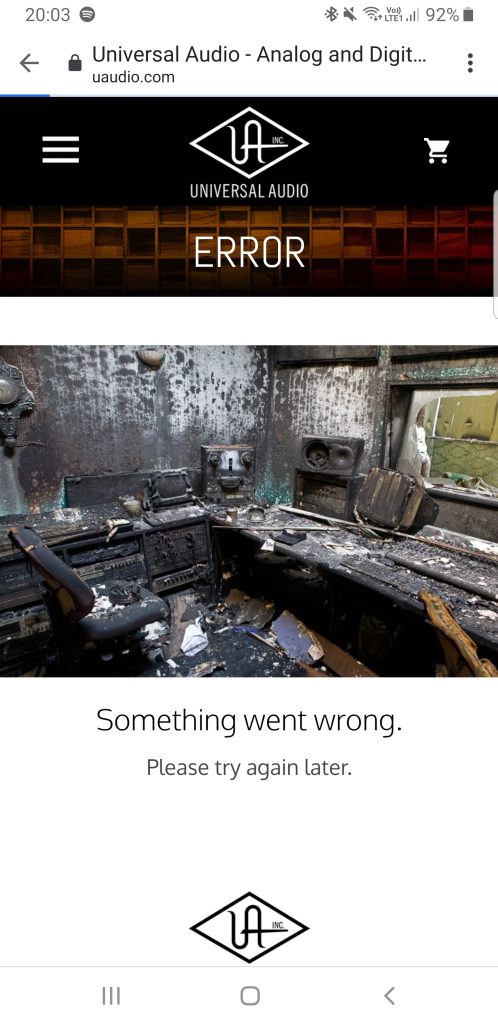 News from the Geekery
Erica Bullfrog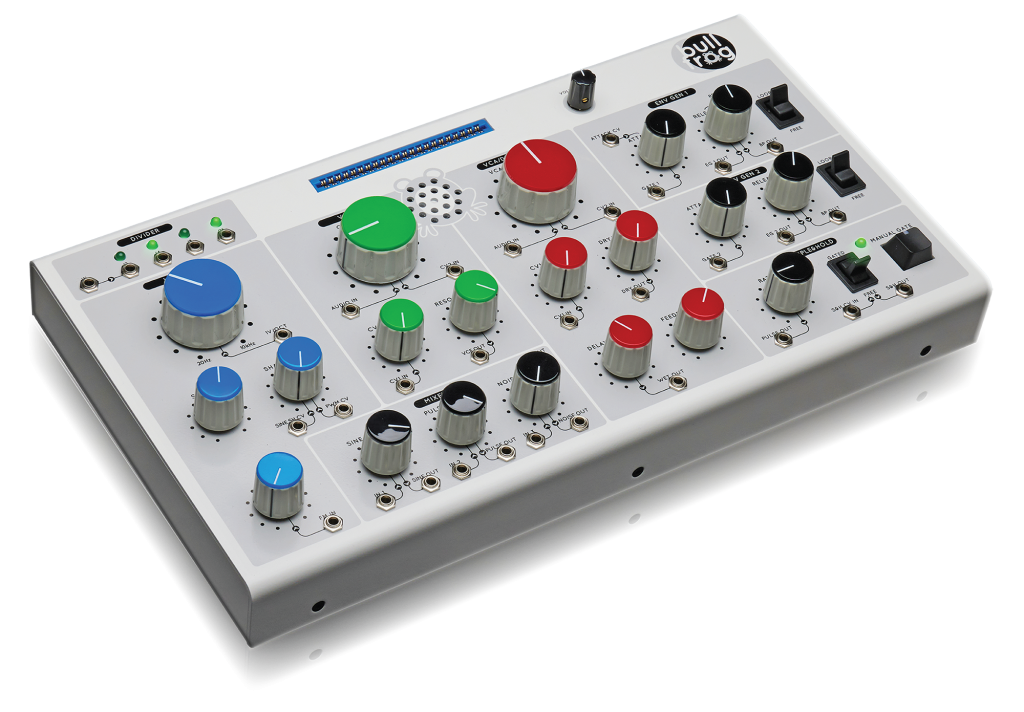 The Erica Synths/Richie Hawtins collaboration project is an educational product aimed at music production and learning. The device is aimed at the younger audience to introduce them into the world of electronic music and synthesizers – consider it their first styeps into synthesis.
It features an analogue VCO with CV controlled waveshapes, a noise generator and mixer (with external inputs) and 2 envelope generators. It also has a VCF with cutoff and resonance with controls for modulation via CV1.
Voice Cards
However, the main attraction is the voice card input. This expands the capability to allow for different sounds, effects, sequencers and other functionality. Some pictured below include a sampler/looper, groovebox, highpass VCF, acid bassline, electric organ, sequencer, and more!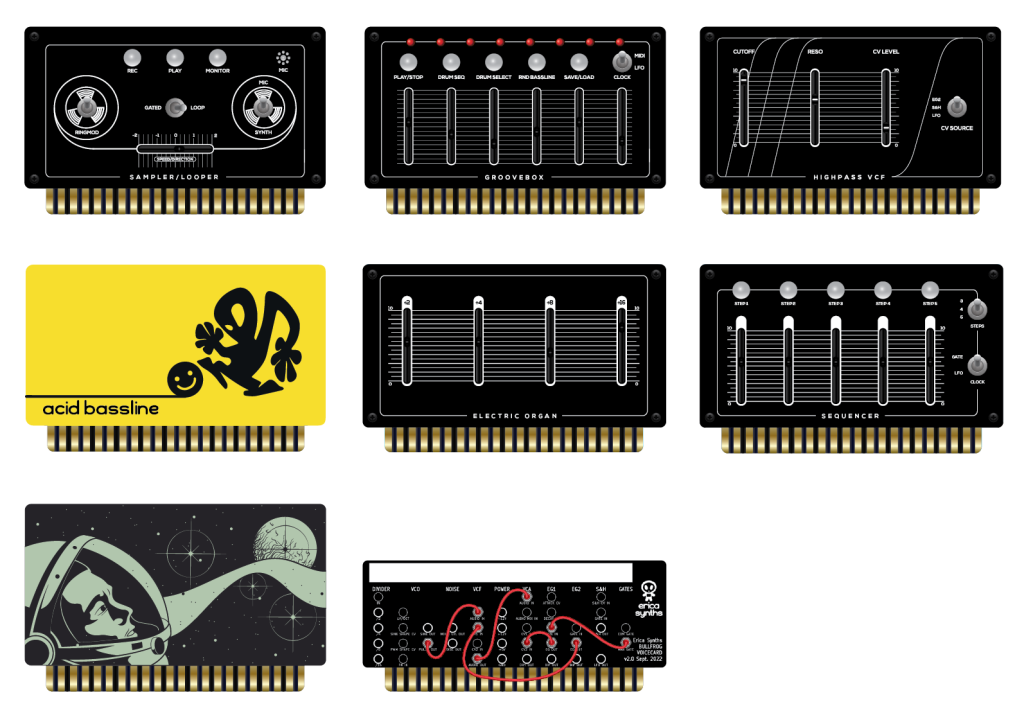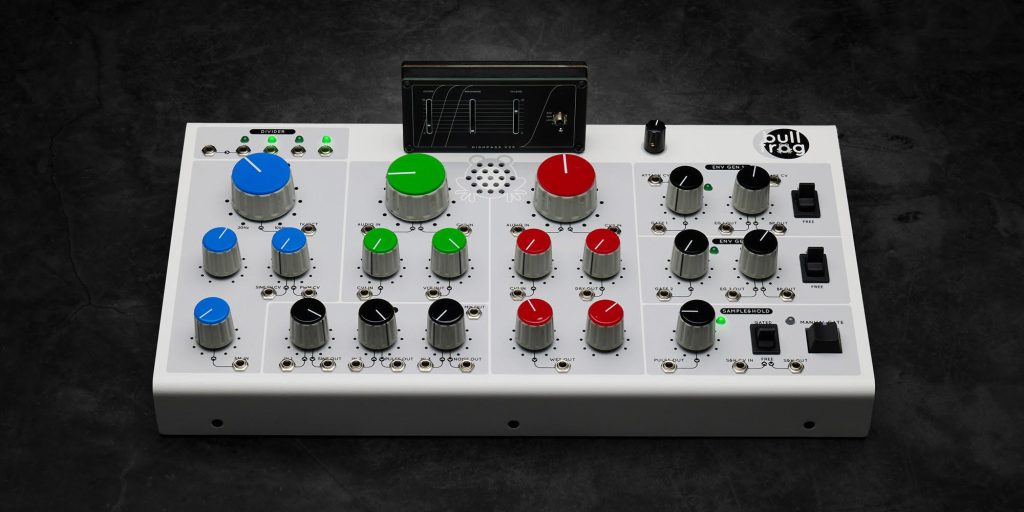 Price: TBA
Link: https://bullfrog.ericasynths.lv/
Squarp Hermod+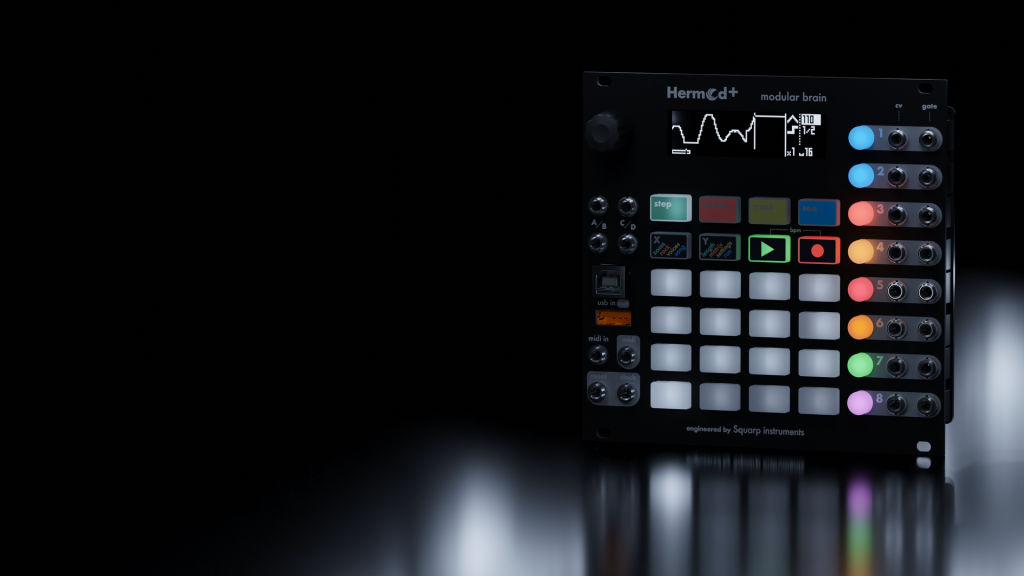 The evolution from the Hermod, Squarp pring on the next generation – the Hermod+ which offers new features and new playful refined interface.
It's a 26HP sequencer with 16 polyphonic tracks to record CV/Gate, MIDI notes and modulations. There are 16 patterns per track and a built-in step sequencer. It boasts a Live Record feature which has a resolution of 96ppqn.
Store all your projects on an SD card and you can load in sync without interrupting your current performance.
Connectivity boasts 4 analog inputs (4x assignable CV, or 2 x CV/Gate pairs), a bidirectional USB port with host and device support, 3.5 mm TRS MIDI in/out (Type A), reset and clock and 8 pairs of CV/Gate outputs.
The OLED display offers a sizable information panel for the features, plus the 16 matrix pads and RGB track selection switches.
Further to the sequencer there are other tools packed inside including LFOs, generative music, transposing, trigger advance and more.
Price: 460 EURO
Link: https://squarp.net/hermodplus/
Noise Engineering Univer Inter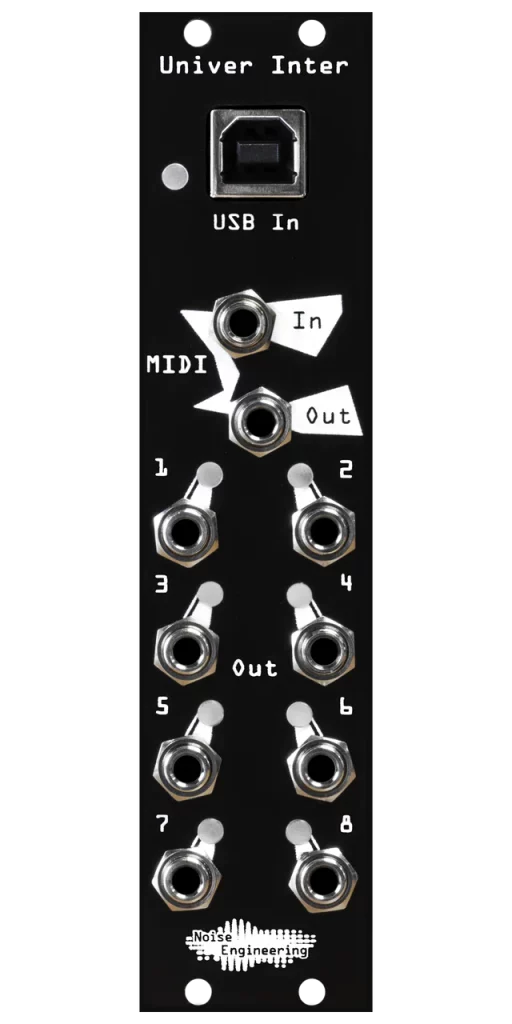 This compact 6-HP module packs MIDI to CV with 8 voice polyphony and more! You can use USB B or TRS MIDI to connect your gear. It will pass clock, note, CC, aftertouch and more. Each output can have up to 20 settings. You can also chain 2 together to get 16 outputs.
The module is programmable via USB and accessing the Noise Engineering Customer Portal. I hope they make this available as a download like Expert Sleepers. These web-based style configurations usually have a short lifespan.
Price: $275 USD
Link: https://www.noiseengineering.us/products/univer-inter?color=black
AMSynths AM122 Dual SVF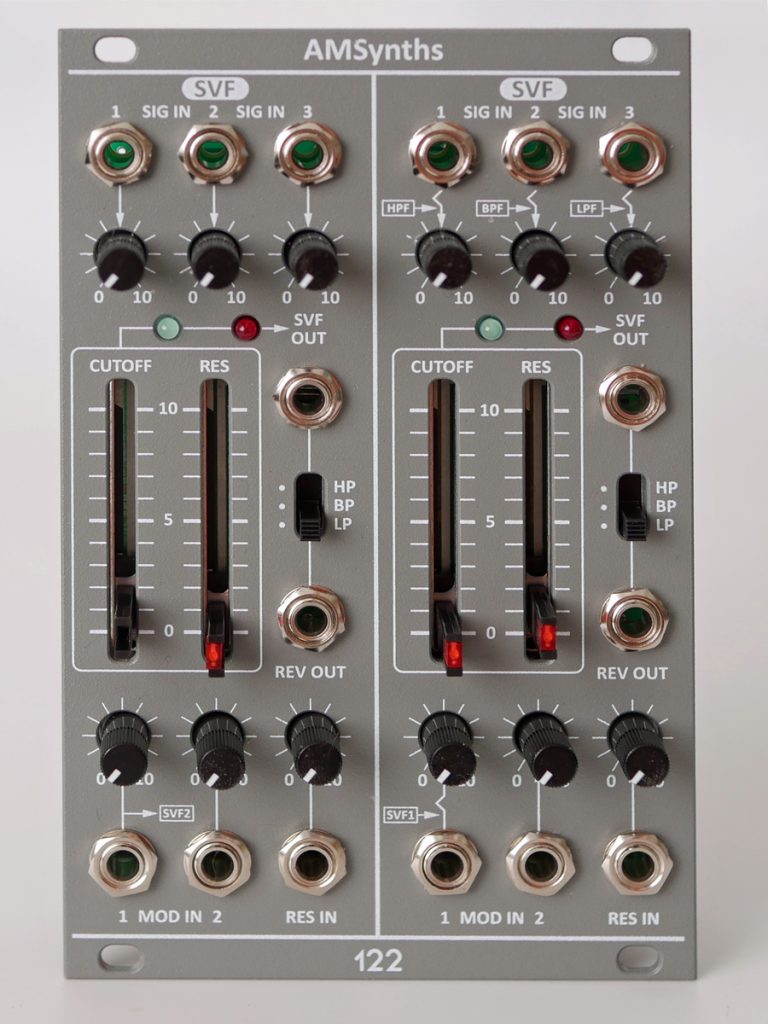 The 122 is a port of the original Roland 703 2-pole OTA SVF into the 100M format. However, instead of using the original CA3080 OTA chip from the 703, AMS have used the AS3320 chip to bring 2 filters into the PCB space and give it an Oberheim OBX feel.
The front panel design follows the Behringer 121 module with signal and CV input trimmers, frequency and resonance on 30mm sliders and green and red indicator LED's.
Each filter has two outputs, with a slide switch selecting which filter output goes to which jack socket. The upper jack socket (OUT) can be set to either LP, BP or HP and the lower jack socket (REV OUT) follows the reverse (HP, BP, LP). This approach ensure the LED's track the filter mode selected by the switch, whilst still providing individual outputs of each filter mode. The three signal inputs of the second filter are normalised to the outputs of the first filter (HP, BP and LP), so that the filter modes can be mixed together and filtered again!
Price: 150 GBP
Link: https://amsynths.co.uk/home/products/filters/am8122-100m-dual-svf/
SonicWare ELZ_1 Play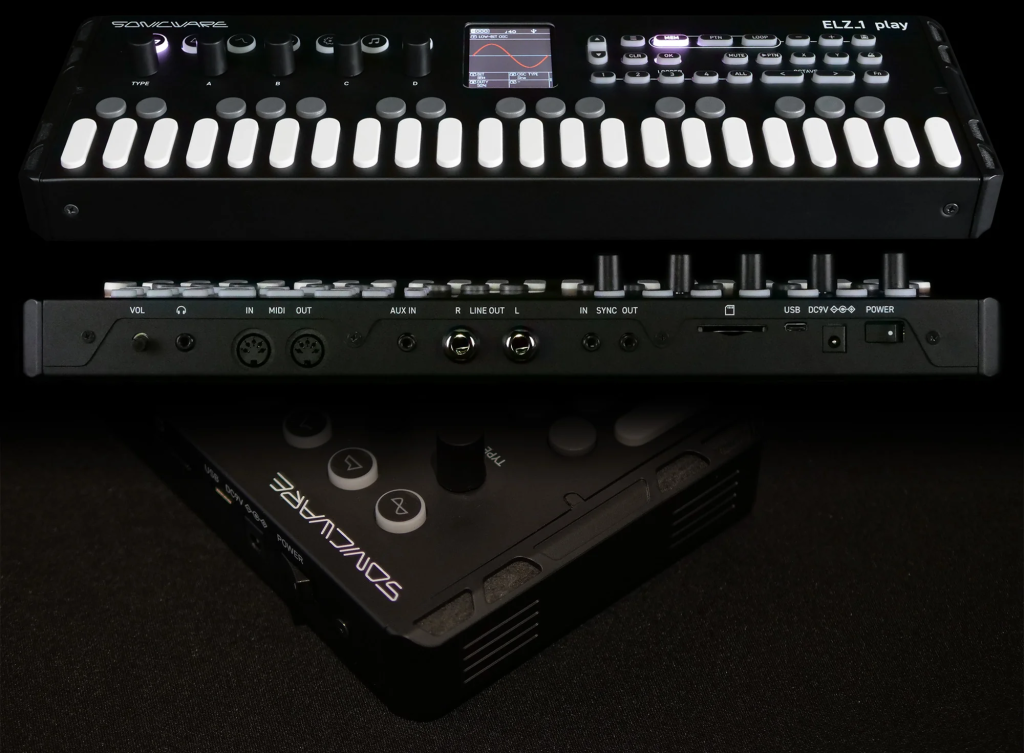 The original ELZ_1 has now received a facelift and a firmware upgrade. You can only order this as a special limited distribution directly (link below).
The hardware interface now includes backlit buttons and the 37-key velocity keybed. There are two versions – one with white keys and one with black keys.
The new 4-track looper lets you record, play and overdub your loops. You can record internal sounds and external sounds via the line in and USB audio inputs.
There is also a new STK Drummer engine with 5 drum kits and 100 different rhythm patterns.
Price: $599
Link: https://dr.yuendo.jp/pages/elz_1-play
Korg OPSix SE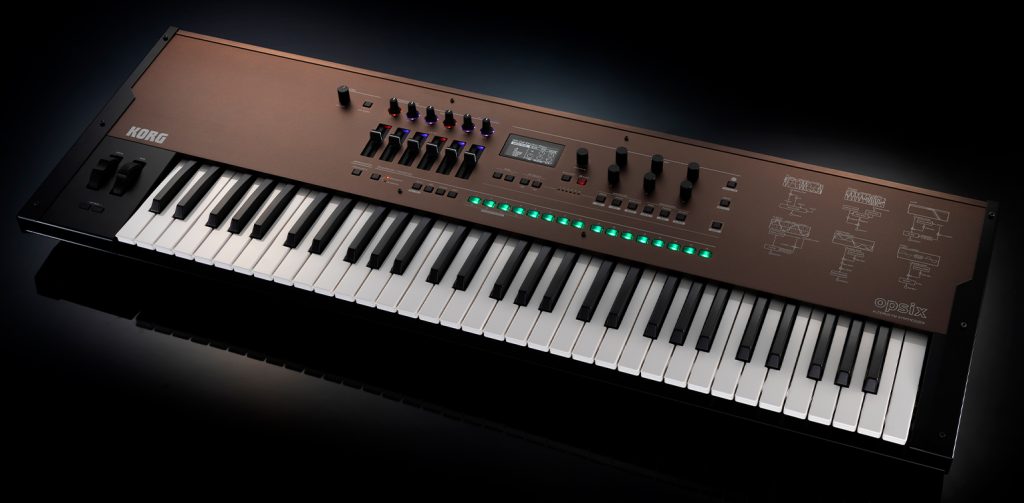 The new stage ready OPSix SE is an 80 voice polyphony with 61 keys that are velocity sensitive and have after-touch,
In addition to classic FM synthesis with 40 available algorithms, and an algorithm editor, there are five other synthesis types: ring mod, filter, filter FM, and waveshaper. With this you can turn the opsix into a virtual analog or west-coast synth.
There are also 21 waveforms, 11 filter types, complex LFOs, 30 effects, and more.
This makes the opsix stand apart from your classic FM synth.
There is also a limited edition Platinum SE version. This features a platinum finish and road case (pictured). They are also made in Japan and come with an exclusive sticker set.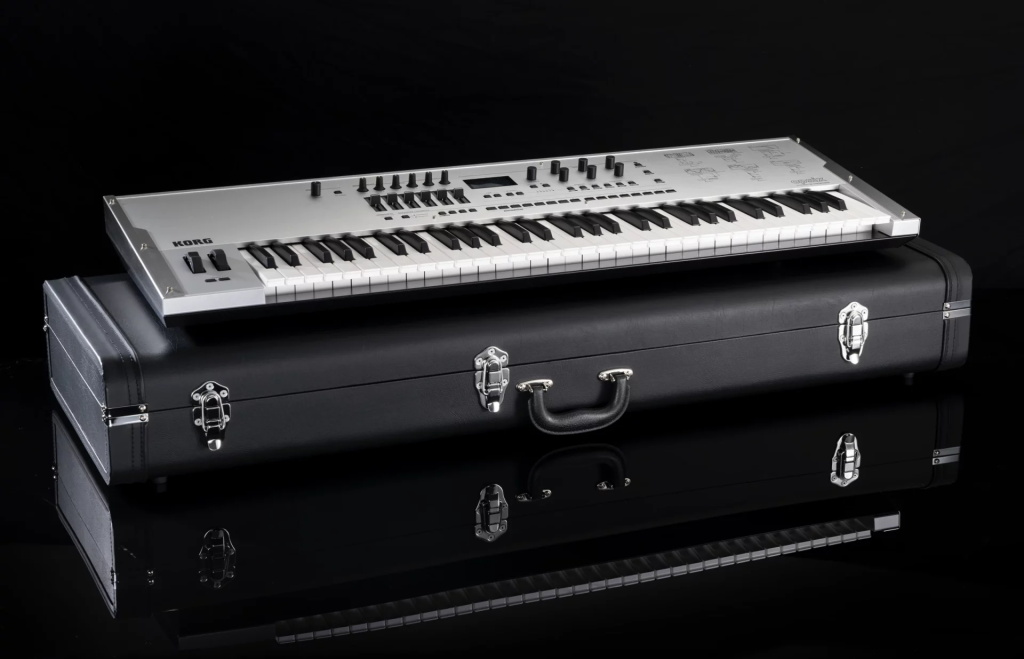 Price: $2199
Link: https://www.korg.com/au/products/synthesizers/opsix_se/
Price Watch
Find below images and links to the items we showed for the price watch segment.