In episode 218 we talked about Roland MX-1 with Akai Force and MPC! Plus all the usual segments! Funny Side, News from the Geekery, Price Watch, Name that Synth …
Show contents:
Guests
This week's video guests are:
Daren T. Housse
Bandcamp Link: https://darenthousse.bandcamp.com/
Youtube: https://www.youtube.com/channel/UCLPHxpZgFKKE1wkG9ndto3A
Daren resides in the UK and is one of the first video guests on the show since 2019. He has a large amount of tracks on his youtube channel plus a great album collection over on BandCamp.
Andrew Brooks
Main link – https://www.youtube.com/user/sunhoney1uk
BandCamp link: https://andyvonal.bandcamp.com/
Andy resides in the UK and has been a regular member of the show since 2020. He has performed live and offers a wealth of knowledge for live electronic music setups and small studio configurations.
SynthAddict
Andy is a musician and technologist from the bay area in California. He has an amazing collection of music tech gadgets and a large knowledge of synthesizers.
Youtube: https://www.youtube.com/channel/UCUtABvP7q29uvLKi73zIjFQ
Ian J. Cole
Ian is a musician, composer, sound designer and producer currently producing solo ambient electronic music. He also runs Sinners Music which is a Record Company and Online Music Retailer in East Yorkshire, England
Youtube: https://www.youtube.com/c/IanJCole
Video replay
Funny Side
The funny side segment is a collection of memes that are somewhat relevant to the synth geekery community. Some of these images are taken from Facebook, Instagram and other social media sources. Please respect the creators. Hope you enjoy this week's selection: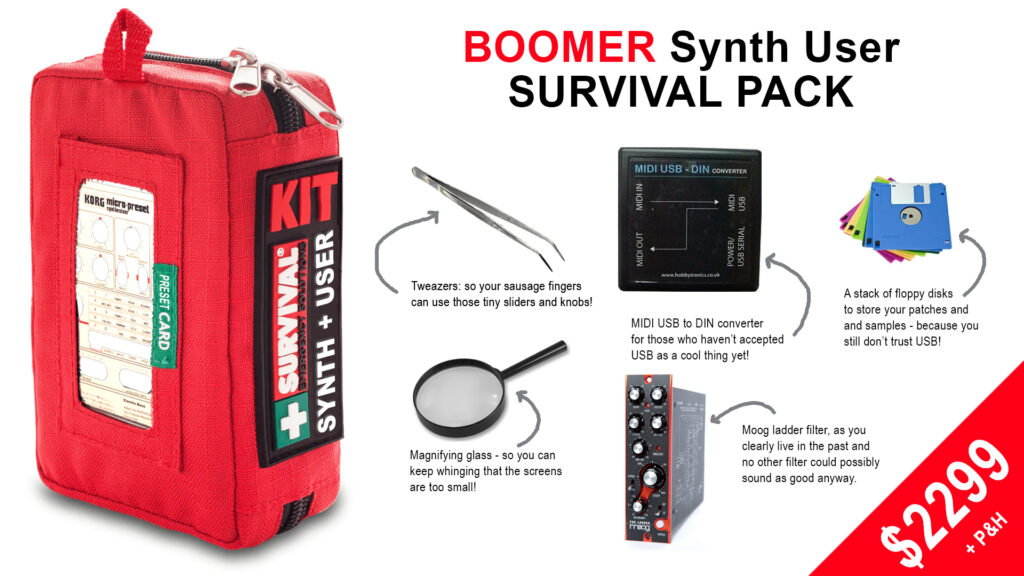 News
Feedback Modules – new modules

VCF 2600
Based on the ARP 2600 uses the LM3900 Norton opamp chip. It includes 2 CV inputs and an audio in and out. There's an attenuator for each input plus a Freq and Reso control. 8HP
VCA 2600
Based on the ARP 2600 VCA with termo coupled transistors. AC and DC inputs with Exponential and Linear CV inputs. Controls for Gain, input and CV EXP. 4 HP.
ENVF
Based on the ARP 2600 EVF – but with some improvements. The IN signal is bifurcated to the EG follower circuit and also to a THRU output. So you can use the signal for external processing. The ENVF has 3 controls a switch to select response time (fast, medium and slow), a control to adjust the gate threshold, and a control to adjust the EG level. 4HP
S.U.B.
The module takes a square wave input and produces -1 and -2 octave frequencies to their respective outs. You can also use it as a little mixer that will let you add different levels to the -1 and -2 octave signals. There's also a select switch for the square or pulse wave. There's also a MIX output which will mix both the -1 and -2 octaves. 4HP.
SQZ 2
This is an improvement on the original Squeeze module and is based on the THAT4305 Blackmer VCA chip. It's a compact compressor module designed for continuous adjustment of gain, threshold and compression ratio with a single control. There's a control for input level and make-up gain.
Improvements include – SMD transistors to match thru hole – capacitors are now thru hole Panasonic LowESR, added a trimming circuit to adjust zero gain for center of make-up adjustments. 4HP
LFO-20
The LFO-20 is a complex analogue LFO. It offers waveshaped square and triangle outputs plus extra inverted triangle output. There is a reset and gate input. Multiple LFOs can be chained for complex gates and CVs. There's a very long LFO time on the minimum setting of more than 1 minute. 4HP.
Prices: 90€ VCF 2600, 60€ SUB, 65€ ENVF, 65€ LFO-20, 75€ VCA 2600, 75€ SQZ 2
Link: https://feedback-modules.myshopify.com/collections/modules
4MS Meta Module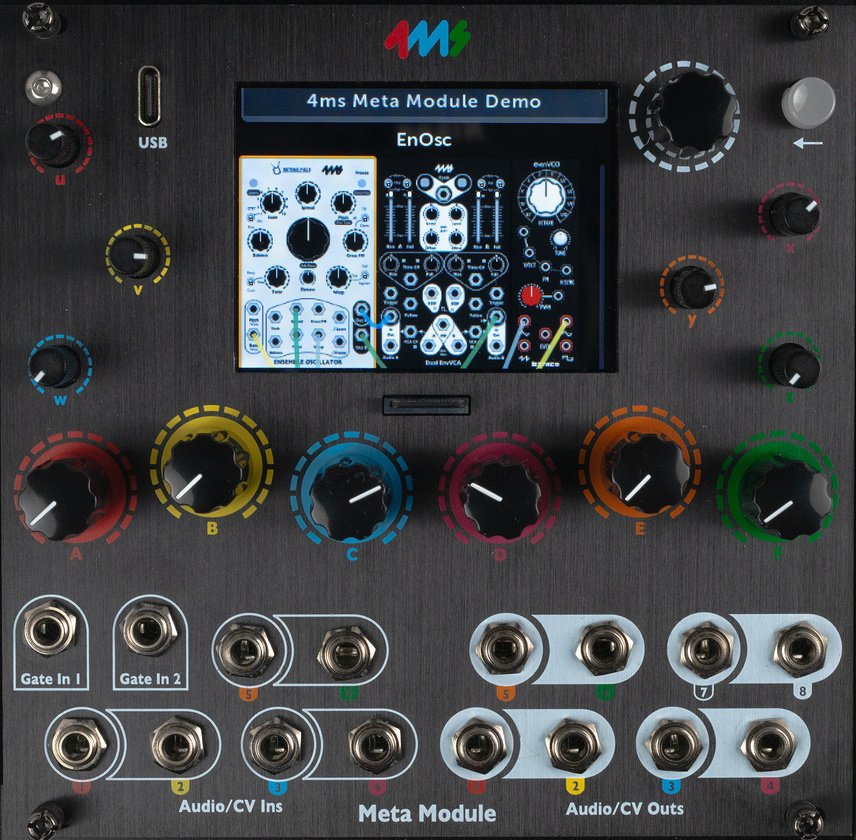 The Meta Module is utility module that lets you patch together various VCV (virtual) modules to create a "META" module.
Features:
It is possible to have several hundred virtual modules.
There is a macro controller for custom patches.
A hardware player fo VCV rack patches.
A preset manager.
A DSP development platform.
The DSP platform allows programmers to develop custom applications in C++ and will be open source from day 1.
There doesn't seem to be a touch-screen. This could have been a nice additional inclusion!
I would imagine that not every VCV module would be able to work on this as there would be a complexity to the processing power it takes.
Price; TBA
Link: https://4mscompany.com/metamodule_preview.php
Dreadbox Hypnosis – Re-issue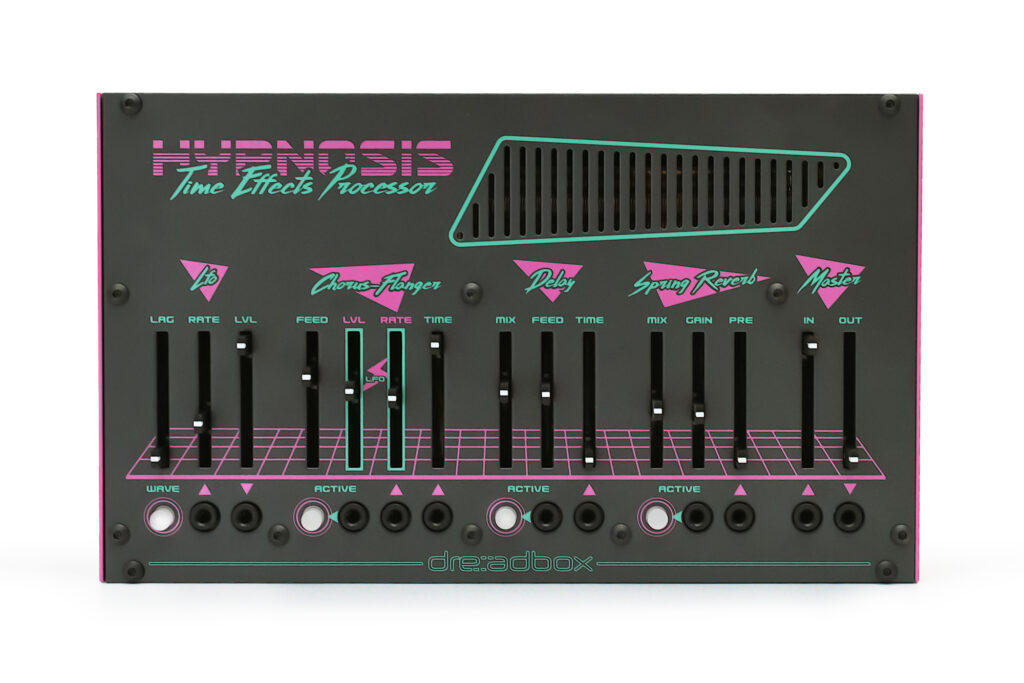 The Hypnosis comes back as a DIY kit. You can mount this in your modular skiff. It includes 4 functions: LFO, Chorus/Flanger, Delay, and Spring Reverb all in one 42 HP module. The effects are analog with a BBD chorus/flanger, hybrid delay (based on the Erebus synth), a real spring reverb and 2 wide range LFOs.
There's a limit of 500 pieces available.
Price: $234
Link: https://www.dreadbox-fx.com/hypnosis-reissue/
G-Storm Electro SEMSVF
SEMSVF is a state variable filter based on the SEM filter seen in the Oberheim synths. It contains 3080 OTA filter design that is known for its characteristic resonance feedback. It has an extremely smooth filter response with the obsolete NOS FETS at every stage. There are mod inputs with signal inverting which means LP/HP and Notch mix sweep controls are CV modulated.
There are limited quantities of this module as each are hand-made. 12 HP
Price: $200 USD
Link: https://reverb.com/item/73381488-g-storm-electro-semsvf-tribute-adaptation-oberheim-sem-filter
Beanie Bunnie Moo Moo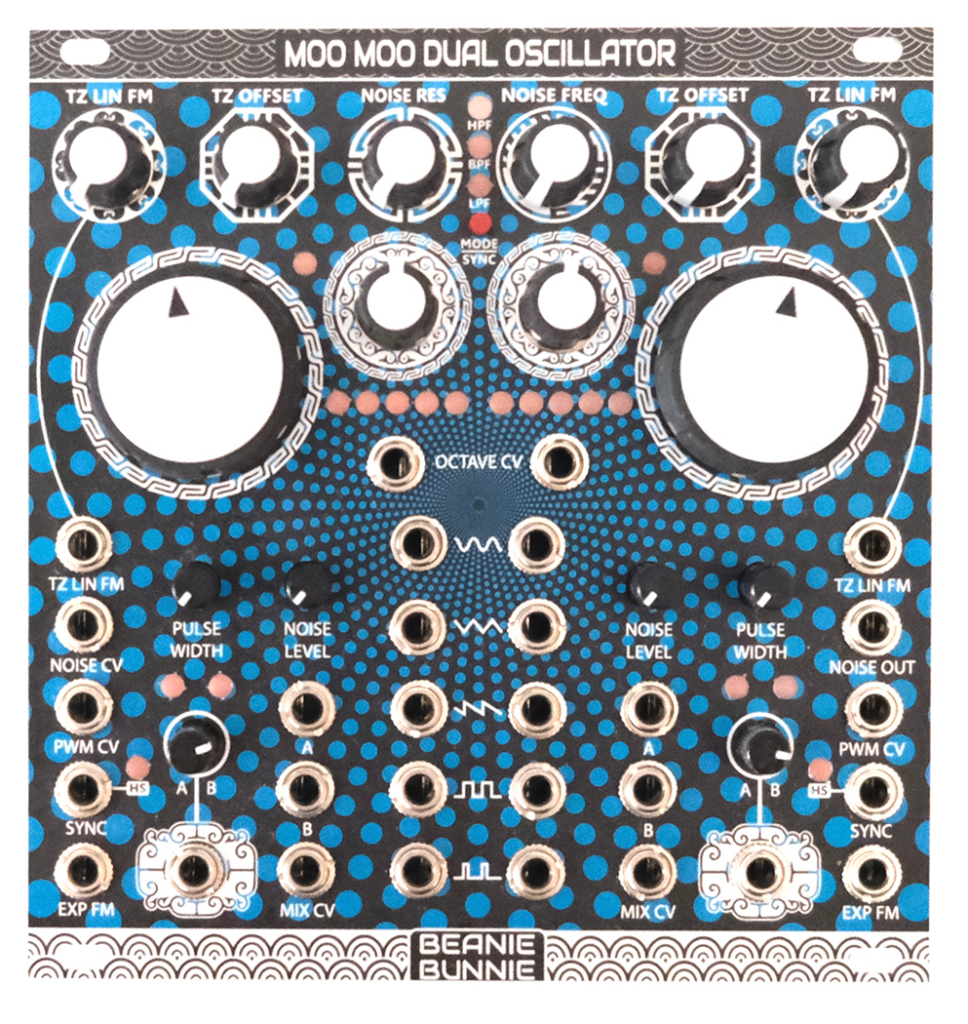 The Moo Moo Dual Oscillator from Beanie Bunnie
Features:
2 x Fully featured through zero analogue oscillators.
1 x Analogue Noise source with dedicated analogue state variable filter.
2 x 2 input mixers with inverted outputs for extra wave shaping options, plus CV and manual controls for crossfading between each input.
2 x Octave controls with 5 octave range and CV control.
Each oscillator section features:
Individual outputs for Sine, Triangle, Saw, Square and Pulse wave forms (+/-5V).
1 x Through zero linear frequency modulation (TZ LIN FM) input which is normalled to the output of the opposite mixer/crossfader and a TZ LIN FM amount control.
1 x TZ OFFSET control that offsets the through zero modulation 0 crossing point and also acts as a coarse tune for the oscillator frequency.
1 x Large fine tune control that has a 1 octave range for precise setting of the frequency.
1 x Octave with CV input that has a 5 octave range.
1 x Pulse Width Control and with CV modulation (PWM) input.
1 x Noise amount control that sends the output of the filtered noise section directly into the through zero modulation of the oscillator (this is in parallel with TZ LIN FM input).
1 x Sync control with option of setting both oscillators to hard or soft sync via the mode button.
1 x Exponential Frequency Modulation Input for V/Octave connection from a keyboard. The right input is normalled to the left so both oscillators can follow keyboard pitch with only one connection.
Each mixer section features:
2 x Inputs (A and B) for audio or CV sources.
1 x Crossfader control plus CV input that can also act as a volume control or VCA when only one of the mixer inputs is used.
The noise section features:
1 x Analogue noise source (sent into the filter).
1 x Analogue state variable filter with selectable Low Pass, Band Pass and High Pass modes.
1 x Mode select button with hold function to switch the oscillator sync between hard or soft sync.
1 x Filter resonance control.
1 x Filter frequency control.
1 x Filter frequency CV input.
1 x Filtered noise output.
Price: TBA
Link: https://www.beaniebunnie.com/products/moo-moo-dual-oscillator
Price Watch
Find below images and links to the items we showed for the price watch segment.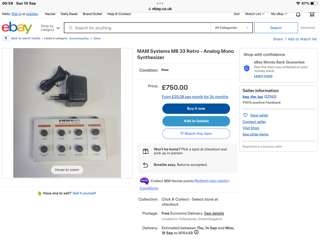 Name That Synth
No name that synth this week – send one in!
If you are after more information about Name that Synth – please check out this page here.
Saturday Sonority
This week's Saturday Sonority we might talking about …..