In episode 220 we talked about….! Plus all the usual segments! Funny Side, News from the Geekery, Price Watch, Name that Synth …
Show contents:
About the Synth Geekery Show
Synth Geekery is a weekly podcast/live stream (YouTube) show about everything synthesizers, drum machines, samplers, sequencers, eurorack and music technology. We take the "one of the masses" viewpoint, where we are also users of gear just like you (read: we're not influenced by commercial product placement).
The show relies on the generous contributions of the synth community. You can contribute in many ways including supporting us via our YouTube Channel Membership or Patreon. We also have regular and special video guests: if you would like to take part in future shows – please contact me via email on the about page here.
Guests
This week's video guests are:
Daren T. Housse
Bandcamp Link: https://darenthousse.bandcamp.com/
Youtube: https://www.youtube.com/channel/UCLPHxpZgFKKE1wkG9ndto3A
Daren resides in the UK and is one of the first video guests on the show since 2019. He has a large amount of tracks on his youtube channel plus a great album collection over on BandCamp.
SynthAddict
Andy is a musician and technologist from the bay area in California. He has an amazing collection of music tech gadgets and a large knowledge of synthesizers.
Youtube: https://www.youtube.com/channel/UCUtABvP7q29uvLKi73zIjFQ
Ian J. Cole
Ian is a musician, composer, sound designer and producer currently producing solo ambient electronic music. He also runs Sinners Music which is a Record Company and Online Music Retailer in East Yorkshire, England
Youtube: https://www.youtube.com/c/IanJCole
Chris – Maikshifter
Youtube:
Video replay
Funny Side
The funny side segment is a collection of memes that are somewhat relevant to the synth geekery community. Some of these images are taken from Facebook, Instagram and other social media sources. Please respect the creators. Hope you enjoy this week's selection: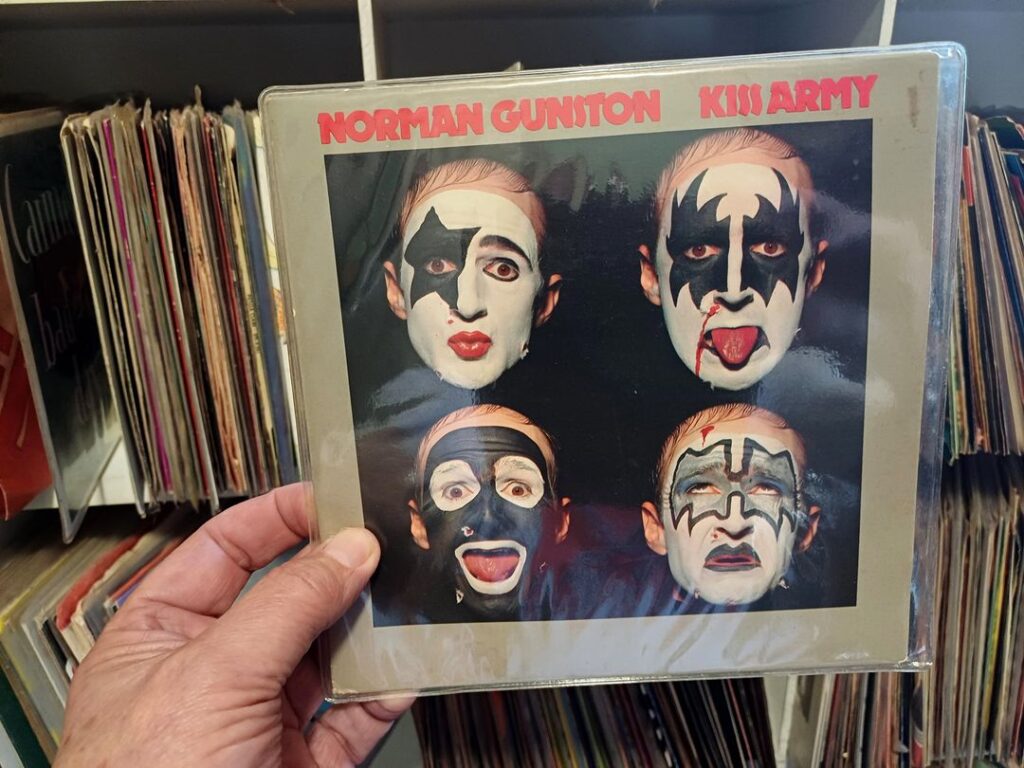 News
Unknown Devices Eisei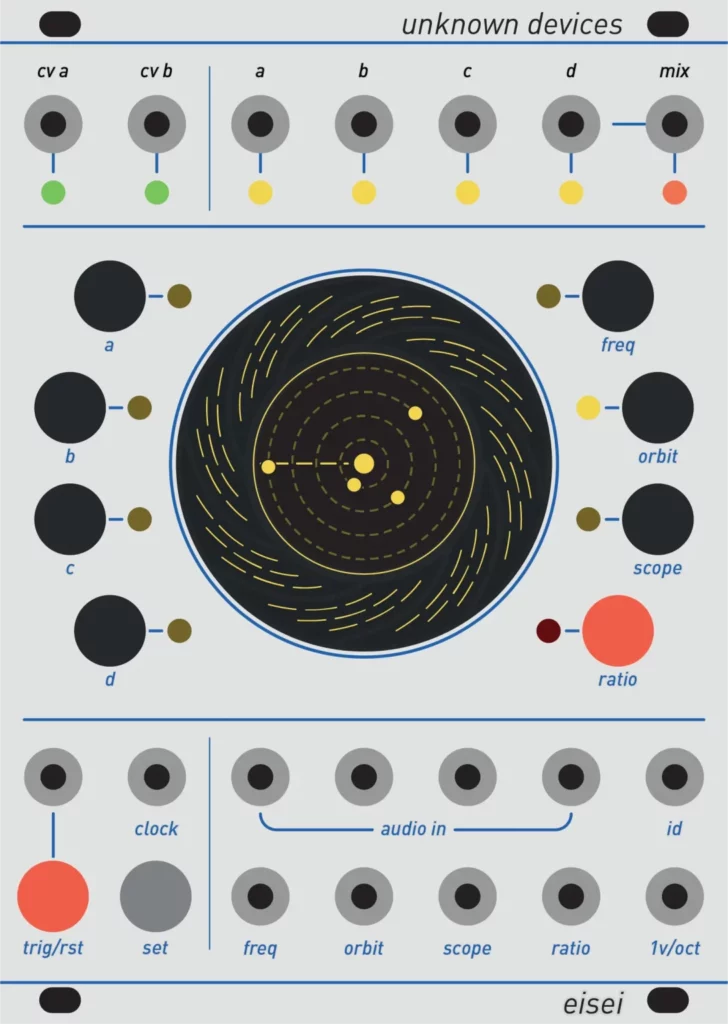 The Eisei is an interesting 4 voice oscillator. It looks to be entirely digital with a type of FM synth engine behind it. Not many details have been released as yet. However, from the video we can see that you can control pitch and modulation effects with the orbital central control. The control has unique planets orbiting around a sun which form the voices and there are zones which can create interesting modulation effects.
The video shows an early prototype which is only 14HP, the graphic above shows the larger 18HP version which I think the developer wants to settle on for the final design. He mentions that it provides more controls around the circle orbit touch panel.
No details about price or availability as yet – he is planning on doing a Kickstarter soon.
Price: TBA
Link: https://unwn.dev/unknown-devices-eisei/
Roland Gaia 2

The sequel to the well known Gaia synth from Roland. This one has some similar looks to the Korg Minilogue series – and perhaps even some features like the Kaos Pad, wavetable oscillator. It also looks to taken on some features from Arturia MicroFreak and HydraSynth. Roland have gone with their Zencore engine again in this – featuring 24 voices. However, there's an included SH-101 plug-out synth. I can't see anywhere mentioned that this is using their ACB technology. Therefore we can only assume the whole thing is digital (sample PCM based) with no real analog emulation.
Sound-wise it was impressive with the effects turned on. It didn't impress without effects. The overall feeling was quite digital.
Price: $899
Link: https://www.roland.com/global/products/gaia_2/
Behringer CS-Mini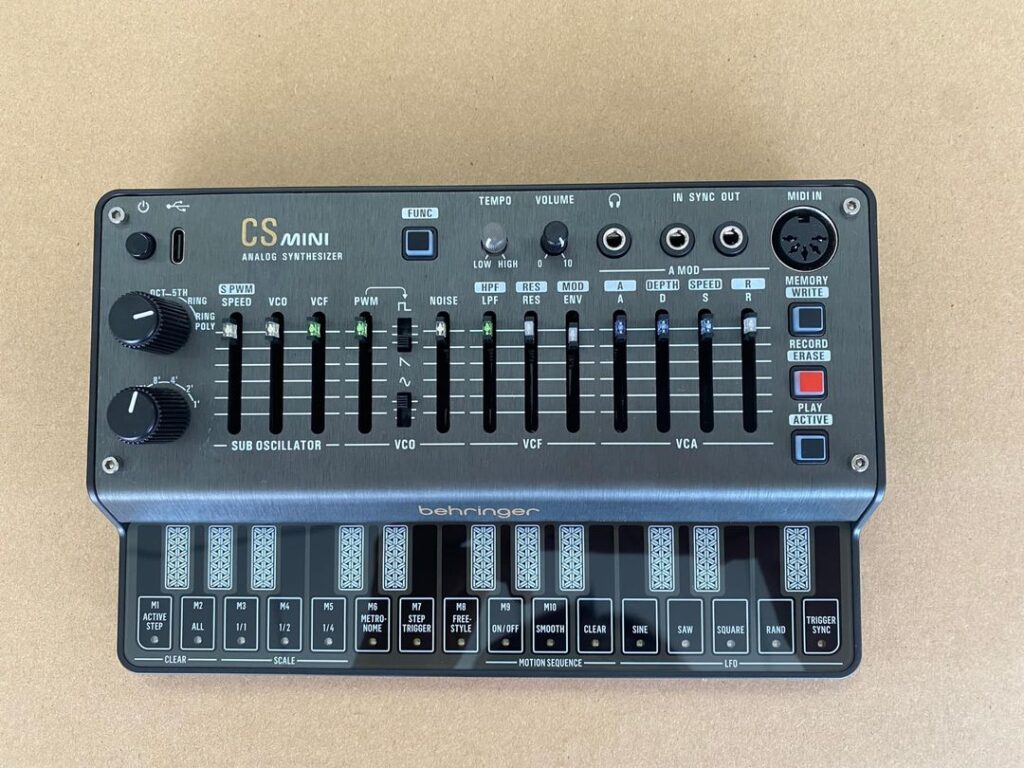 Behringer are releasing the CS-Mini a little portable analog synth based on the Yamaha CS-80 voice architecture. Not much has been mentioned about features – but we can see it has a single VCO with Sub. The VCO has Sawtooth and Square with PWM. There's also a sine-wave switch that I'm not sure what it does. There's built-in noise and a filter with Low Pass and High Pass options. There's an EG with ADSR sliders and Mod Env for the filter. They claim the little synth has polyphonic voices – I'm assuming it is paraphonic – using the switch top left. This brings it to similarity to the Korg Volca Keys. There's also a built-in LFO with Sine, Square, Sawtooth and Random options and trigger sync. There's also a sequencer with similar features to a Korg Volca including motion sequence. Connections on top see a USB C and MIDI Din In plus headphones and sync in/out.
Price: $99 (TBA)
Link: https://www.facebook.com/Behringer/posts/pfbid02fqgnDTTemgPCXGWMuxPB6uwAuVMGRiBXBmnBVWDvuRoqgnuuodhy45HNwHC9w4iUl
AMSynths DIODE-01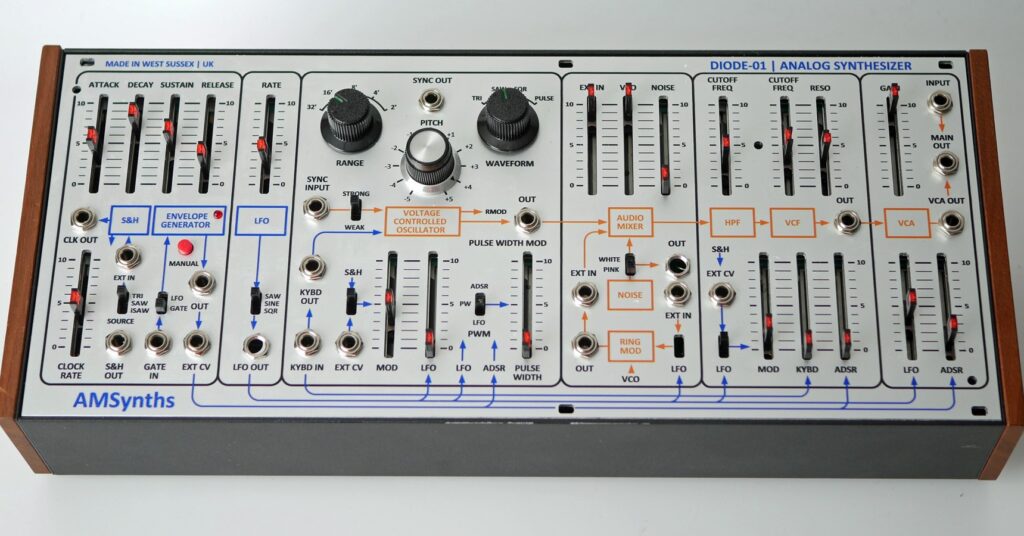 Based on the System-100 – looks to be an 84HP modular synth which will fit into a NiftyCase or Moog-style desktop modular case. Looking left to right I can see an EG with ADSR controls. There's also a S&H generator with Clock out, rate control, clock ext in, source rate control and S&H Out. The EG also has LFO and gate sync in and out control. There's an LFO with Rate control and Saw, Sine and Square wave options with an external output. The main VCO has range and waveform control knobs which offer Tri, Saw, Sqr and Pulse waveform options – I'm not sure if this is a switch or a morphable control. Below this is the tuning or Pitch control. There's Oscillator syn with strong and weak setting. There's a lot of modulation control options with S&H, mod, LFO and PWM. The mixer has External Input and Noise to add through the VCF/HPF. The filter looks to be a Roland-style LPF with HPF option and modulation controls with LFO, KBD and EG. The VCO offers similar modulation controls with LFO and EG.
More info from AMSynths please!!!
Price: TBA
Link: https://www.facebook.com/amsynths/posts/pfbid0cdp2iWAJH8vVepFVHD6VLvUypPhKkm54SMtVHUqLvguHxvqHQ2inHMW6DFLG1qPnl
XR-1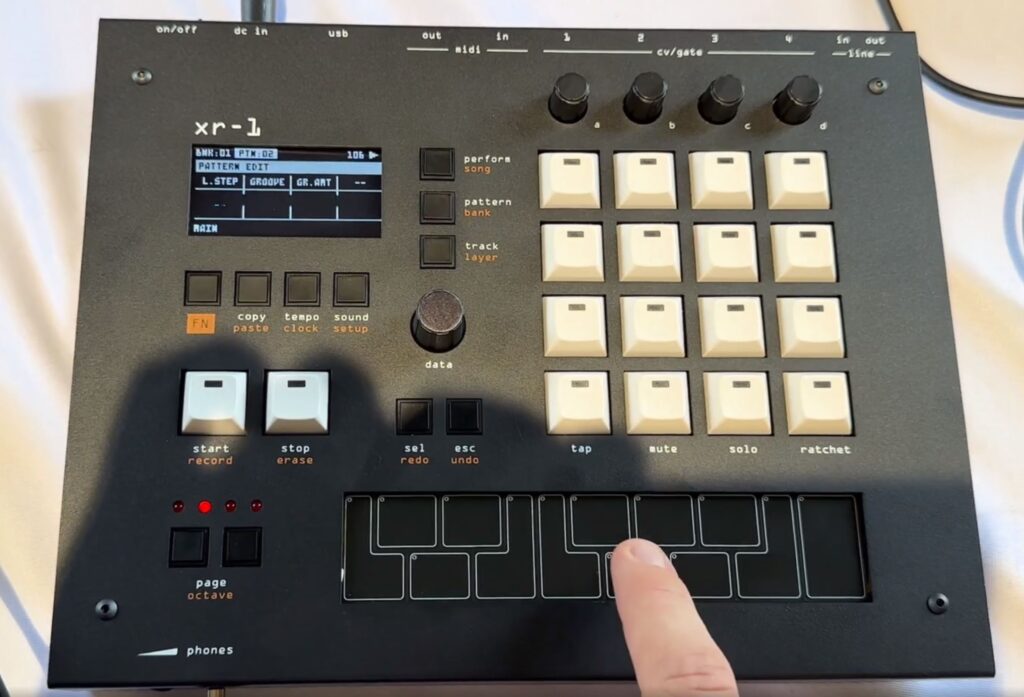 Groovebox shown at Detroit Modular
Video see link below (reddit post)
Price: TBA
Link: https://www.reddit.com/r/synthesizers/comments/16plz2w/took_my_groovebox_protoype_to_detroit_modular/
Price Watch
Find below images and links to the items we showed for the price watch segment.
Name That Synth
No name that synth this week – send one in!
If you are after more information about Name that Synth – please check out this page here.
Saturday Sonority
This week's Saturday Sonority we might talking about …..