The new Ableton Push 3 comes in 2 different versions – controller or standalone. It brings you new features such as MPE controls, standalone version , built-in audio interface and much more. The standalone version is the big announcement here. Ableton Push has been crying out for a standalone version ever since it's inception, and definitely since Akai brought out the Force.
Standalone Version
The standalone version is a completely independent hardware controller with Ableton features. Ableton have made the Push 3 with upgradable parts for future improvements in mind. They want the Push 3 to be an evolving solution with future software updates and future hardware updates.
The finished projects in the standalone version can be transferred over to your Mac/PC via WiFi using the Live Set Transfer feature.
It has a built-in Intel 11th Gen Core i3-1115G4 CPU with 8GB RAM. It has an internal 256GB SSD hard drive for storing projects. The in-built lithium iron phosphate battery will provide up to 2.5hrs of play time. Looking at the photo of the upgrade kit – the internal SSD drive looks to be an M.2 format: this should be fairly simple to upgrade to a larger size drive.
Controller Version
As with previous versions, the controller version requires a connection to your computer and Ableton loaded. The controller version can be upgraded (via a hardware upgrade) to standalone. See details below (Upgrade kit).
Expressive Touch
With the MPE implementation, this allows for the 64 pads to provide expressive creation with movement and articulation via the mult-directional control pads. You can slide your finger in an XY movement and add pressure for different nuances and per-note control. When you bring in effects and filters to each note – the expressive controls will provide some amazing expressivity.
Connections

The Push 3 has a built-in audio interface which can have up to 10 inputs and 12 outpus: two inputs are switchable between balanced or unbalanced (line or instrument) and also two balanced inputs. It also has an additional ADAT Optical In and Out with 8 inputs or outputs. It has MIDI In and Out via the 3.5mm connectors and USB-A for connecting controllers/devices plus the USB-C for using Push with your Mac/PC in Control Mode. It also has 2 Pedal 6.3mm footswitch inputs, a 6.3mm headphone and DC Power (20V, 3A). The footswitch inputs can also be used as CV/Gate connections which the sequencer has implemented controls for.
Upgrade Kit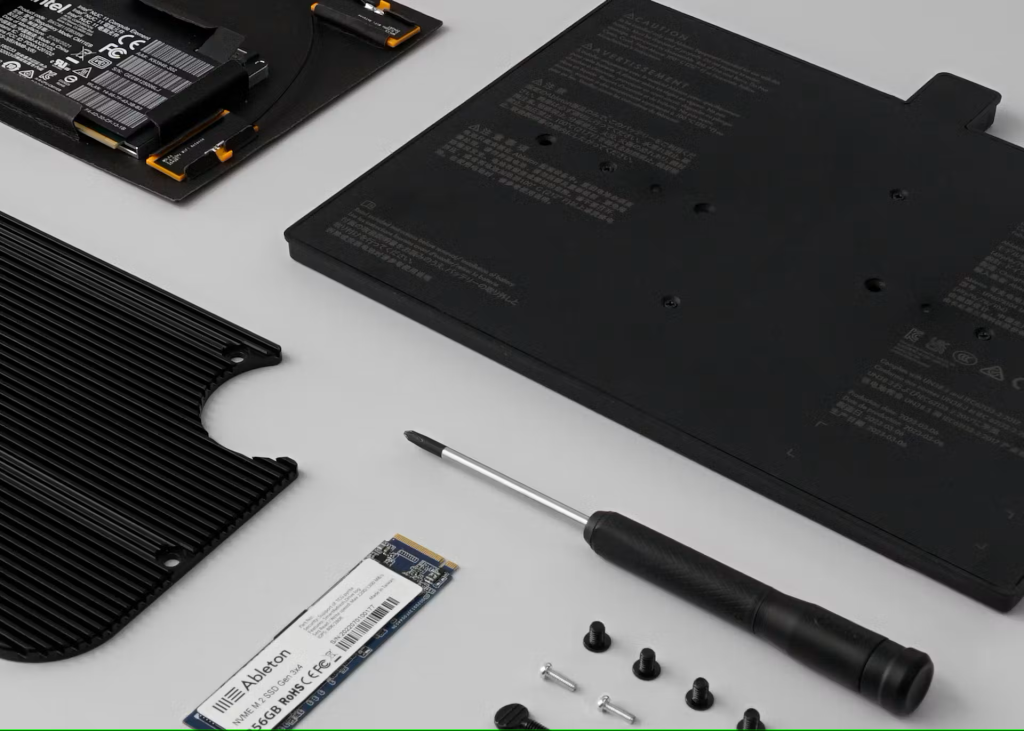 If you purchase the controller only version, you can purchase an upgrade kit for $1599 (available later in 2023). This will give you the same hardware and all the features of the standalone version. Each Upgrade Kit contains a processor, hard drive, battery, heatsink and all the tools you need for assembly.
Some thoughts:
I hope they haven't used rubberised paint that degrades over time (see Push 1 issues).
How much is this similar to the Akai Force?
There isn't an arrangement feature.
There isn't VST support in standalone.
The internal 256GB SSD drive looks to be upgradable via a M.2 drive compatible option.
Price: $1499 (controller) $2999 (standalone) $1599 (upgrade kit)