In episode 178 we are talking about synths on your Saturday – ! Plus all the usual segments! Funny Side, News from the Geekery, Price Watch, Name that Synth …
Show contents:
About the Synth Geekery Show
Synth Geekery is a weekly podcast/live stream (YouTube) show about everything synthesizers, drum machines, samplers, sequencers, eurorack and music technology. We take the "one of the masses" viewpoint, where we are also users of gear just like you (read: we're not influenced by commercial product placement).
The show relies on the generous contributions of the synth community. You can contribute in many ways including supporting us via our YouTube Channel Membership or Patreon. We also have regular and special video guests: if you would like to take part in future shows – please contact me via email on the about page here.
Guests
This week's video guests are:
Daren T. Housse
Bandcamp Link: https://darenthousse.bandcamp.com/
Youtube: https://www.youtube.com/channel/UCLPHxpZgFKKE1wkG9ndto3A
Daren resides in the UK and is one of the first video guests on the show since 2019. He has a large amount of tracks on his youtube channel plus a great album collection over on BandCamp.
SynthAddict
Andy is a musician and technologist from the bay area in California. He has an amazing collection of music tech gadgets and a large knowledge of synthesizers.
Youtube: https://www.youtube.com/channel/UCUtABvP7q29uvLKi73zIjFQ
Ian J. Cole
Ian is a musician, composer, sound designer and producer currently producing solo ambient electronic music. He also runs Sinners Music which is a Record Company and Online Music Retailer in East Yorkshire, England
Youtube: https://www.youtube.com/c/IanJCole
Henrick J. Larson (JX3D)
We also had Henrick (JX3D) as a video guest – check out his new album here:
Video replay
Funny Side
The funny side segment is a collection of memes that are somewhat relevant to the synth geekery community. Some of these images are taken from Facebook, Instagram and other social media sources. Please respect the creators. Hope you enjoy this week's selection: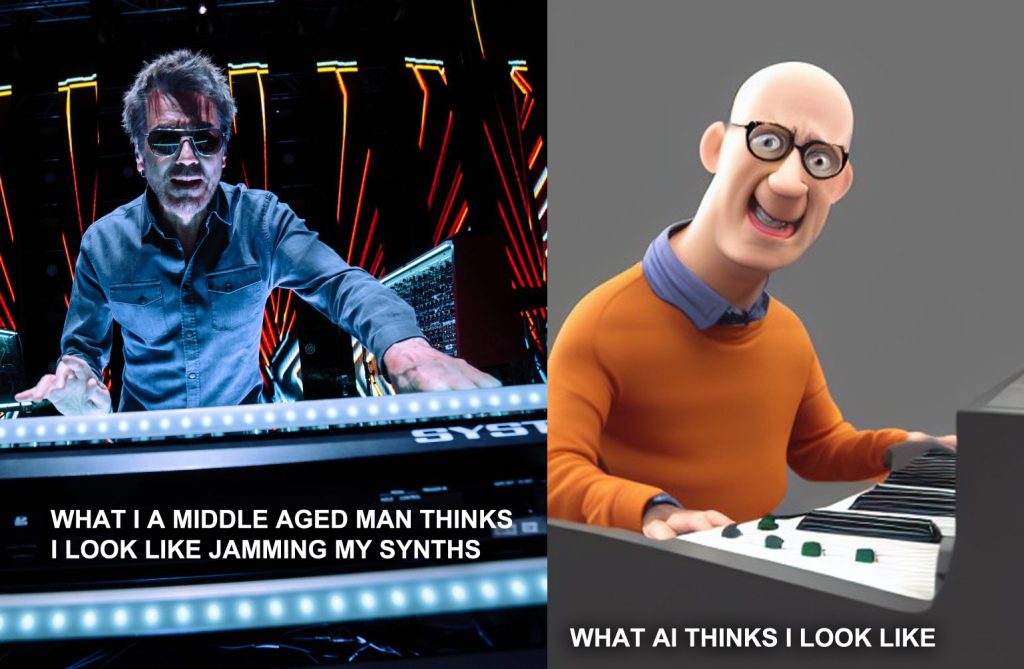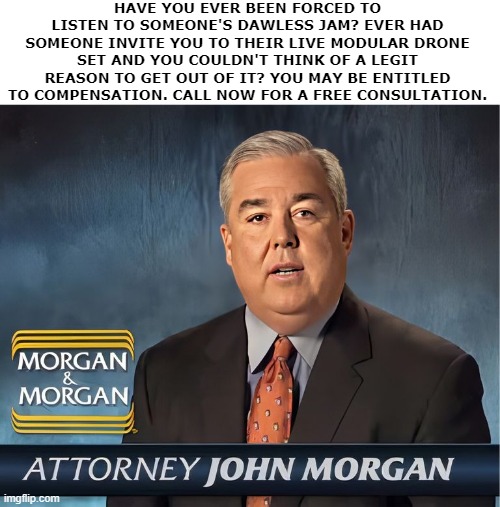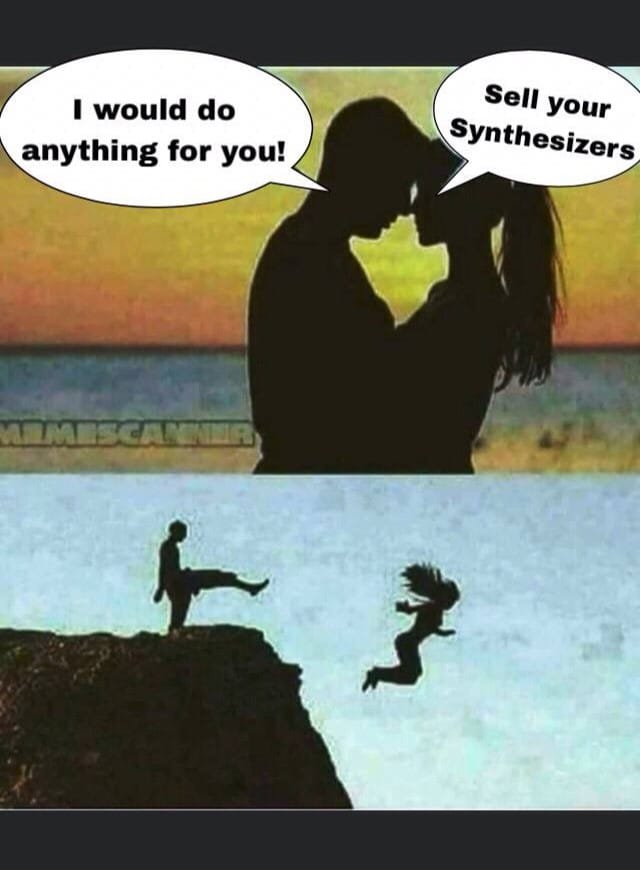 News from the Geekery
This week we have a big list of new synths and gear:
Behringer Victor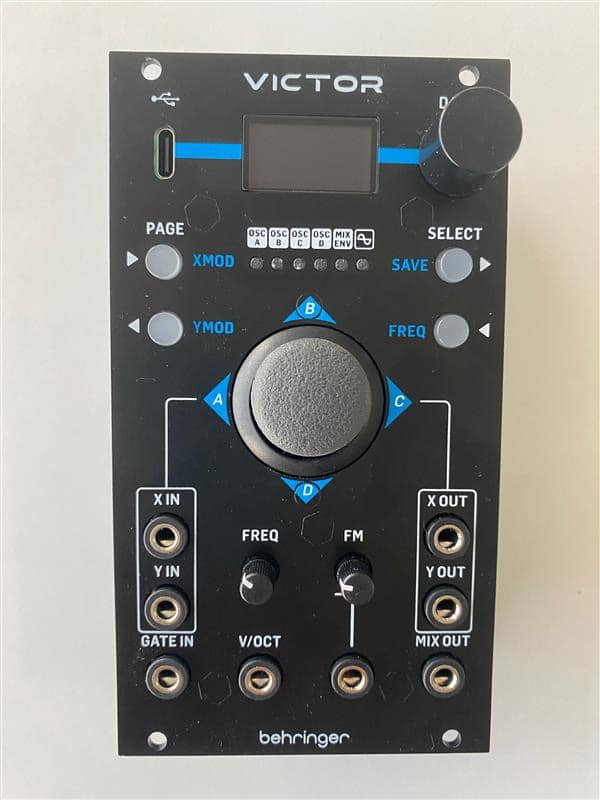 A new eurorack module based on the Prophet VS synthesizer. The Victor module offers a vector-based oscillator with 4 voices that can be controlled with a XY joystick (center of module). It has patch memory and CV inputs to control XY, Gate and V/Oct. Outputs for XY and Mix. There is also a USB C conntection for updating the samples.
Price: TBA
Link: https://www.facebook.com/Behringer/posts/pfbid0cS966voDEz7xVYDTWXWuigAPZFTj9WbgTsMg2S9RmqSbpk9JhDkPZQ52tjCHJJqLl
PO-80 Record Factory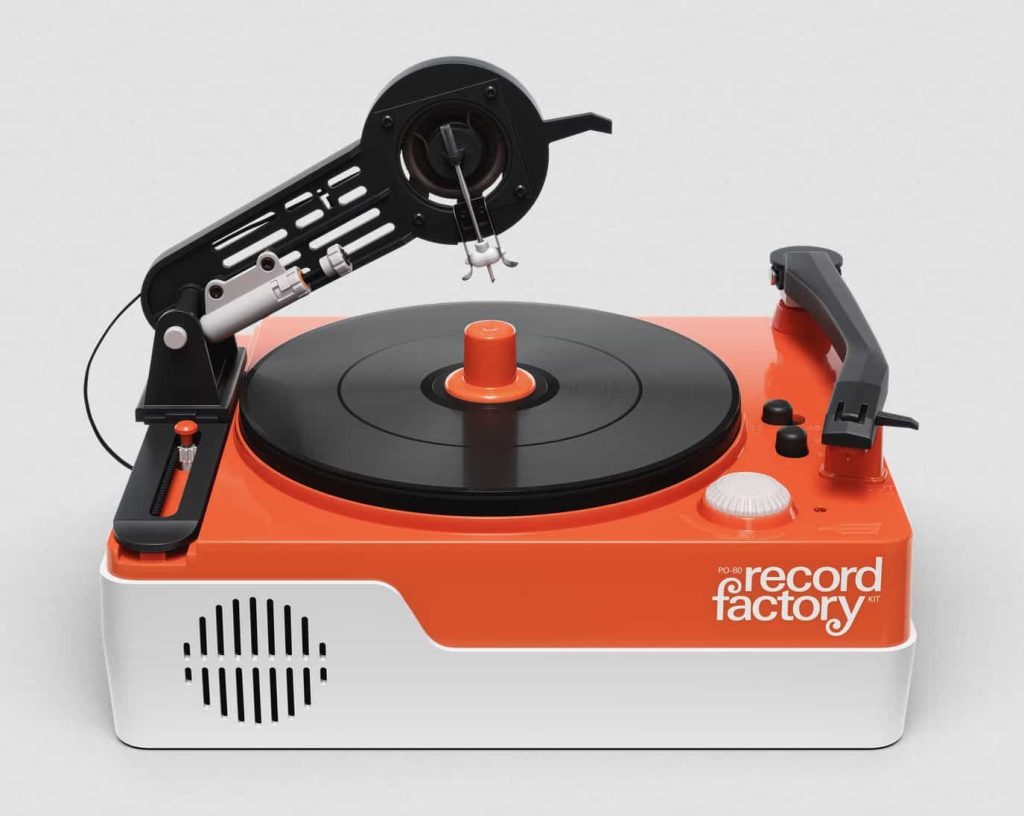 The latest offering from Teenage Engineering is a compact record cutter that lets you engrave and play back 5″ discs with "ultra-analog lo-fi sound". It comes as a simple DIY kit that you build. The company is pitching this to pocket operator owners to record their jams onto vinyl.
A box of 10 5 inch records will set you back $20 USD.
The product is intended for children aged up to 12 years.
Price: $149
Link: https://teenage.engineering/products/po-80
QU-Bit Nautilus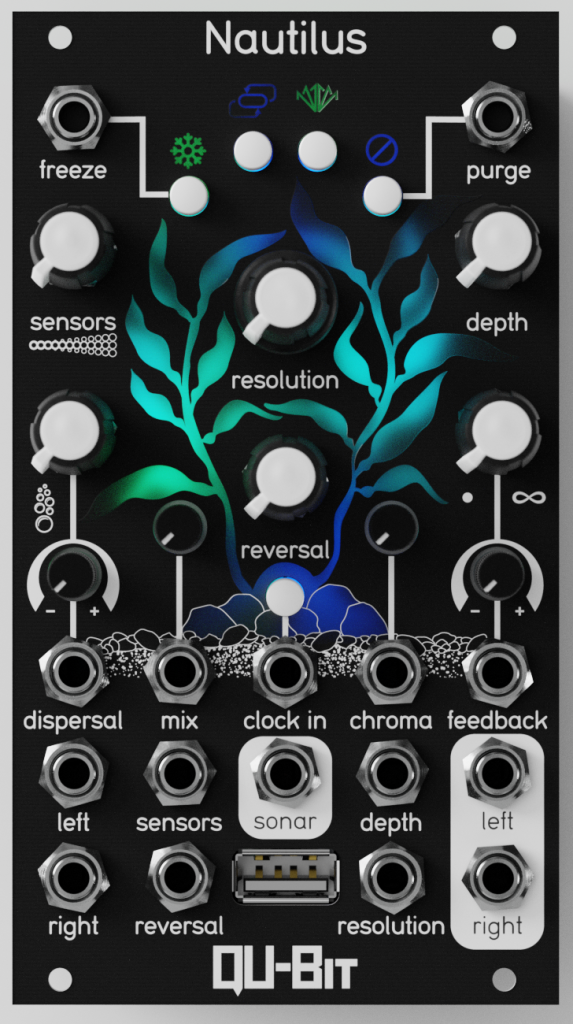 QU_Bit, makers of fine eurorack and modular devices have announced the Nautilus. It's a complex delay network inspired by sub-nautical communications and their interaction with the environment. In essence, Nautilus is a stereo delay consisting of 8 unique delay lines which can be connected and synced in interesting ways. Each time Nautilus pings its sonar system, the generated topography reveals itself through the delay, all while staying in time with the internal or external clock. Complex feedback interactions plunge sounds to new depths, while related delay lines pull fragments of sound in different directions. Manipulate the delay lines even further by configuring the the stereo receptors, sonar frequencies, and aquatic materials that filter the space between Nautilus and its surroundings.
Though Nautilus is a delay effect at heart, it is also a CV/Gate generator. The Sonar Output creates either a unique Gate signal, or a unique CV signal algorithmically generated from Nautilus's findings. Drive other parts of your patch with pings from the delay network, or use the generated topography as a modulation source.
Stereo Sub-Nautical Delay Processor
Ultra low noise floor
8 codependent delay lines with up to 20 seconds of audio each
Fade, Doppler and Shimmer delay modes
Sonar configurable CV/Gate output
Price: $399
Link: https://www.qubitelectronix.com/shop/nautilus
Cobalt 8 Firmware V2.0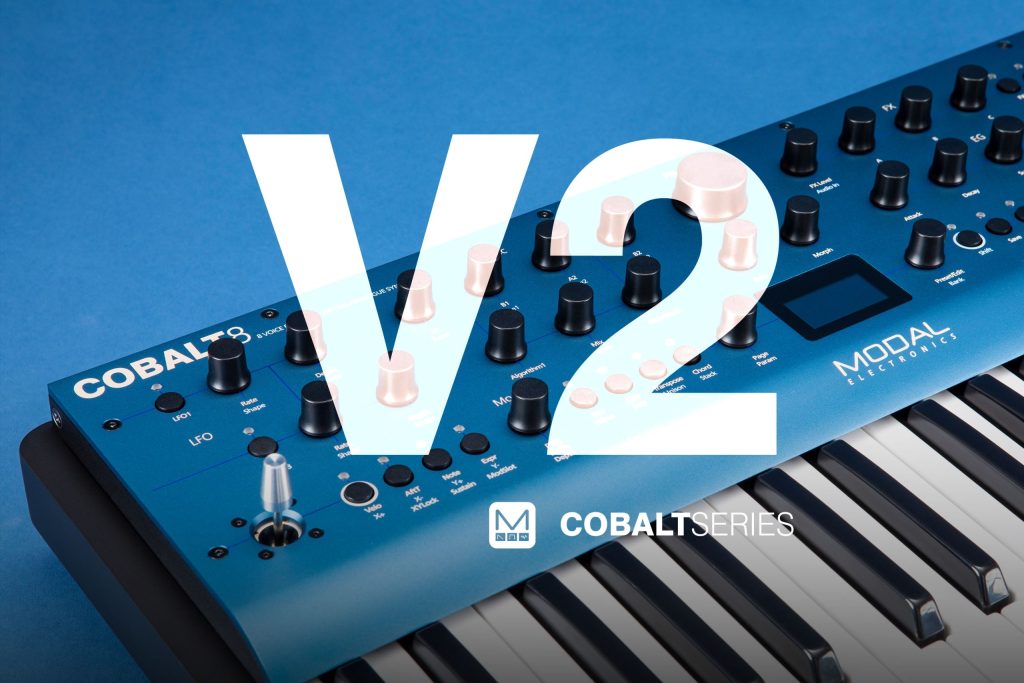 The new firmware from Modal Electronics for the Cobalt8 series of synthesizers has a similar list of new features to the recent update for the Argon8 series:
Vintage parameter –> emulates the behaviour of vintage analog synthesizers
27 new filters –> increase the impressive arsenal of creative filters
New effects –> new reverb with big ambient space and near infinite reverbs, new phaser, compressor and more
Updated Arpeggiator –> Programmable with Arp Directions.
Link: https://www.modalelectronics.com/cobalt8-firmware-v2-0-now-available/
Elektron Firmware Song Mode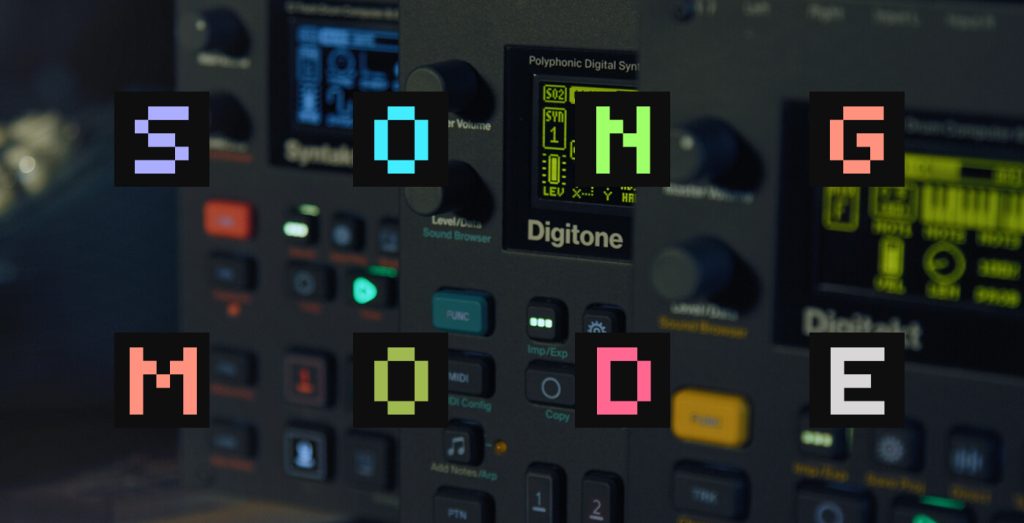 Elektron have released new firmware for Digitakt, Digitone and Syntakt devices. The biggest update is the new Song Mode, which lets you create, edit and play compositions made up of dozens of your patterns. Plus some other cool new features for each device respectively.
Link: https://www.elektronauts.com/news/572
Price Watch
This week – we visited a number of auctions, here are the screen grabs: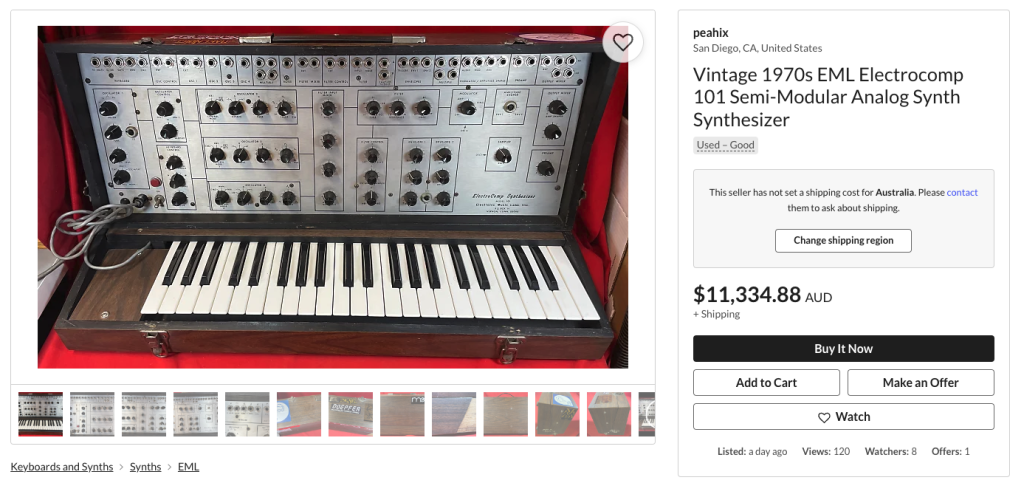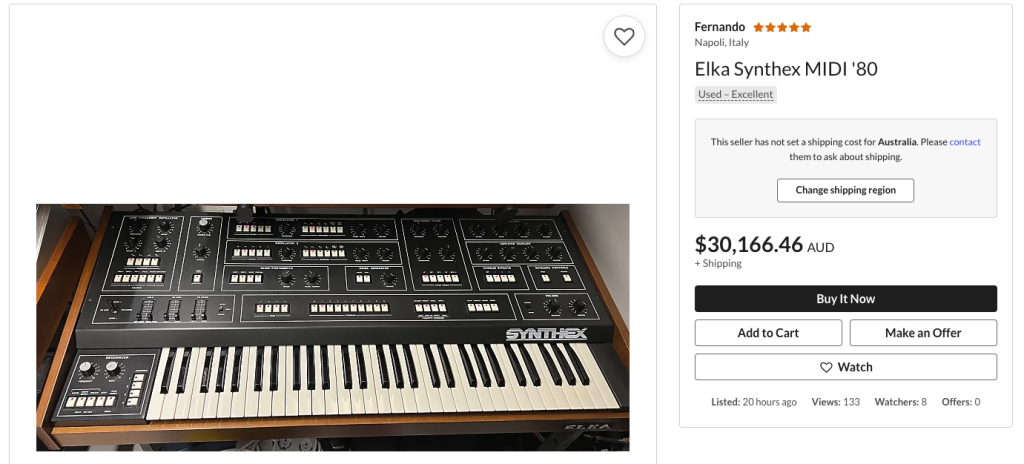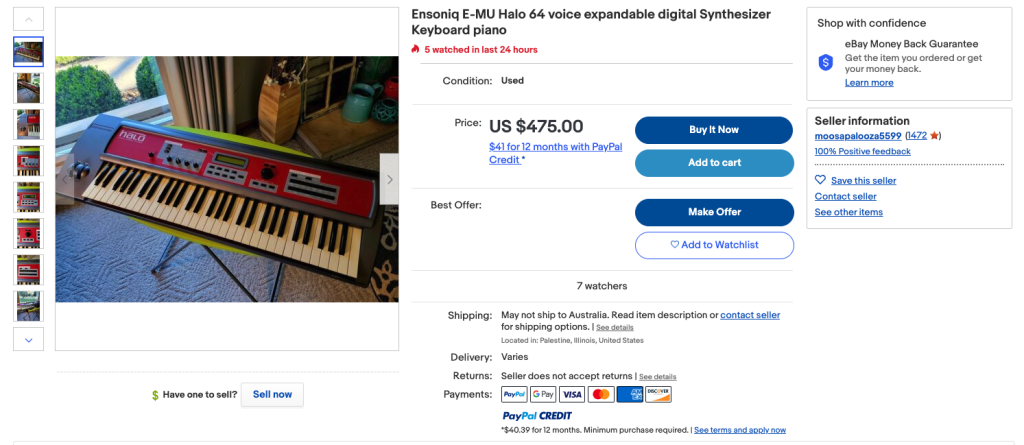 Name that Synth
This week's name that synth submission is by Eddie (FRose) – cheers mate 🙂
Saturday Sonority
This week's Saturday Sonority we were talking about synths!