In episode 197 is our 4th Birthday show! Plus all the usual segments! Funny Side, News from the Geekery, Price Watch, Name that Synth …
Show contents:
About the Synth Geekery Show
Synth Geekery is a weekly podcast/live stream (YouTube) show about everything synthesizers, drum machines, samplers, sequencers, eurorack and music technology. We take the "one of the masses" viewpoint, where we are also users of gear just like you (read: we're not influenced by commercial product placement).
The show relies on the generous contributions of the synth community. You can contribute in many ways including supporting us via our YouTube Channel Membership or Patreon. We also have regular and special video guests: if you would like to take part in future shows – please contact me via email on the about page here.
Guests
This week's video guests are:
Daren T. Housse
Bandcamp Link: https://darenthousse.bandcamp.com/
Youtube: https://www.youtube.com/channel/UCLPHxpZgFKKE1wkG9ndto3A
Daren resides in the UK and is one of the first video guests on the show since 2019. He has a large amount of tracks on his youtube channel plus a great album collection over on BandCamp.
Andrew Brooks
Main link – https://www.youtube.com/user/sunhoney1uk
BandCamp link: https://andyvonal.bandcamp.com/
Andy resides in the UK and has been a regular member of the show since 2020. He has performed live and offers a wealth of knowledge for live electronic music setups and small studio configurations.
SynthAddict
Andy is a musician and technologist from the bay area in California. He has an amazing collection of music tech gadgets and a large knowledge of synthesizers.
Youtube: https://www.youtube.com/channel/UCUtABvP7q29uvLKi73zIjFQ
Ian J. Cole
Ian is a musician, composer, sound designer and producer currently producing solo ambient electronic music. He also runs Sinners Music which is a Record Company and Online Music Retailer in East Yorkshire, England
Youtube: https://www.youtube.com/c/IanJCole
Video replay
Funny Side
The funny side segment is a collection of memes that are somewhat relevant to the synth geekery community. Some of these images are taken from Facebook, Instagram and other social media sources. Please respect the creators. Hope you enjoy this week's selection: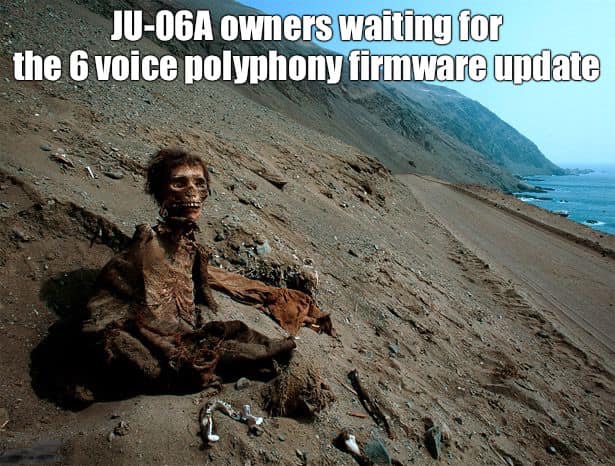 News from the Geekery
This week we have a big list of new synths and gear:
Behringer MS-5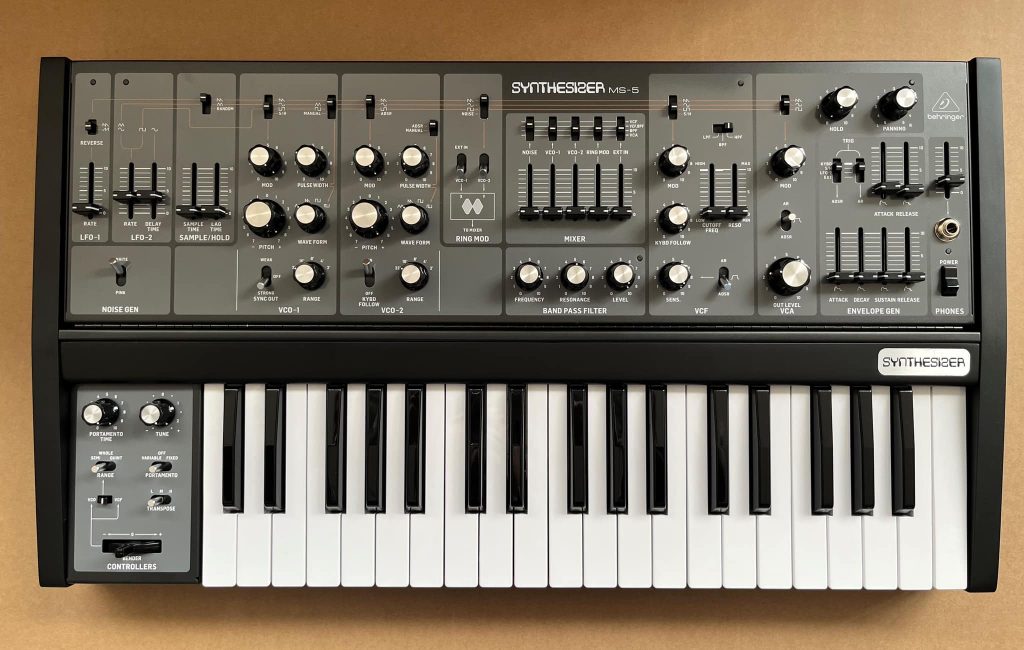 This announcement comes after 2 years of development – that Behringer will now put the MS-5 into production. The MS-5 is a clone of the Roland SH-5 from 1976. The layout of the Behringer is very similar to the original Roland. However, we're still yet to hear how it sounds.
The Roland SH-5 has a unique multimode filter that brings some grit and artifacts into the sound. It has been re-used in their eurorack module – the 505. The stand-out features of the original SH-5 other than the filter were the stereo output with panning controls on the VCA and the ring mod. I wonder if the Behringer model will have this as well.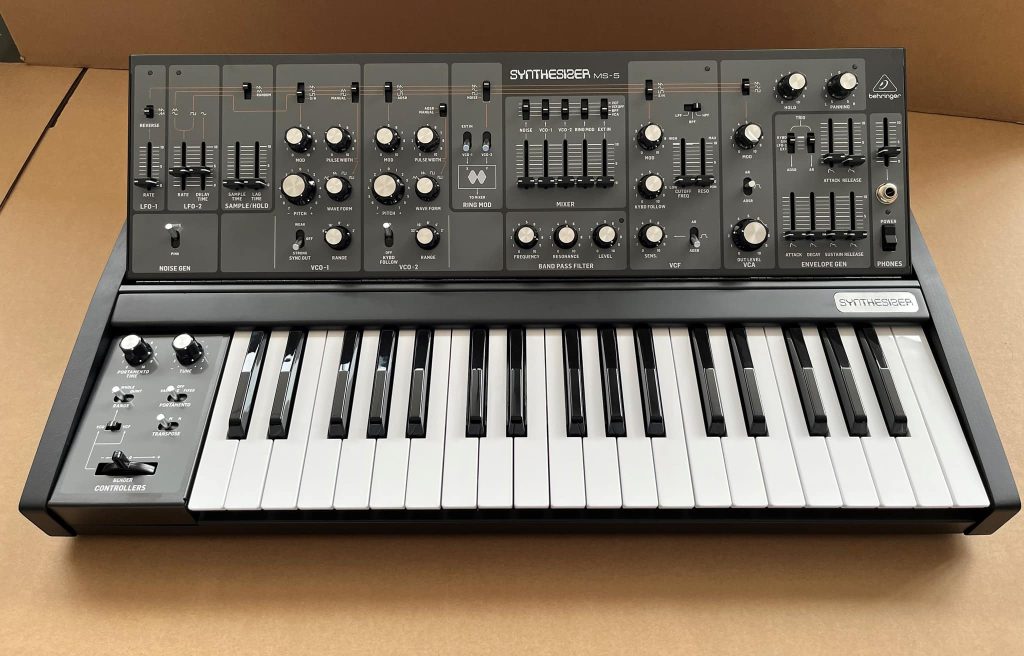 Price: TBA (we invisage it to be around the price of the Poly D – $809 USD )
Link: https://www.facebook.com/Behringer/posts/pfbid037qmV44pQuUEhiiHnZWWgECcGnUKUFnWNyr4xAM9E5c8Q61WpSgbAhqKjJiPmTfVBl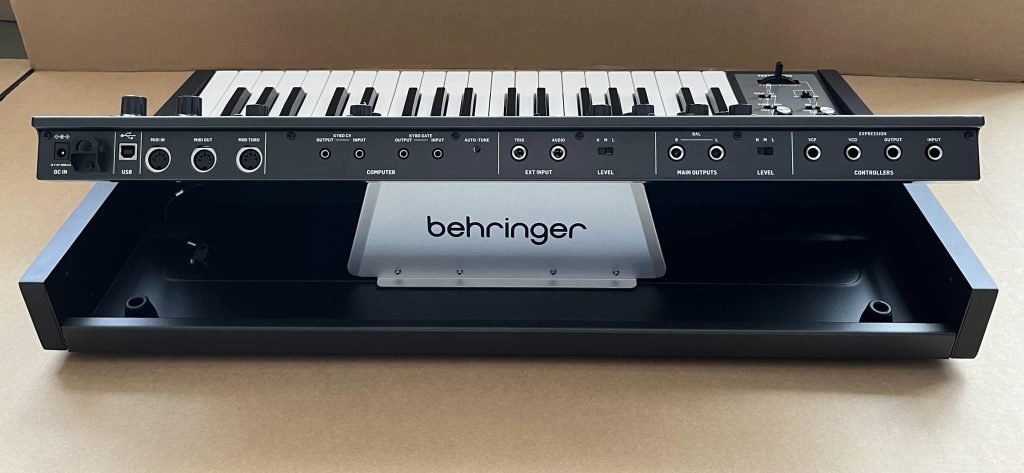 Behringer BMX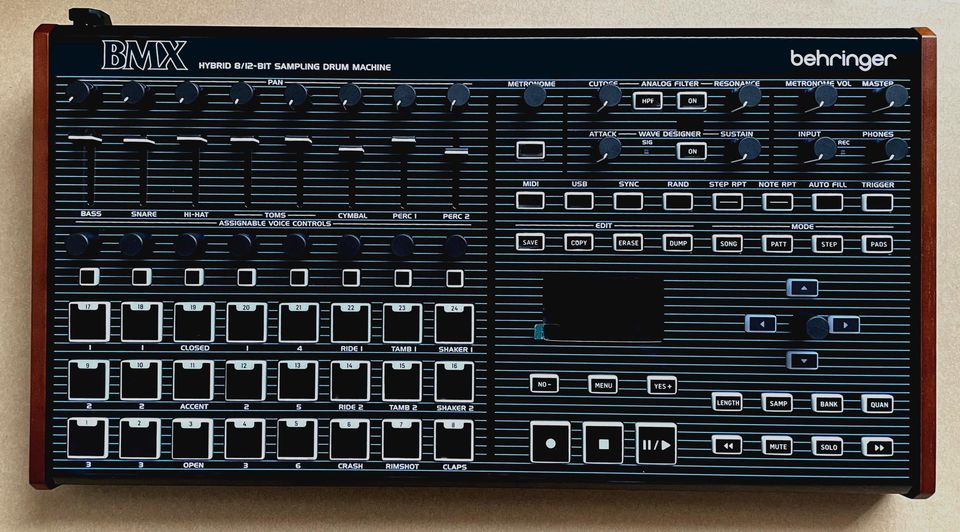 The famous Oberheim DMX – used by many musicians in the 1980s and 90s – if you've ever listened to Blue Monday by New Order, you'll know the DMX. Now Behringer are making a clone of this. They claim it will contain the original sounds of the Oberheim but it will also have the ability to sample. This makes it quite interesting.
The Behringer will have 8 parts of 24 drum sounds of 8-bit/12-bit samples. Plus it will include an internal sampling engine where we can see some sound shaping elements and controls. It also includes analog filters – similar to the RD-9.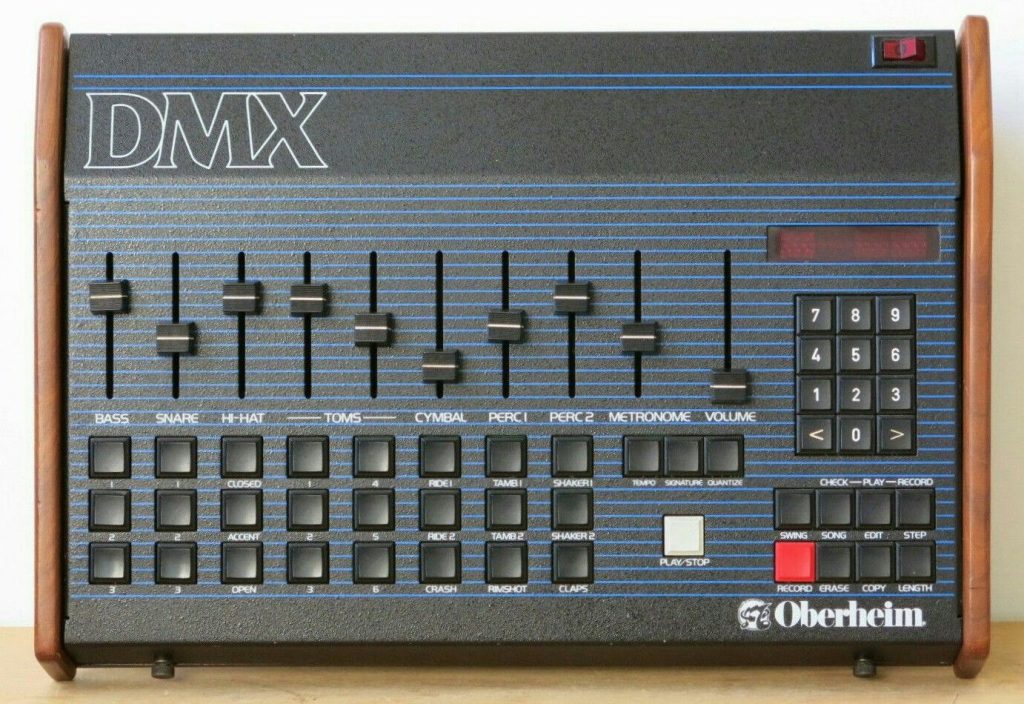 The original Oberheim DMX shares some similarities with the stripes decal and sliders. However, the Behringer design has added pads and some similarities from their RD-8/9 models.
I like the Behringer design and I think it brings some modern improvements to the table. I'm especially interested in the sampling side and wonder how the little OLED/LCD screen might handle editing recorded samples.

The rear has a similar feel to the RD-8/RD-9 drum machines with Main outputs for L + R and phones. An input for the sampler. Individual voice outputs for Perc 1 & 2, Cymbal, Toms 4-6 & 1-3, Hi-hat, Snare and Bass. 3 trigger outputs (3.5mm) and Sync in and out. plus MIDI IN, OUT and THRU. There's also USB type B connection and 18v DC power.
Price: TBA (maybe similar to the RD-9 or RD-8?)
Link: https://www.facebook.com/Behringer/posts/pfbid02dMJtQGHRubXxdjUmt62fb5pVeAqpDGumriuKWqqY8CffMWKnkqJfjvz499CWt418l
Chompi Club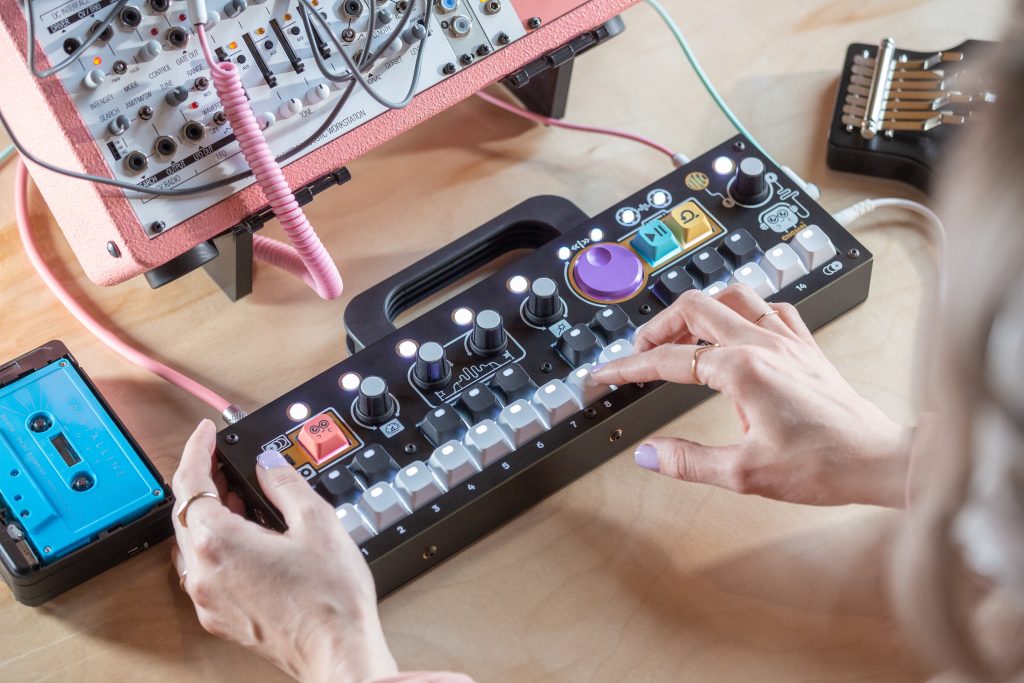 Another portable sampler has emerged. This time it is from Kickstarter – starting 28-Mar-23.
The sampler runs on the Daisy platform (Electro-Smith). You get tape-style sampling, looping and multi-effects. You can play samples up to 7 voices of polyphony. The sampler can record up to 6 hours of internal sampling time. There are 40 preset slots.
The sample engine provides options to modify including speed, direction and start/end point. There's also an AD EG and single-knob effects with lo-fi, granular reverb and delay.
The looper seems interesting with overdub. There are transport controls, scrubbing, playback speed and direction. It's all about the sampling – chomping – and playback on the fly.
The Chompi Club is a USB-C powered sampler with built-in mic and SD card. It has stereo line input and output. Heaphones and MIDI support.
Price: $499 for early pre-order ($599 RRP)
Link: https://chompiclub.com/
More information about the Daisy open source platform here: https://www.electro-smith.com/daisy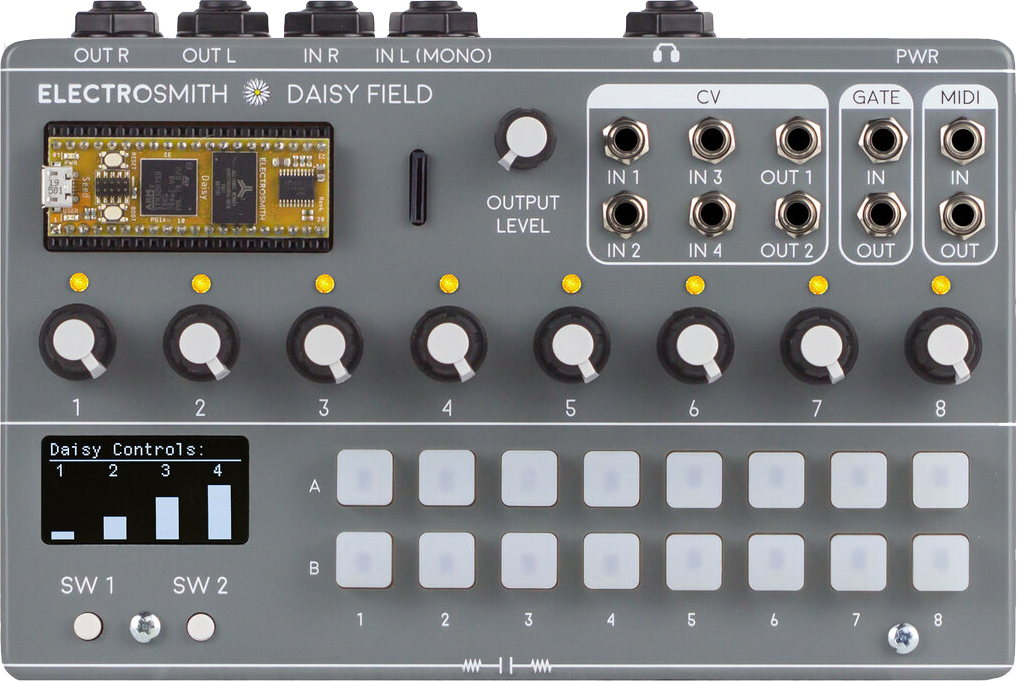 Hydrasynth Firmware 2.0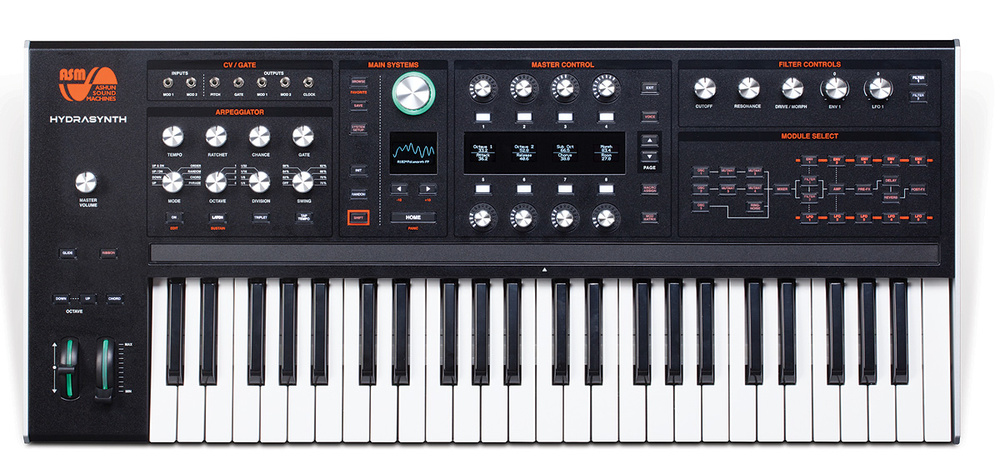 ASM have announced the new firmware 2.0 for Hydrasynth owners. with the following quick summary:
more memory – all get 8 banks of patch storage
some of the new performance features:

sustain pedal with sostenuto mode and mod only mode
mod strip/wheel vibrato has greater resolution and a new glissando option
ARP range increased to 6 octaves and can be offset fwd/back up to 32 steps
new voice mod options – for mod matrix
one shot lfo's (3rd option for step triggers)
Price: FREE
Link: https://www.ashunsoundmachines.com/post/hydrasynth-2-0-os-now-available
Waldorf M 16 Voice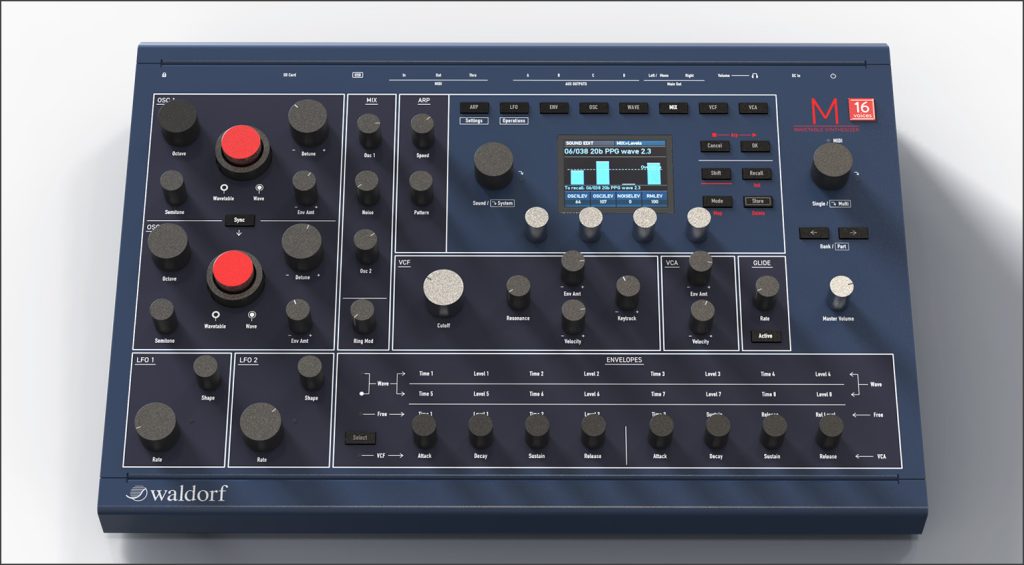 The new Waldorf M 16 offers the same features as the original except double the voices – to 16. It's four-part multi-timbral wavetable synthesizer with two oscillators per voice and analog filter and analog VCA per voice.
Price: €2308 (original 8 voice is £1499)
Link: https://waldorfmusic.com/produkt/waldorf-m-16voice/
Ryk M175 – Modular Vactoral Resonator – System 100M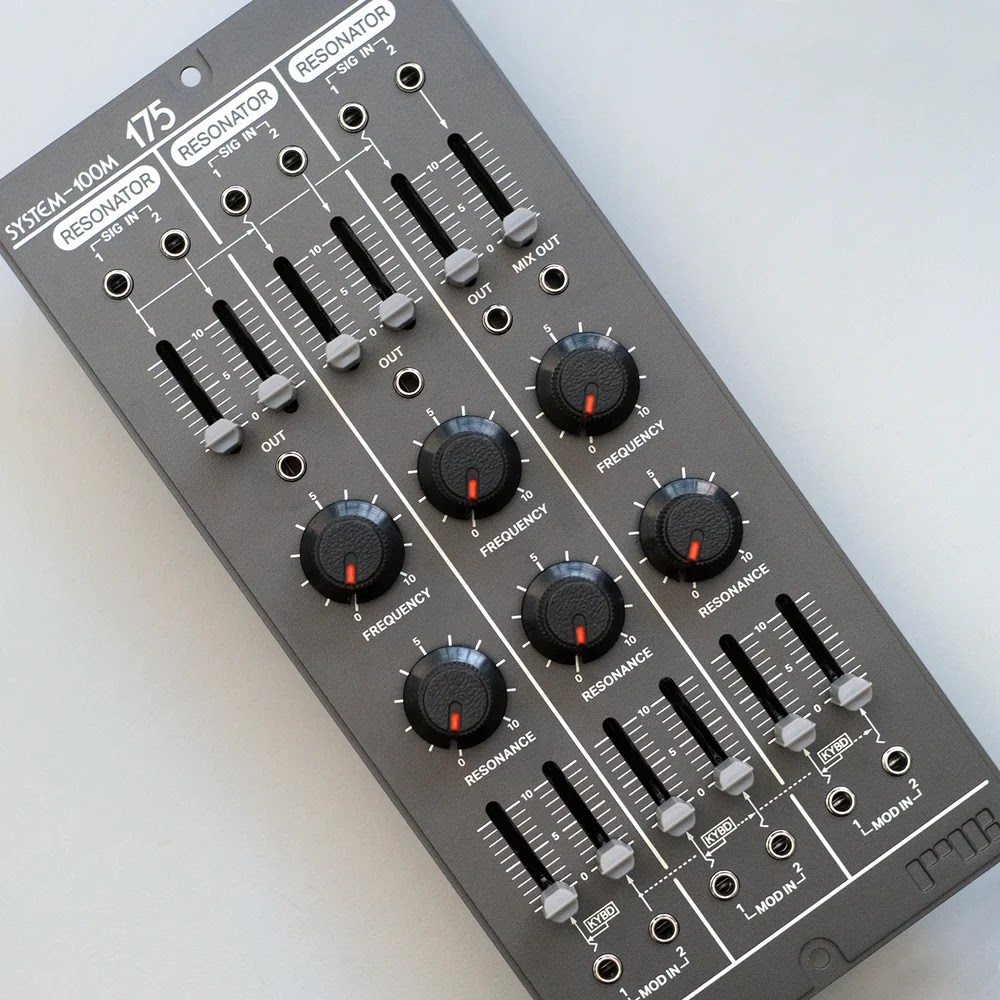 The latest module for the famouse Roland System-100m modular synthesizer from Ryk Modular – the M175 – a triple vactoral resonator.
The module features 3 dual vactoral control resonator channels. Each channel has a normalised audio input, and summed to a mix out. Each channel also has individual output. There are slider attenuators for both inputs per channel, knobs for frequency and resonance, attenuators for modulation control and 2 mod inputs.
FEATURES
Three Vactrol controlled Band Pass Filters arranged in normalised parallel, or can be used as three separate filters.
Audio input signal is normalised to all three resonators, but can be overridden by inserting a jack into the resonators 1st inputs allow them to be used separately.
A mix output is available that sums the output of all three resonators, by inserting a jack into a resonators individual output overrides its output from the mix output.
Keyboard CV is supplied via the standard System 100m DIN connector, to the 1st modulation input of each resonator.
The 2nd input of the first resonator is normalised to each of the other two resonators
Authentic high quality reproduction of Roland System 100m panel, with 100m grey paint finish and 70's off white screen print.
Price: £595
Link: https://rykmodular.bigcartel.com/product/m175-triple-resonator
Cosmos Quencer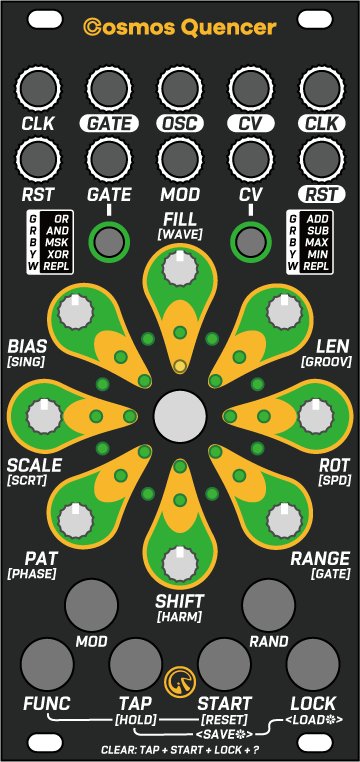 From the website:
Cosmos Quencer is a phrase generation sequencer specifically designed for real-time performance.

Based on the experiments with the previous C Quencer series, it has been completely redesigned from the ground up to be easier to handle and capable of generating a more diverse range of phrases during live performances.

There is no need to prepare sequence data in advance to perform music. Just like an improvised jazz performance, simply choose a scale and play the sequence as you desire.

Centrevillage Listing
Price: $299
Link: https://centrevillage.net/products/19
Price Watch
This week – :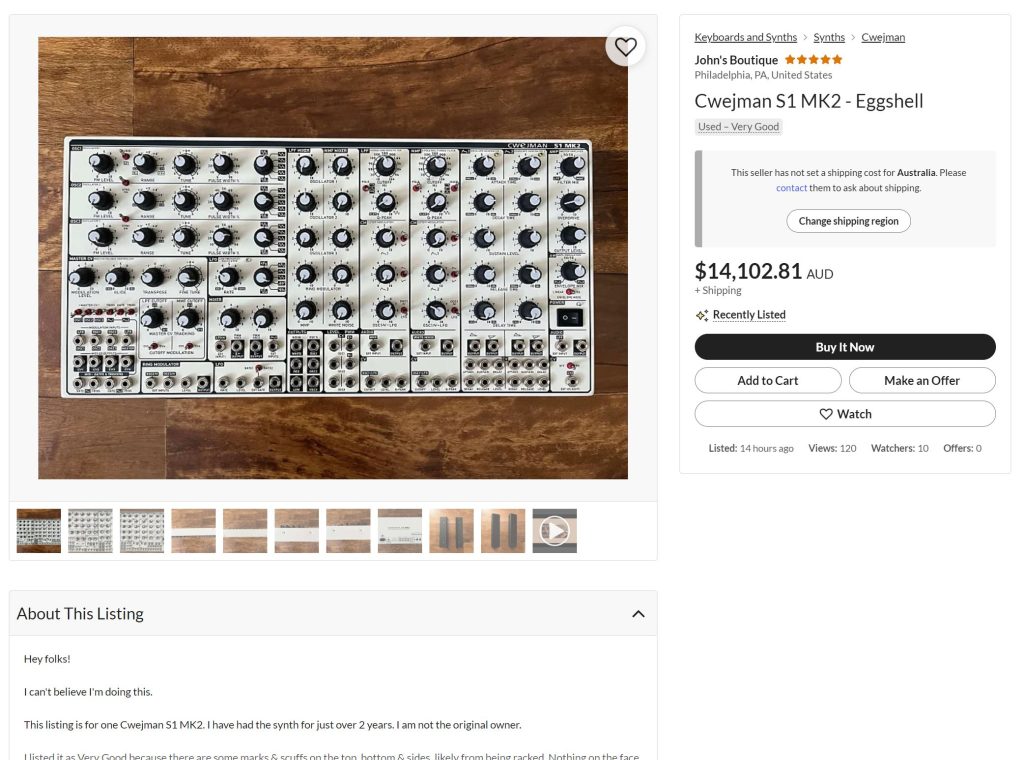 Saturday Sonority – 4th Birthday
This week's Saturday Sonority we were talking about 4 years of synth Geekery!
Name That Synth
No name that synth this week – send one in!
If you are after more information about Name that Synth – please check out this page here.