In episode 198 is about VCA's and Mixers! Plus all the usual segments! Funny Side, News from the Geekery, Price Watch, Name that Synth …
Show contents:
About the Synth Geekery Show
Synth Geekery is a weekly podcast/live stream (YouTube) show about everything synthesizers, drum machines, samplers, sequencers, eurorack and music technology. We take the "one of the masses" viewpoint, where we are also users of gear just like you (read: we're not influenced by commercial product placement).
The show relies on the generous contributions of the synth community. You can contribute in many ways including supporting us via our YouTube Channel Membership or Patreon. We also have regular and special video guests: if you would like to take part in future shows – please contact me via email on the about page here.
Guests
This week's video guests are:
Daren T. Housse
Bandcamp Link: https://darenthousse.bandcamp.com/
Youtube: https://www.youtube.com/channel/UCLPHxpZgFKKE1wkG9ndto3A
Daren resides in the UK and is one of the first video guests on the show since 2019. He has a large amount of tracks on his youtube channel plus a great album collection over on BandCamp.
SynthAddict
Andy is a musician and technologist from the bay area in California. He has an amazing collection of music tech gadgets and a large knowledge of synthesizers.
Youtube: https://www.youtube.com/channel/UCUtABvP7q29uvLKi73zIjFQ
Ian J. Cole
Ian is a musician, composer, sound designer and producer currently producing solo ambient electronic music. He also runs Sinners Music which is a Record Company and Online Music Retailer in East Yorkshire, England
Youtube: https://www.youtube.com/c/IanJCole
We were also joined by Kent Spong, JX3D and Maikshifter on Streamyard.
Video replay
Funny Side
The funny side segment is a collection of memes that are somewhat relevant to the synth geekery community. Some of these images are taken from Facebook, Instagram and other social media sources. Please respect the creators. Hope you enjoy this week's selection: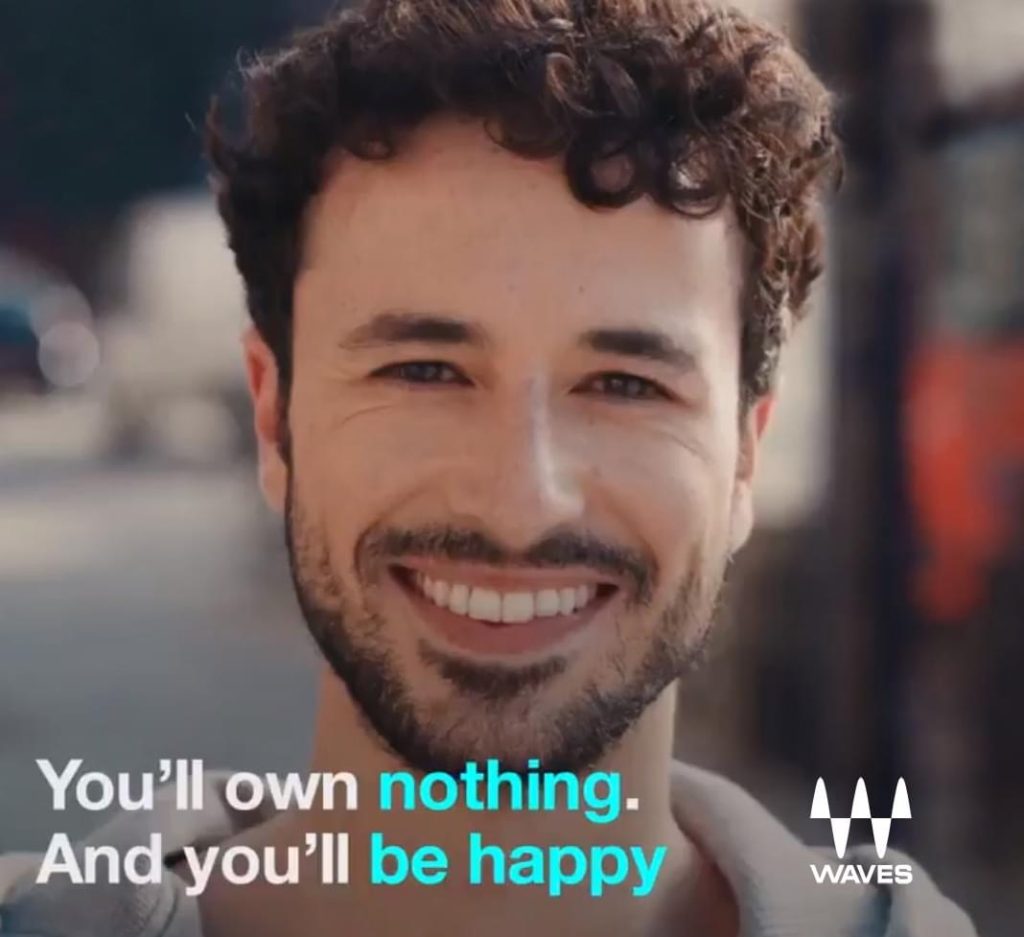 News from the Geekery
This week we have a big list of new synths and gear:
Arcaico Gorgone V2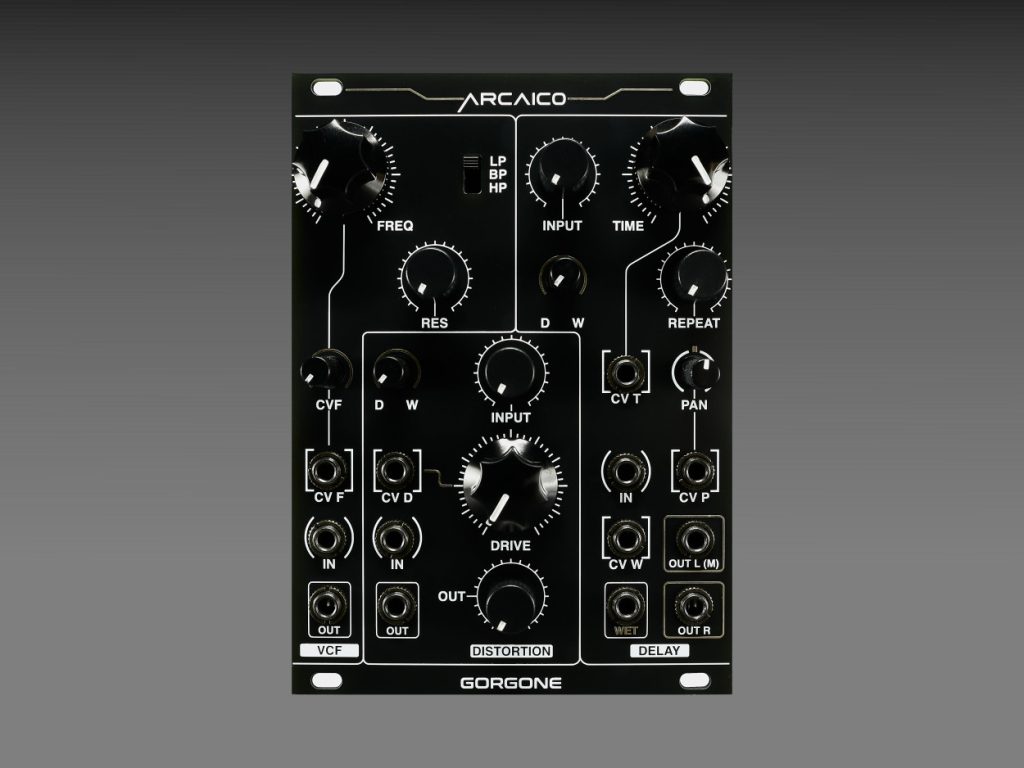 An interesting 18HP FX module for your modular skiff. Setup with a low/band/high pass VCF, distortion from the MXR M-104 and a delay circuit which is a hybrid BBD. It has a stereo output with cv controls.
The effects are internally chained following the order VCF–>DISTORSION–>DELAY–>STEREO OUT. However, you can use them in different order, individually or mixed together with cv controls.
VCF: is a 12db/oct multi-mode filter LP/BP/HP. It is self-oscillating so it can be used to generate a sine wave. The range is 160hz-12khz – not sure why it doesn't do lower.
DISTORTION: inspired by the MXR M-104 distortion: the cv control on the DRIVE and an output amplifier allow high levels of distortion.
DELAY: Is a digital/analogue hybrid that reproduces the classic Vintage BBD/ECHO TAPE delay. Delay time:min 0.05 max 2.00 sec. Setting values ​​greater than 1 second, the sound of the delay will create artifacts. Cv control time and cv control wet out (the wet output is routed to a vca, and via the cv you can control the opening of the vca.
A tad on the large size. However, it is 3 in one modules, has a Moogerfooger feel to it and it might just be what you're after!
Price: 270€
Link: https://www.arcaico.eu/prodotto/gorgone-v2-multi-fx/
Modular Grid: https://www.modulargrid.net/e/arcaico-gorgone-v2
Intellijel Flurry & Amps

Flurry is one of the craziest noise modules I've ever seen. There's even noises in this module which people have spent thousands of dollars removing from their mix!
Flurry is packed with a stack of noise sources, clocks, and randomness. It includes:
Clock and random pulse source
Both Pink and White noise sources
Accurate low droop sample & hold and track & hold
Analogue slew with variable time and switchable rising, falling, or both
Envelope follower
16 different types of noise synthesis algorithm
8 HP (34mm deep) packed with stacks of features in a small module space
Amps is a great dual VCA with phase and polarity. Some great features in here.
Amps is a super useful pair of linear VCAs that can be used to boost a signal, patch a ring modulator, crossfader, or mixer. You can chain multiple units together to create larger systems.
Each channel features a linear offset fader, an attenuator for CV in, CV inversion switch, boost switch, CV LED monitor, and output level LED. Channel B features a phase inversion switch so you can combine the two channels for ring modulation or 4 quadrant modulation.
Super versatile and useful in every case!
Price: Flurry 279€ ($399 AUD) and Amps 169€ ($249 AUD)
Link: https://intellijel.com/shop/eurorack/flurry/ and https://intellijel.com/shop/eurorack/amps/
Modular grid: https://www.modulargrid.net/e/intellijel-flurry and https://www.modulargrid.net/e/intellijel-amps
Price Watch
This week – :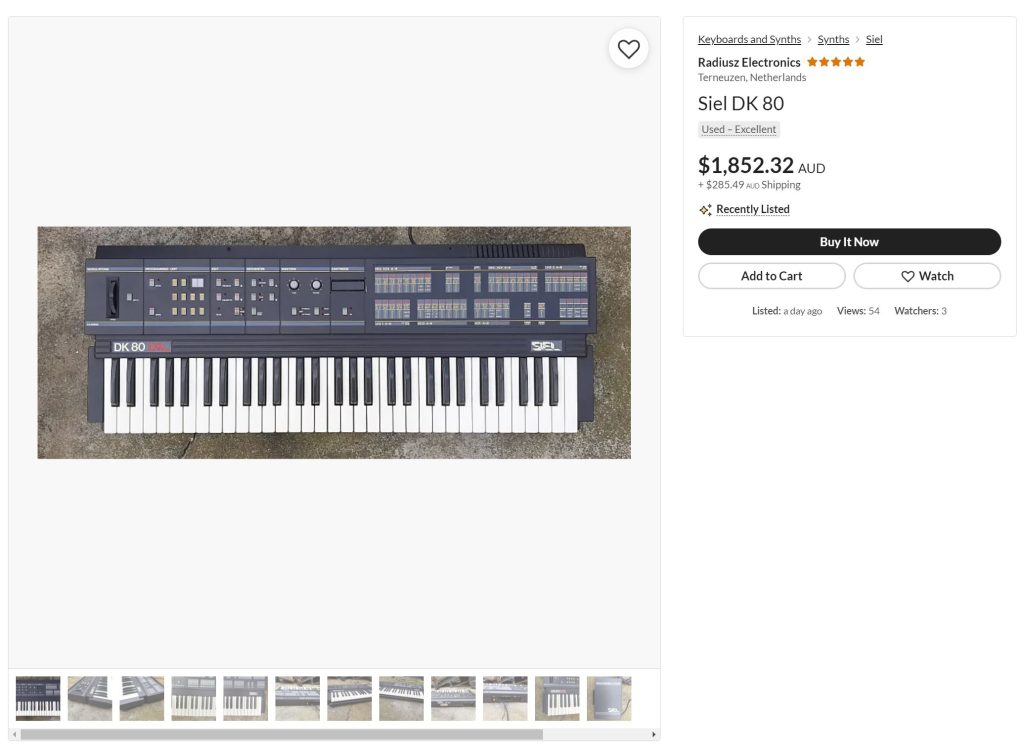 Saturday Sonority
This week's Saturday Sonority we were talking about VCA's and Mixers.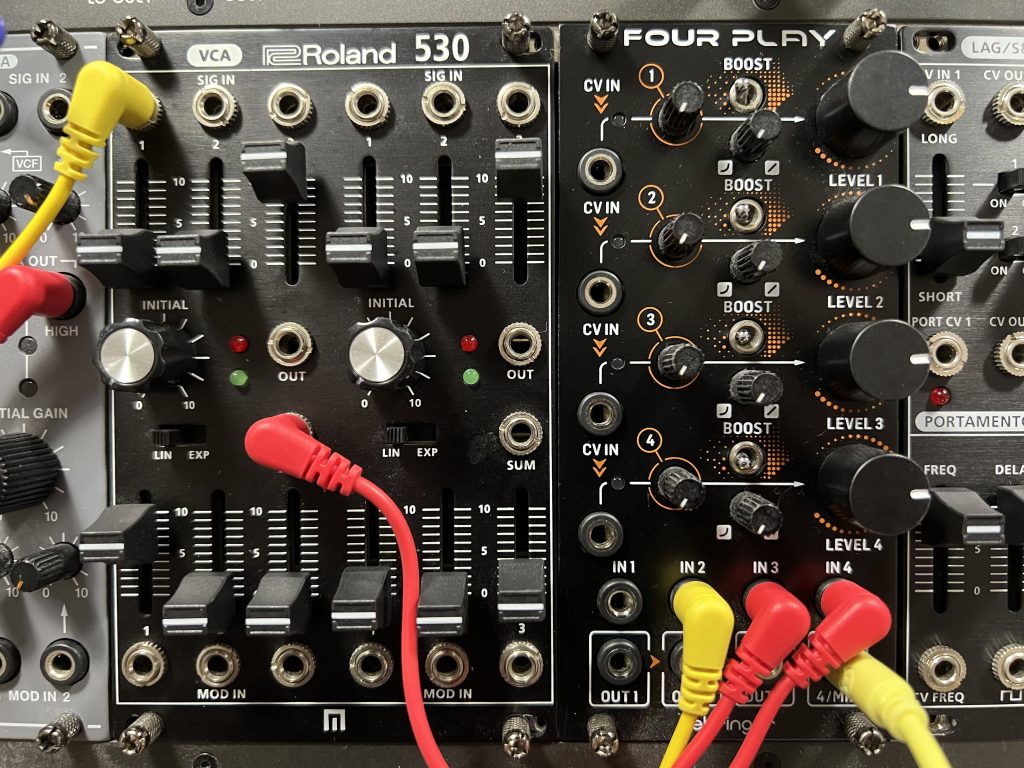 Name That Synth
No name that synth this week – send one in!
If you are after more information about Name that Synth – please check out this page here.