In episode 199 might be about VCA's again! Plus all the usual segments! Funny Side, News from the Geekery, Price Watch, Name that Synth …
Show contents:
About the Synth Geekery Show
Synth Geekery is a weekly podcast/live stream (YouTube) show about everything synthesizers, drum machines, samplers, sequencers, eurorack and music technology. We take the "one of the masses" viewpoint, where we are also users of gear just like you (read: we're not influenced by commercial product placement).
The show relies on the generous contributions of the synth community. You can contribute in many ways including supporting us via our YouTube Channel Membership or Patreon. We also have regular and special video guests: if you would like to take part in future shows – please contact me via email on the about page here.
Guests
This week's video guests are:
Daren T. Housse
Bandcamp Link: https://darenthousse.bandcamp.com/
Youtube: https://www.youtube.com/channel/UCLPHxpZgFKKE1wkG9ndto3A
Daren resides in the UK and is one of the first video guests on the show since 2019. He has a large amount of tracks on his youtube channel plus a great album collection over on BandCamp.
SynthAddict
Andy is a musician and technologist from the bay area in California. He has an amazing collection of music tech gadgets and a large knowledge of synthesizers.
Youtube: https://www.youtube.com/channel/UCUtABvP7q29uvLKi73zIjFQ
Ian J. Cole
Ian is a musician, composer, sound designer and producer currently producing solo ambient electronic music. He also runs Sinners Music which is a Record Company and Online Music Retailer in East Yorkshire, England
Youtube: https://www.youtube.com/c/IanJCole
Chris (Maikshifter)
YouTube: https://www.youtube.com/@Maikshifter
Video replay
Funny Side
The funny side segment is a collection of memes that are somewhat relevant to the synth geekery community. Some of these images are taken from Facebook, Instagram and other social media sources. Please respect the creators. Hope you enjoy this week's selection: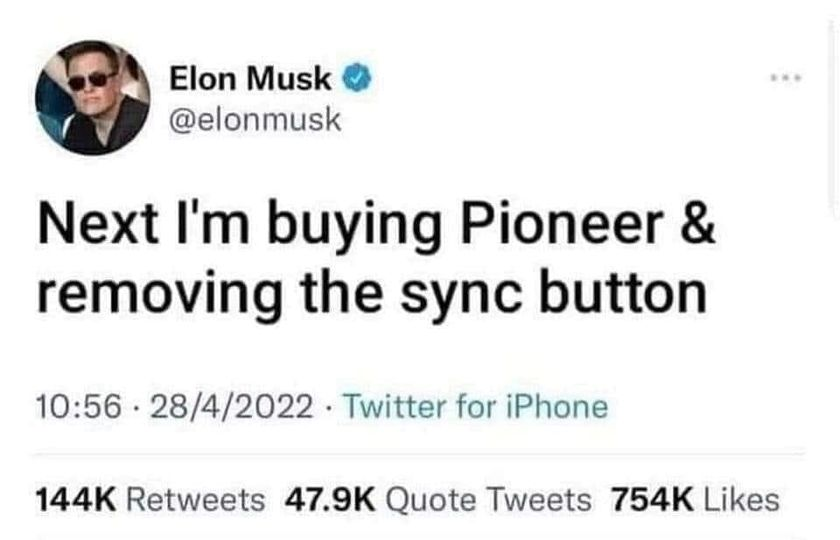 News from the Geekery
This week we have a big list of new synths and gear:
Forge TME VHIKK X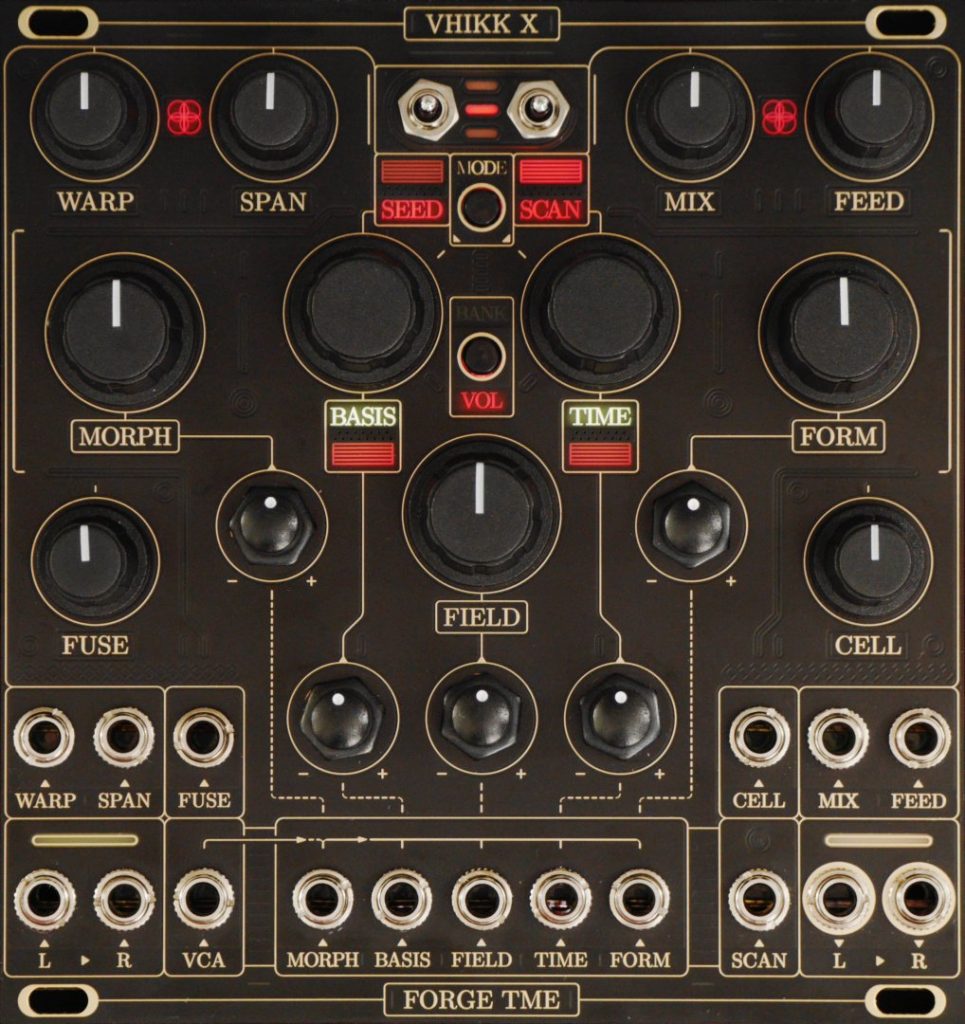 Vhikk X is an experimental stereo synth voice/fx processor. What seems to be more about sending sounds into an FX engine and mangling the delay times and feedback to create interesting drone-like timbres. The wavetable digital synth engine offers complex drones/basses, rich textures, and dynamic sfx. It combines sound generation and effects processing into one module with multiple different algorithms.
Forge TME says it is a mult-algorithm experimental synth workshop. There are 4 banks of 9 algorithms (total of 36) accessed by using combinations of the two toggle switches.
It looks to be a progression in development from the VhiKK V1 released in 2021. Which was essentially a wavetable synth voice with filter and delay FX.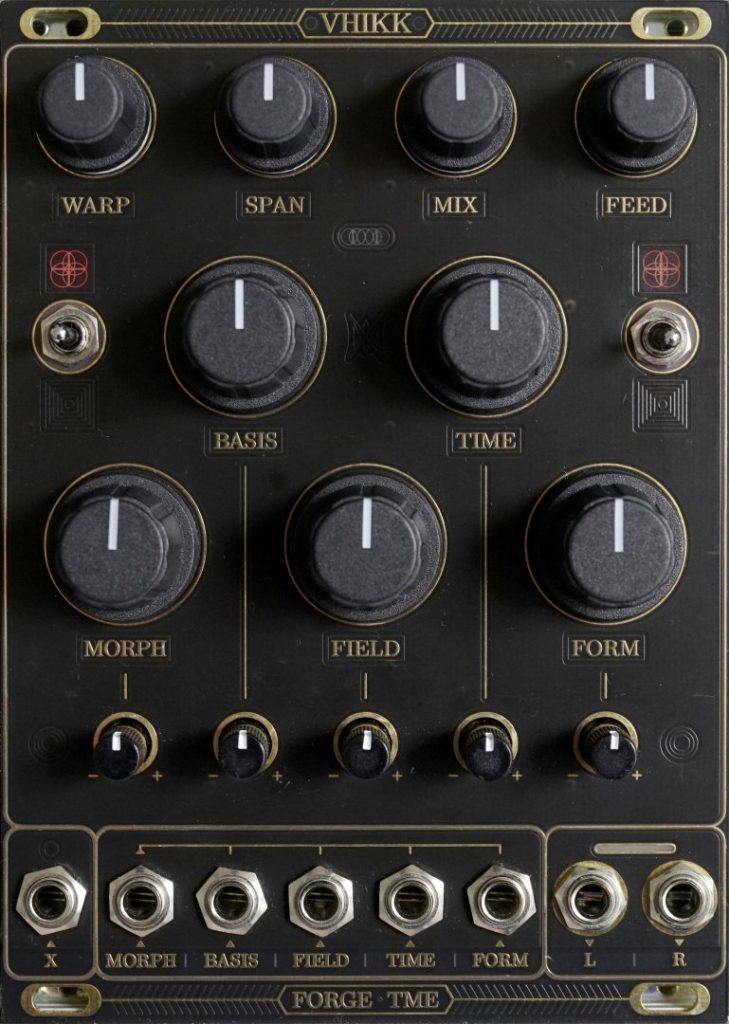 The VHIKK X adds these new features:
24bit I/O
stereo inputs for audio processing
VCA input for amplitude shaping without requiring an external stereo VCA
Continuous control of input/output volumes with soft clipping and lots of gain on tap to drive next-in-chain modules and boost lower level input signals. [can also take line level in and produce line level out]
The Vhikk X has improved signal path which allows for expansion into cleaner and more dynamic sonic territory, while still providing means to twist and crush itself into dirty saturated mayhem. There have also been stereo imaging improvements, with algorithm tweaks to run in true stereo end-to-end.
Firmware updates are done via the USB-C port on the side, supporting USB Mass Storage drag and drop using a UF2 bootloader.
A great module for those who are after a self-contained generator of droney-mangled synthey FX sounds.
24 HP (24mm deep).
Price: $500 USD
Link: https://forge-tme.com/vhikk-x/
Behringer Four LFO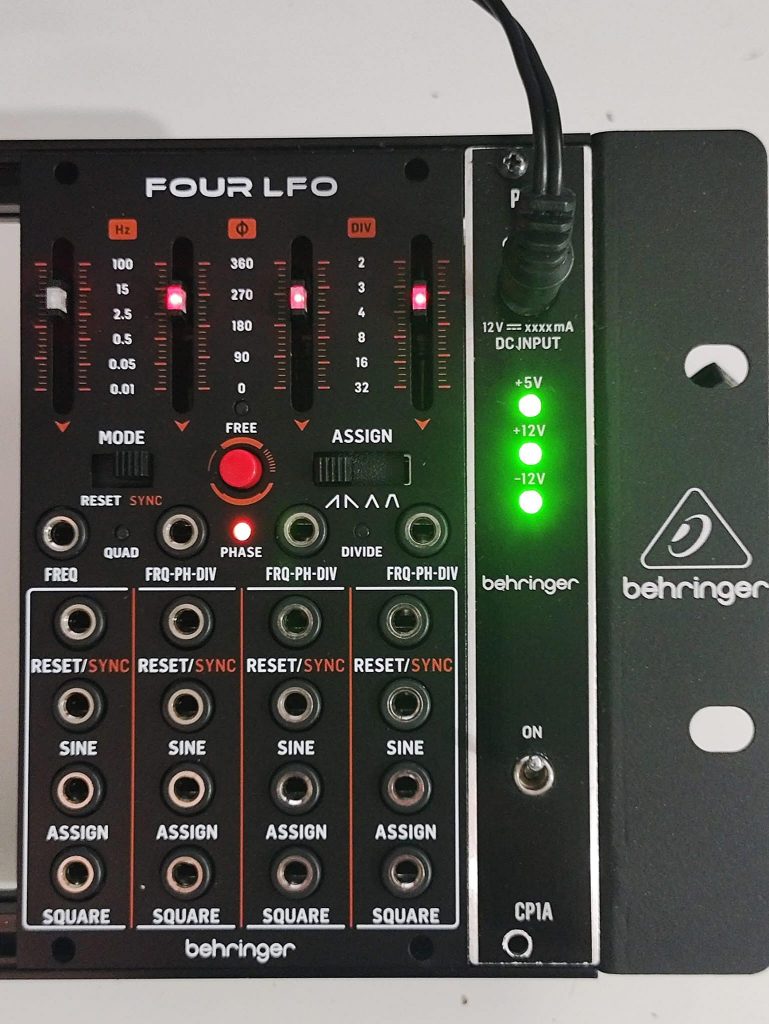 Behringer today have announced the Four LFO. Not much was said about the module, perhaps they need to learn plurals in grammar. However, it does look similar to Xaoc Devices Batumi:

I own a Batumi and can say it is an extremely useful module.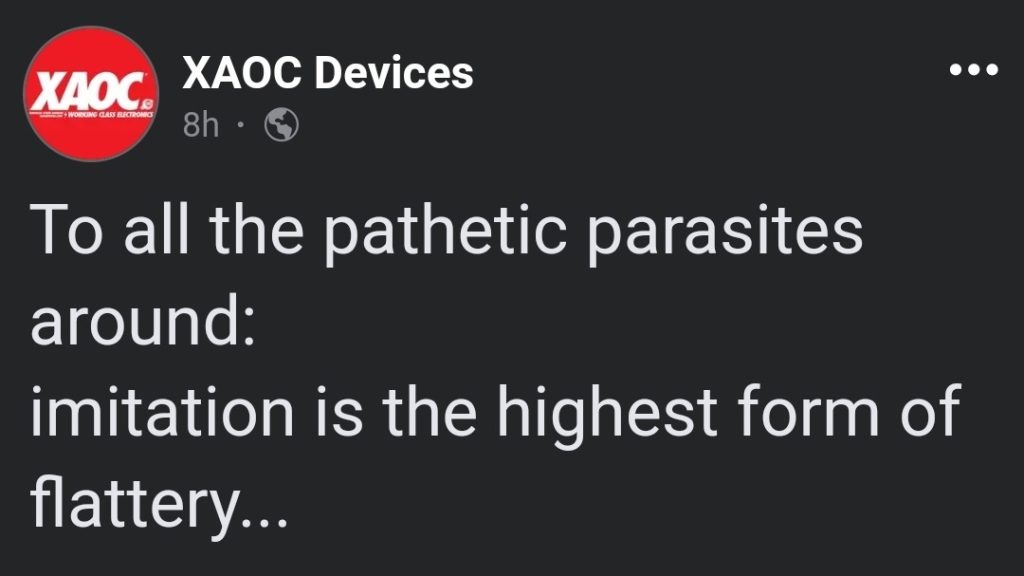 Price: TBA
Link: https://www.facebook.com/Behringer/posts/pfbid0Bi6ciSCEnrkog4xwVr49W12Dt2GmMpymn4fjNdMMQcehUkCA5REKbAojpKCckQvnl
Behringer Chaos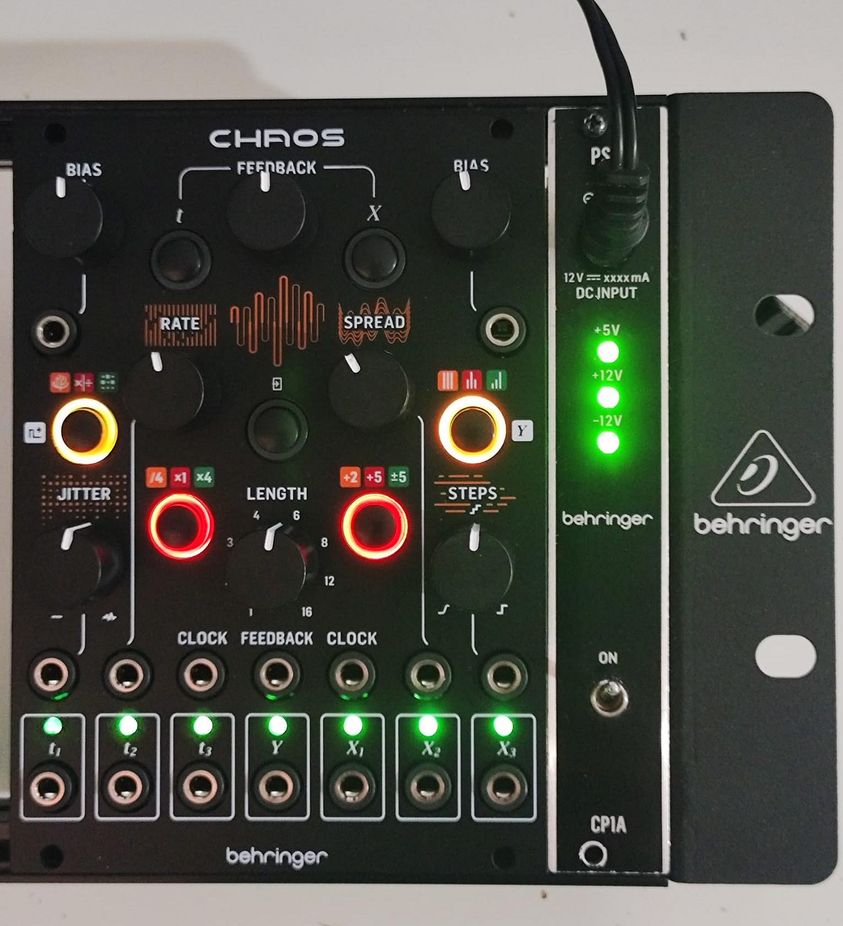 Behringer have announced a new eurorack module – the Chaos. It is most definitely a clone of the Mutable Instruments Marbles. They have changed the layout slightly with different knob and button positions. However the inputs and outputs seem to be the same. This leads me to believe they are using the open source firmware. No further details were provided by Behringer.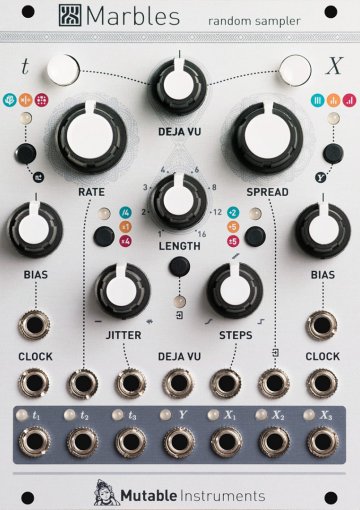 I own a MI Marbles and it is an amazing module.
Link: https://www.facebook.com/Behringer/posts/pfbid028KWzmB8eTH3cxParWK7b1pxxiyzD9QEuFLVSMYwyPvxcvvz9Lee5HnjpmGLcxUaxl
Behringer Surges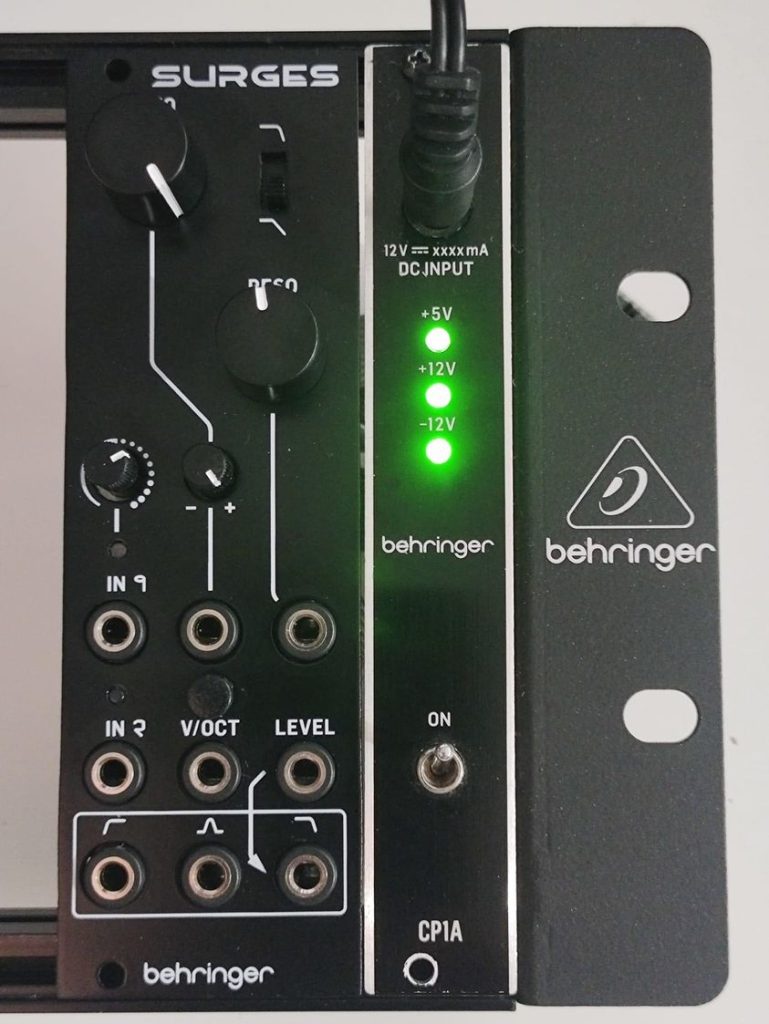 Behringer have announced a new eurorack module – the Surges. It looks to be a Mutable Instruments Ripples clone. It has an almost identical layout and no more information was provided by Behringer on their facebook post (link below).
Link: https://www.facebook.com/Behringer/posts/pfbid02Kbgmm9zfPSLjvy2Fu9bLB16gNYVhgyPEK532QPphTWC17H1rh46VVnFDHgRCzskZl
Noise Engineering Ampla Versio
The Noise Engineering Ampla Versio is a 10HP ADSR-controlled VCA with a resonant multi-mode filter gate and a stereo bypassable chorus output.
The digital firmware provides a number of dynamics and tone options:
blend control fades between pure VCA and VCA/filter
low pass gate – like modes but with BP and HP settings
ADSR is CV controllable giving dynamic curve control
Also lots of CV controls for I/O and voltage goodness.
There's a simple USB connection to allow for updates via the Versio stereo DSP platform. This is an open-source project via libDaisy.
Available with Black or Silver face plates.
Price: $393 USD
Link: https://noiseengineering.us/products/ampla-versio
Erica Synths Stereo Compressor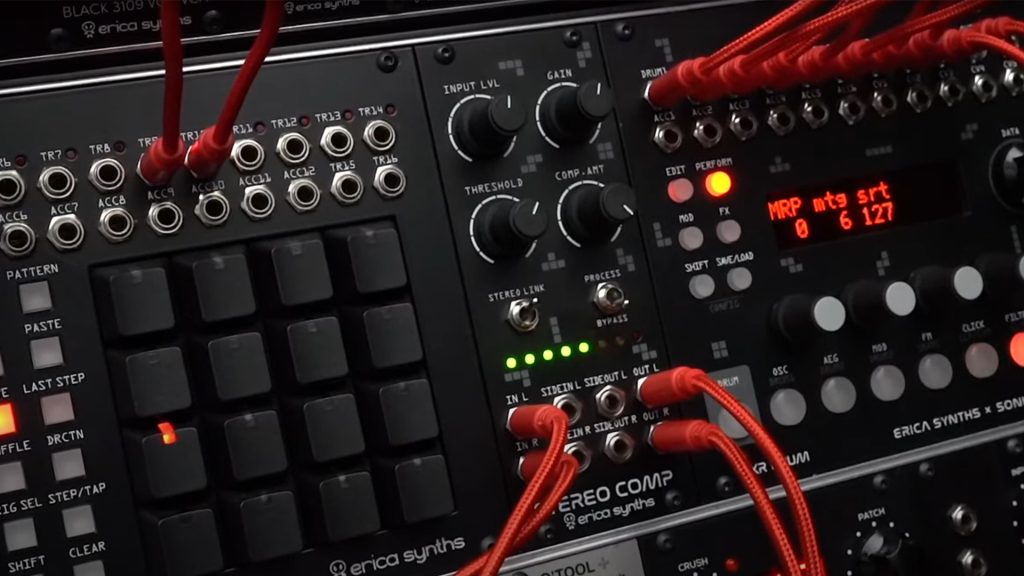 Every eurorack modular system needs a compressor. What a great module this is providing us with stereo compression, sidechain and awesome 8 segment display visual VU meter.
The compression can enhance your drum sounds making it seem more tight in the mix. The stereo sidechain can be used to animate melodic layers on the beat.
Features:
THAT chip-based stereo compressor
DC coupled sidechain
Gain, Threshold and Compression Amount (Ratio) settings
Stereo Link for level detectors
Bypass switch
8 segment output level VU meter
10HP (35mm deep)
Price: $199 USD avail mid April 2023
Link: https://www.ericasynths.lv/shop/eurorack-modules/by-series/drum-series/drum-stereo-compressor/
Modular Grid: https://www.modulargrid.net/e/erica-synths-stereo-compressor
Humble Bundle – Cherry Audio and more up to 47 items for $20 USD!
There are 4 Cherry Audio plugins plus a stack more plugins for your DAW, MIDI and Sample collection over at Humble Bundle. There's a total of 47 items up for grabs for only $20!

This is not a plugin distributor deal – this is from Humble Bundle – the guys that donate to charity! It's a great deal and worth checking out!
Take your sound to the next level. Get an instant, complete music production suite with this value-packed bundle—featuring a pro-level DAW (digital audio workstation), virtual synths & instruments, SFX, and a grand total of 15,000+ loops and samples!
Record and mix tracks with the powerful, easy-to-use Mixcraft 9 Recording Studio.
Recreate iconic sounds with Memorymode Synthesizer and PS-20 Synthesizer.
Tap into loops, vocals, one-shots, and MIDI for a huge variety of styles and genres.
Whether you're a beginner or a professional already deep into production, this bundle's got everything you need.
Cherry Audio MemoryMode
This includes the Memorymode Synthesizer from Cherry Audio. Memorymode is based upon one of the very best-sounding polyphonic programmable analog synthesizers of the 80s – the legendary Memorymoog synthesizer:
Cherry Audio P-20 Synthesizer
Also included is the P-20 synthesizer from Cherry Audio: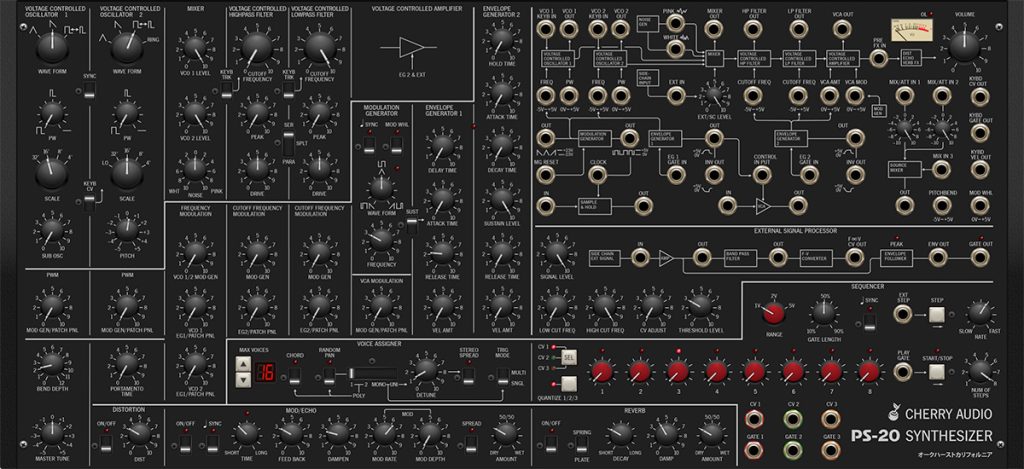 PS-20 is an ultra-realistic, polyphonic, hot-rodded tribute to Korg's renowned MS-20.
Cherry Audio Galactic Reverb
Also included in the bundle is the Galactic Reverb plugin.

Galactic Reverb is an algorithmic reverb plugin that captures the expansive sound of coveted classic hardware digital reverbs:
The list keeps going with the following also included:
Soundtrack Loops brings you

50 Gallon Drums
Big Downtempo Beats
Deep Frets – Electric guitars
Dramatic Drill 'n Trap
Drip Melodic House Loops
Exo Planet Cyberforms
Iced Chillout Lounge
Jazzy Chillout 1 & 2
and more

Mixcraft 9 Recording Studio from Acoustica
CA2600 from Cherry Audio – the ARP 2600 plugin
Voltage Modular Ignite from Cherry Audio
and much more – up to 47 items!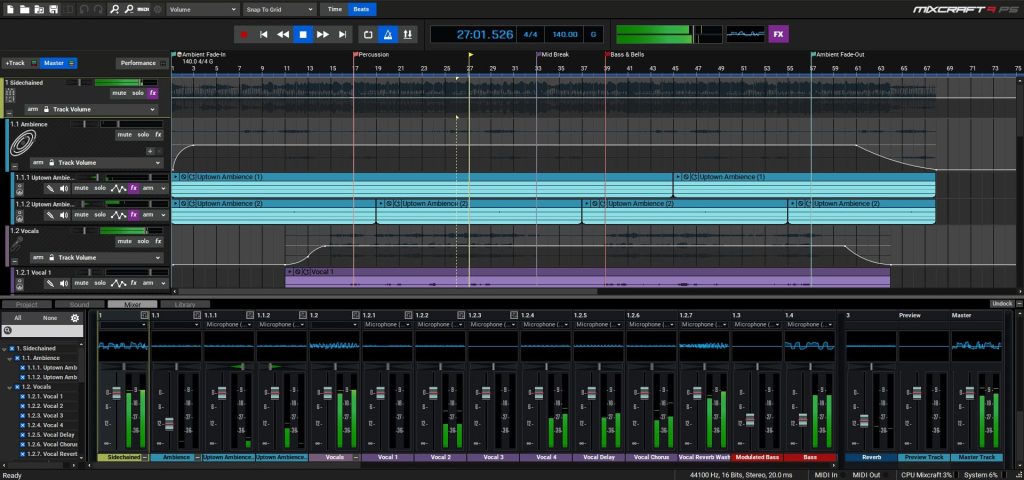 So go check it out over at Humble Bundle. There is a small commission paid to the ranzee channel for your patronage. Every little bit helps!
Price: $20 USD ($29.92 AUD)
Link: https://www.humblebundle.com/software/level-up-music-creators-power-pack-software?partner=ranzee
Intellijel Audio I/O
The 2023 version of Audio I/O by Intellijel has been announced. It is a dual stereo balanced line level audio interface. The dual balanced ins and outs are handy for the studio or gigging. The module brings your eurorack setup to a balanced line level setup where you can send and return pedals or desktop FX units and patch in and out of your DAW, external synths, drum machines and other line-level instruments and devices.
It offer +4dBu with TRS jacks at the top of the panel. The rear-mounted 3-pin CHAIN IN connecter allows you to sum (in parallel) other audio sources from Eurorack level to the BAL LINE OUTPUTS.
The main difference between the old and 2023 version is the connectors are now at the top of the module. They state in a Facebook post they have redesigned the module to use an analog meter and also put the 3 pin chain in/out connector on the back. I would have like for Intellijel to keep the options for both – perhaps you can still order the old version?
The following video shows the original module in action:
Features:
2 x Balanced TRS 1/4″ to Eurorack modular level input paths
2 x Eurorack modular level signals to Balanced TRS 1/4″ output paths
4 x six stage analog led VU meter to monitor all inputs and outputs simultaneously
Input path has up to 20 dB of gain, which allows you to patch in low-level consumer level signals and boost them.
Output path steps a nominal Eurorack level (10 Vpp) down to +4 dBu with up to +6 dB gain
3pin CHAIN IN connector
3-pin CHAIN OUT connector
Price: $259
Link: https://intellijel.com/shop/eurorack/audio-i-o-2023/
Modular Grid: https://www.modulargrid.net/e/intellijel-audio-i-o-2023
Price Watch
This week – :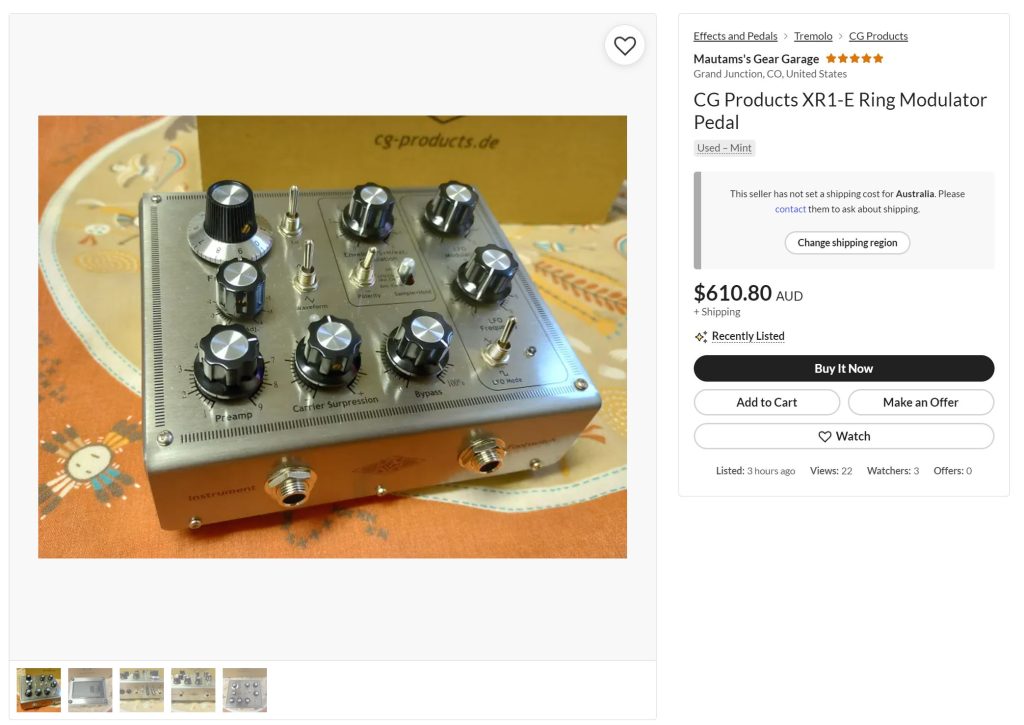 Saturday Sonority
This week's Saturday Sonority we might talking about VCA's again.
Name That Synth
No name that synth this week – send one in!
If you are after more information about Name that Synth – please check out this page here.